TV Magnifiers

Turn Your Books Into Large Print
TV magnifiers make it possible to read newspapers, magazines and books again by turning your television screen into a full page magnifier.
Magnify Books, Photos, Cards and More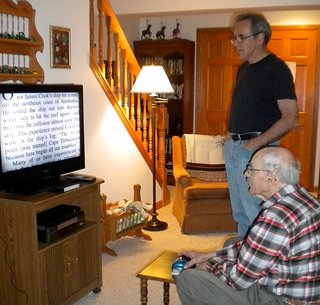 This easy to set up and helpful low vision technology can be used for many different purposes such as looking at photos or greeting cards or enjoying articles and pictures from your favorite magazine.
Review your phone or power bill or look at old photos on the TV screen.
Simply place the mouse like device on top of your newspaper, magazine article, or book page and the image appears on your television screen at a magnification that is dependent on the screen size of your television.

Read Your Newspaper In Large Print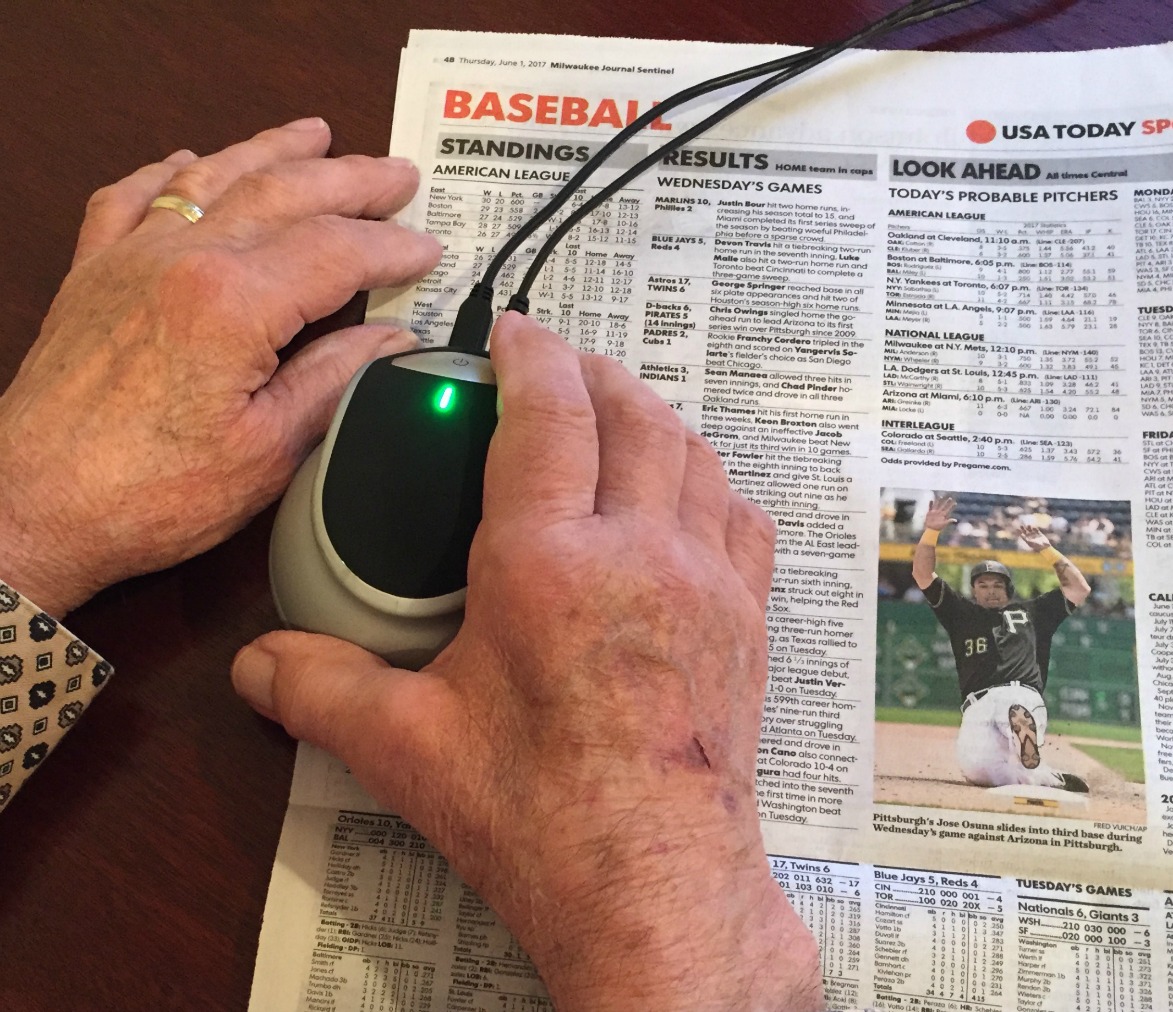 As a devoted Brewer's fan, my father-in-law, Les and husband, Bill, read the latest stats on the recent season opener.
The 5x magnifier that Les normally uses only allows for a couple of words or scores to be seen at one time - with the large TV screen he can see a full paragraph or table of baseball stats.
His morning routine of reading the newspaper continues thanks to his TV magnifier.

TV Magnifier for Reading Bills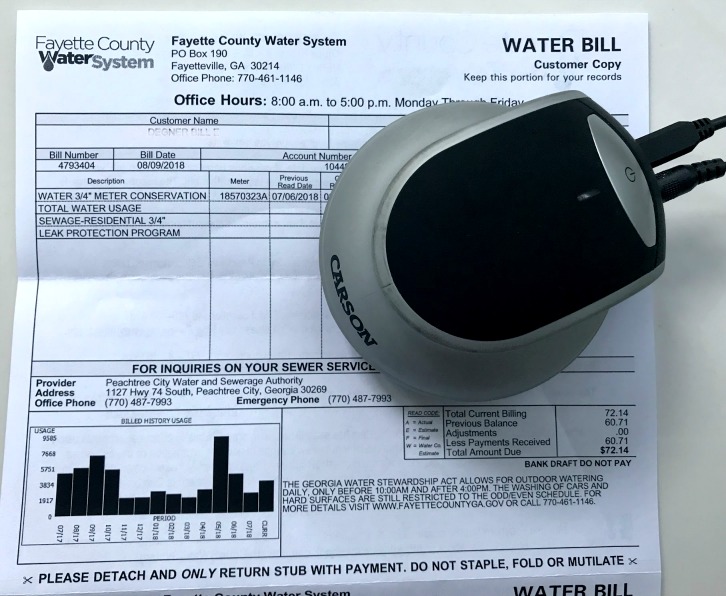 Glide the scanner over your electric, gas or water bill and it will display onto your TV screen with clarity and a really large viewing area. 
TV Magnifier for Reading Flyers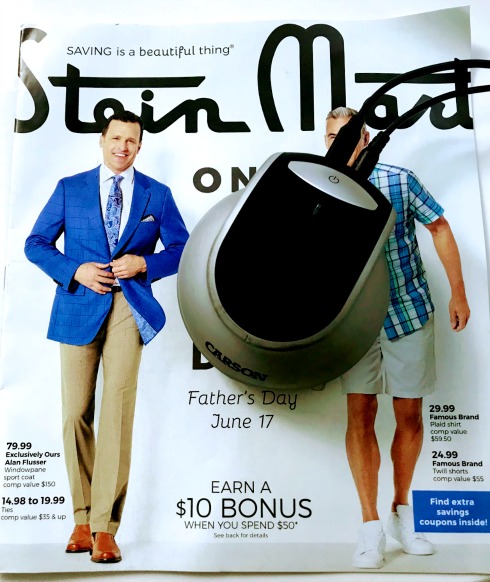 Do you have a favorite store where you like to shop?  Want to know what's new and what's on sale?  Enjoy browsing your favorite store flyer for sales, coupons and new fashion with the pages now displayed in color and large print on your TV screen.
TV Magnifier for Reading a Manual
When you get a new phone, a new food processor or a new blender, it's helpful to be able to read the manual that comes with it.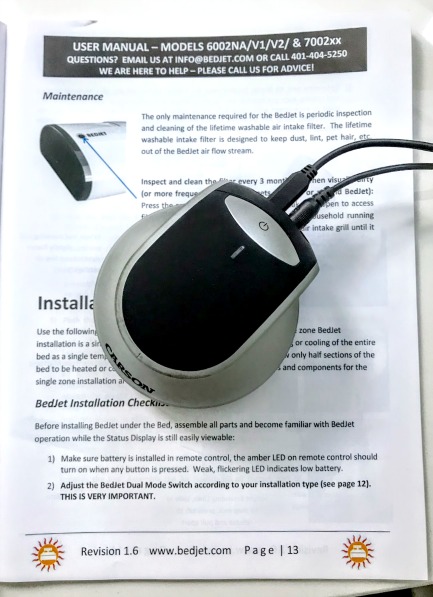 You can be sure you are using all the features of your new item and using it correctly be browsing the manual first.
Read in Large Print

If you have a scotoma, which is a gray, black or blurry spot in the middle of your vision, reading becomes more difficult and page magnifiers only provide up to 2x magnification.
Smaller magnifiers offer higher magnification but limited viewing area - and who wants to hold a magnifier to read anything lengthy?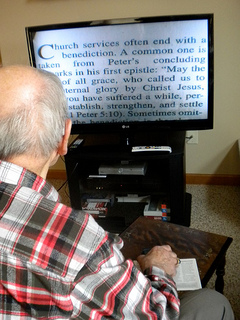 The larger the TV the larger the magnification. For example:
A 14" television provides 5.3x magnification
A 17" television provides 6.5x magnification
A 21" television provides 8.0x magnification
A 27" television provides 10.3x magnification
A 32" television provides 12.2x magnification
Surprisingly the
Carson EZRead TV Magnifier
costs less than $70 - making it a bargain compared to low vision CCTV's that can cost $2,000 - $3,000.
Go Though Your Mail, Read an Add
TV Magnifier Displays Color

My mother and father-in-law just celebrated their 65th wedding anniversary and there were plenty of cards to show for it.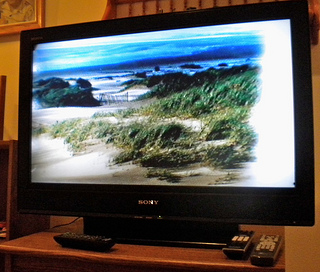 We took the anniversary cards and put them under the EZread device so my father-in-law was able to enjoy the well wishes from many friends and family.
See how nice and vivid the colors are on the screen? This device displays in colors that are as vivid and bright as anything else on your TV screen.
Use it to read magazines to see the beautiful pictures of flowers, food, cars, or sites.
Photo Magnifier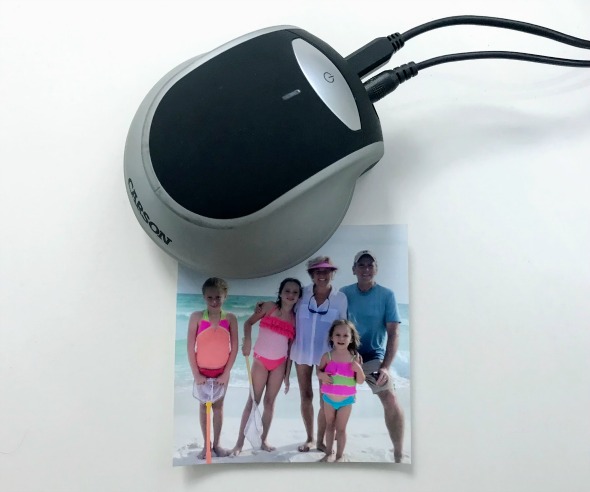 Les brought out photos to share with us as he walked down memory lane.
The pictures were easy for him to see and to then share with us when and where they had been taken.
Since many of our pictures and videos are now on our iPhone - my husband simply placed his iPhone under the mouse like device and displayed the pictures and videos on the TV. They were surprisingly clear.
Low Cost Low Vision Technology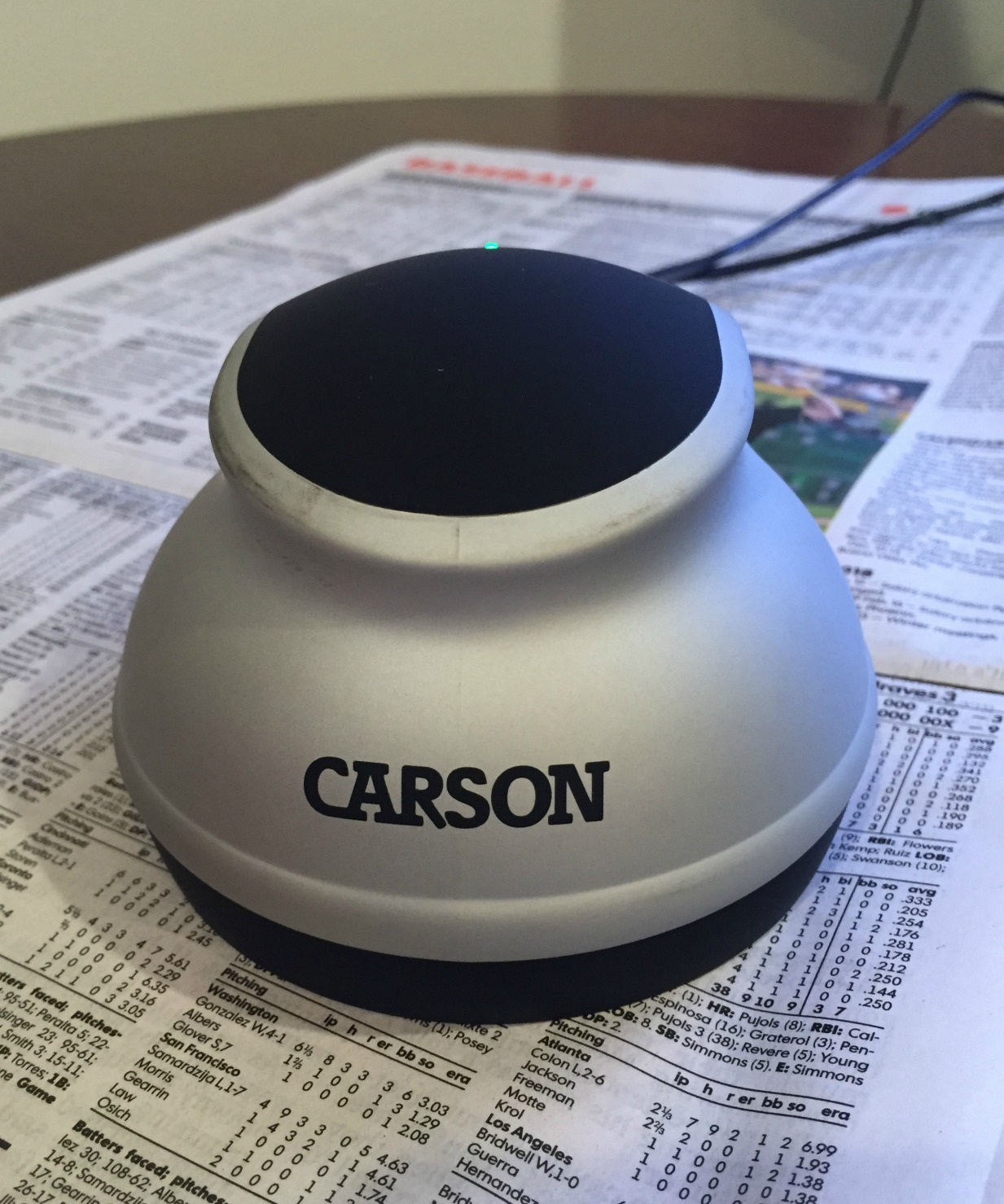 The
Carson EZRead Television Magnifier
is easy to set up. However you you will need a TV that has a "video in" or "component" input. It will not work with an analog TV. Les is not the only one with AMD that is benefiting from this low vision technology.
Several reviewers of this reading magnifier have macular degeneration and find it to be a great way to magnify their reading without spending several hundred or thousands of dollars on a low vision CCTV or electronic magnifier.
It uses three AAA batteries and you will need extra ones on hand to replace them. Here is one review:
"I purchased this digital reader for my husband, who suffers from macular degeneration. He loves it, and was able to read for four hours the first day. We plugged it into a 27" TV that we don't use very often, and placed it in a room where it can be setup all the time."

There are many more reviews by others who have macular degeneration. Go to Amazon to find out what others are saying or to purchase the Carson ezRead:
Purchase your Carson TV Magnifier on Amazon here:
 Carson EZRead Television Magnifier

You don't need to give up reading with this easy to setup magnifier that anyone can use.

Go from TV Magnifiers to Reading Magnifier

Go from TV Magnifiers to WebRN Macular Degeneration Home
√ Prevention of Macular Degeneration?
√ Tips for Daily Living?
√ Food Suggestions for a Macular Degeneration Diet?
√ Ideas on Visual Aids to Maximize your Sight?
If you said "yes" to any of the above, sign up for the monthly Macular Degeneration News.