Lighted Magnifier

Magnifier for Reading
A lighted magnifier provides the two most important features for someone with macular degeneration - light and magnification. With many styles to choose from you will find that there is an illuminated magnifier for every need.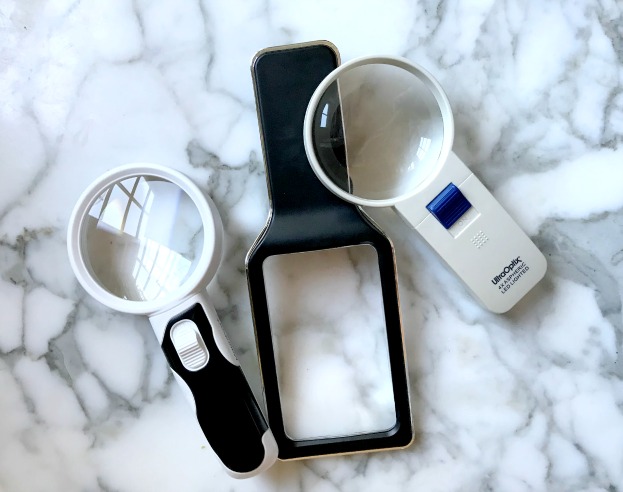 Magnifying Glass with Light

As ones macular degeneration progresses the need for more light and magnification becomes necessary for reading and seeing details. A magnifier with light provides one with both. Whether it's a magnifying glass with light used to check a label or a magnifying desk lamp to check the mail, both are useful for everyday living.
In order to select the best type of magnifier one needs to consider: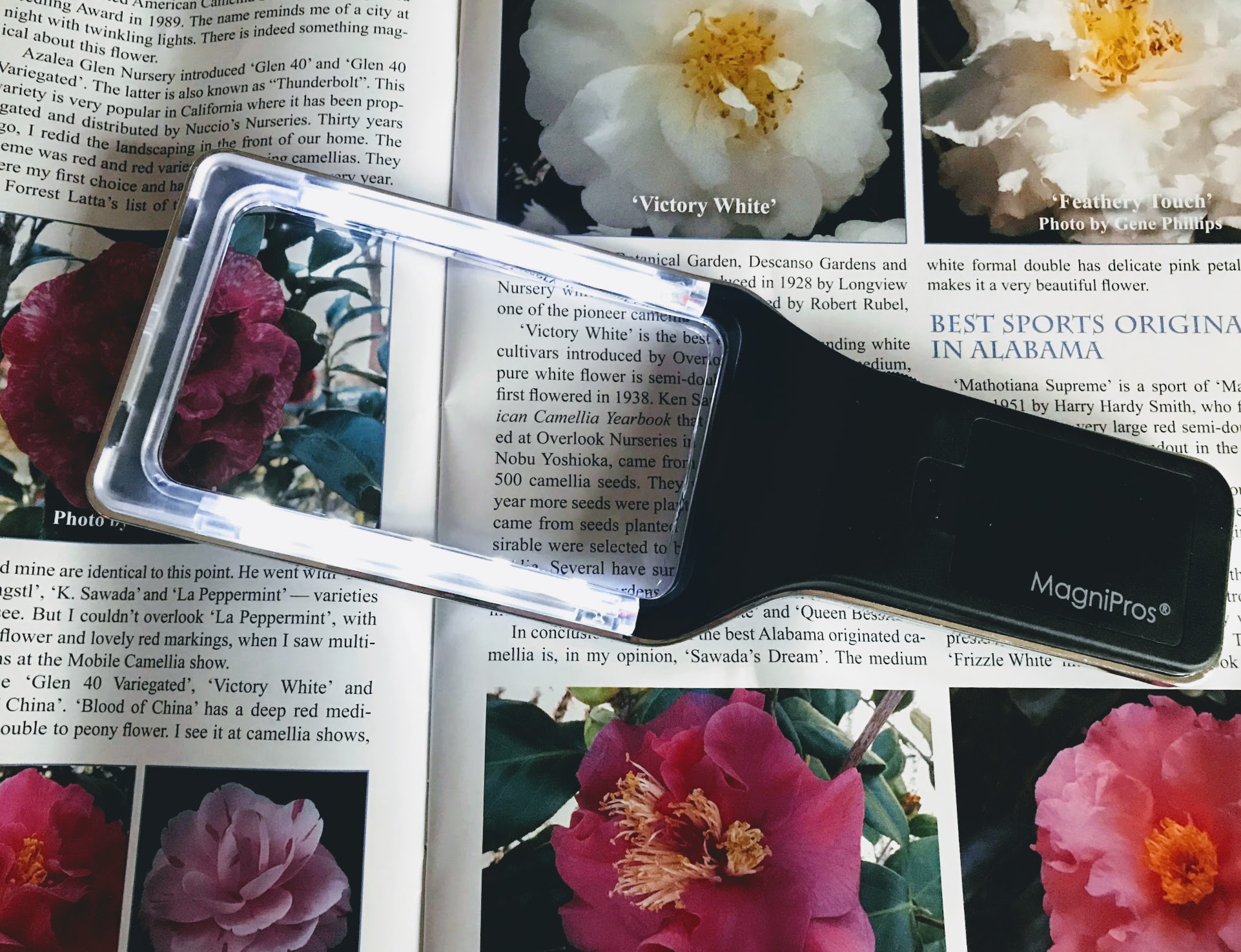 √ The Lens Size
√ The Magnification Power
√ What task you will use it for
√ The number of LED lights
The lighted magnifiers shown below (from left to right) have 8, 1 and 2 LED lights.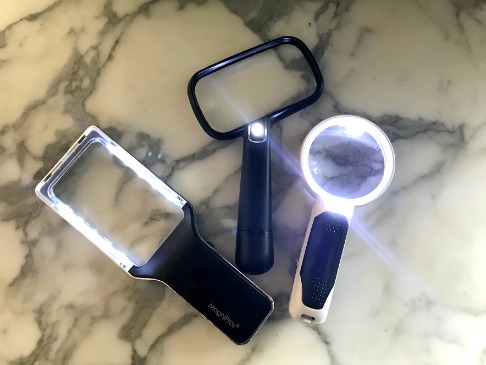 You may have to try different magnifiers to determine what style you like best. When you make your purchase, check to see what the company's return policy is so that if you don't like that style you can return it.
Fortunately there are lots of choices and styles. Purchasing a lighted magnifier is a smart choice. Often with better lighting, less magnification is needed which means a larger field of vision.
Lighted Magnifying Glass

This lighted magnifier set comes with two interchangeable magnifying power lenses - the larger one is 5X magnifying power and the smaller one is 10X magnifying power.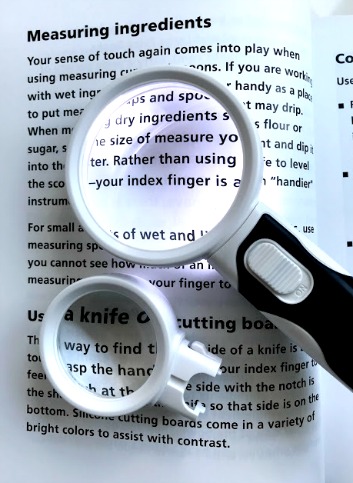 The larger the magnifying power the smaller the lens.

There are 2 LED lights to brighten up your print or text. 
MagniPros Magnifying Glass with LED Lights and 10X + 5X Illuminated 2 Lens Set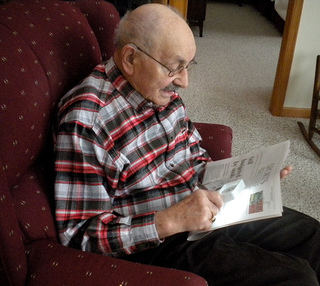 Lighting needs change for those with macular degeneration - they need much more light than those with normal vision.
These types of macular degneration magnifiers are used for spot reading - like looking up a phone number, reading a prescription bottle or looking at a recipe card.  My father-in-law uses his to check the Brewers baseball score in the newspaper.
These magnifiers can be quite inexpensive.
We bought several of them for my father-in-law so that he can keep one in different parts of the house like the kitchen, the bathroom, the garage and one for the basement.  They come in different shapes - round or rectangular and in different sizes.
The bright LED lights illuminate your reading material so that word can be seen with clarity and sharpness.  Get one at Amazon here:
Mighty Bright Lighted 5" Round Magnifier
Pocket Magnifying Glass

Durable LED lights mean there is no fragile filaments to break from shaking and rattling. They hold up well to jarring and bumping.
Small enough to keep in your pocket or to carry in your purse, pocket magnifiers come in handy in the kitchen for reading labels, in the garage for reading instructions, and in the bathroom for reading prescription bottles. 
Determine what magnification power you need before making your purchase.  Carson makes a 5x pocket magnifier that uses LED lights: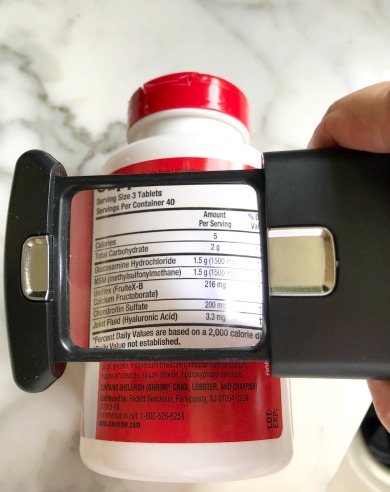 A lighted pocket magnifying glass comes in handy when you are out shopping and want to check a price tag, a label or a menu. The overhead lighting (or lack of) in stores and restaurants makes it especially difficult to see.
Some people find that just having a small LED penlight is enough, but a pocket LED magnifier will help you see how much that new dress is going to cost and if it needs dry cleaning.
These lighted magnifiers are also handy to use at home for a quick read like looking at a bill, a prescription bottle or the label of a can. 
This pocket magnifier can be easily carried in your purse or your pocket. It offers 5x magnification and has a scratch resistant lens. 
Carson 5x MiniBrite LED Lighted Slide-Out Aspheric Magnifier with Protective Sleeve - Set of 4
Lighted Hand Held Magnifying Glass

LEDs (Light Emitting Diodes) are small, solid light bulbs which are extremely energy-efficient. One of the benefits to this type of lighting is its longevity. They often last for 1,000's of hours. LED magnifiers provide a strong, bright light without glare or shadows making it easier to see or read for those with macular degeneration.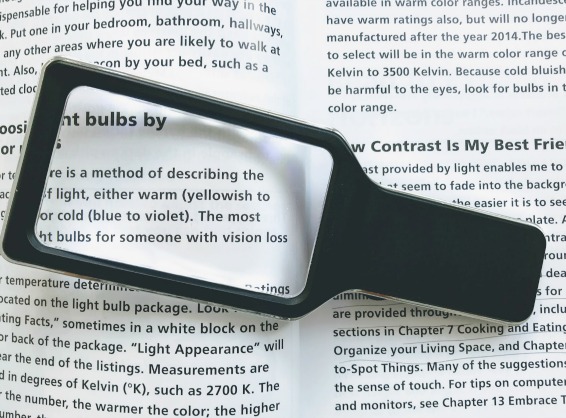 MagniPros makes one that has 10 LED lights with 3X magnification. This is a picture of the backside of this hand held magnifier showing you the 5 LED lights on each side. What makes this lighted magnifier unique is that it uses anti-glare SMD LED lights which can last up to 50,000 hours.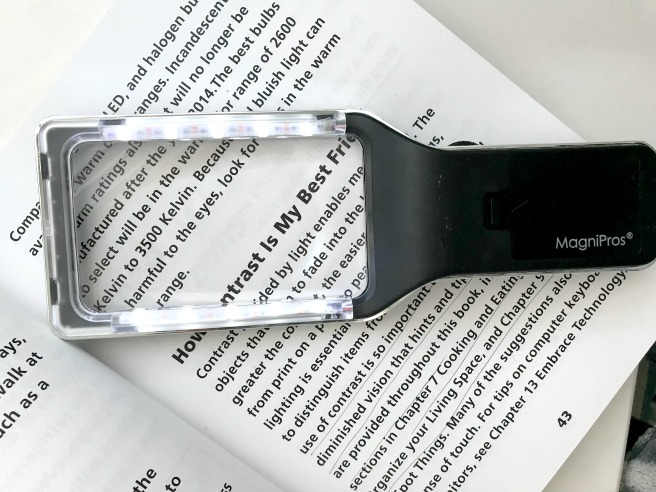 The size of the lens is large at 4.35" x 2.65" and the optical grade lens ensures a nice clear image. A dimmable switch allows you to adjust the brightness.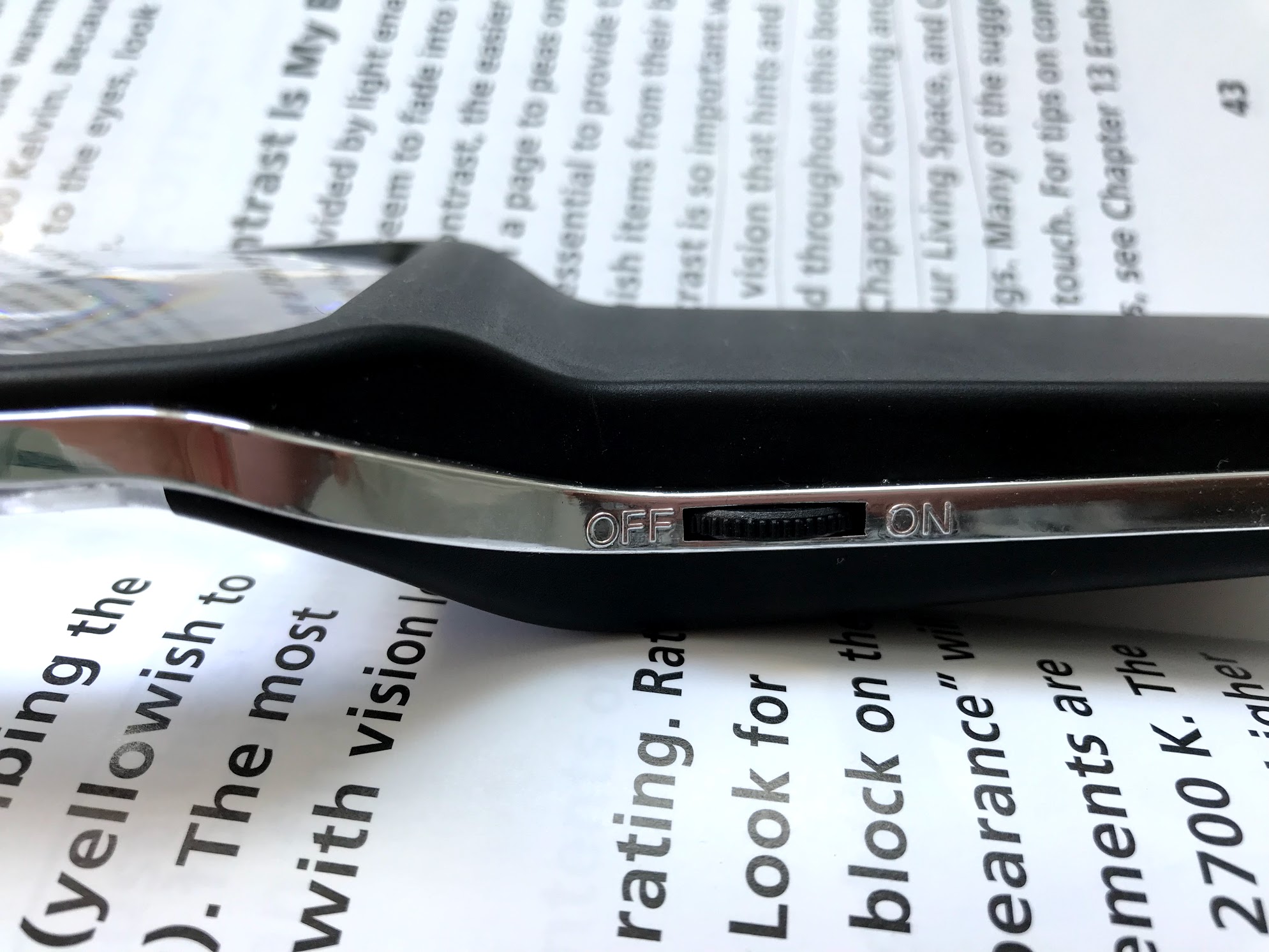 Another consideration is how easy is it to replace batteries.  This magnifier takes 3 AAA batteries that has an easy to open and close compartment.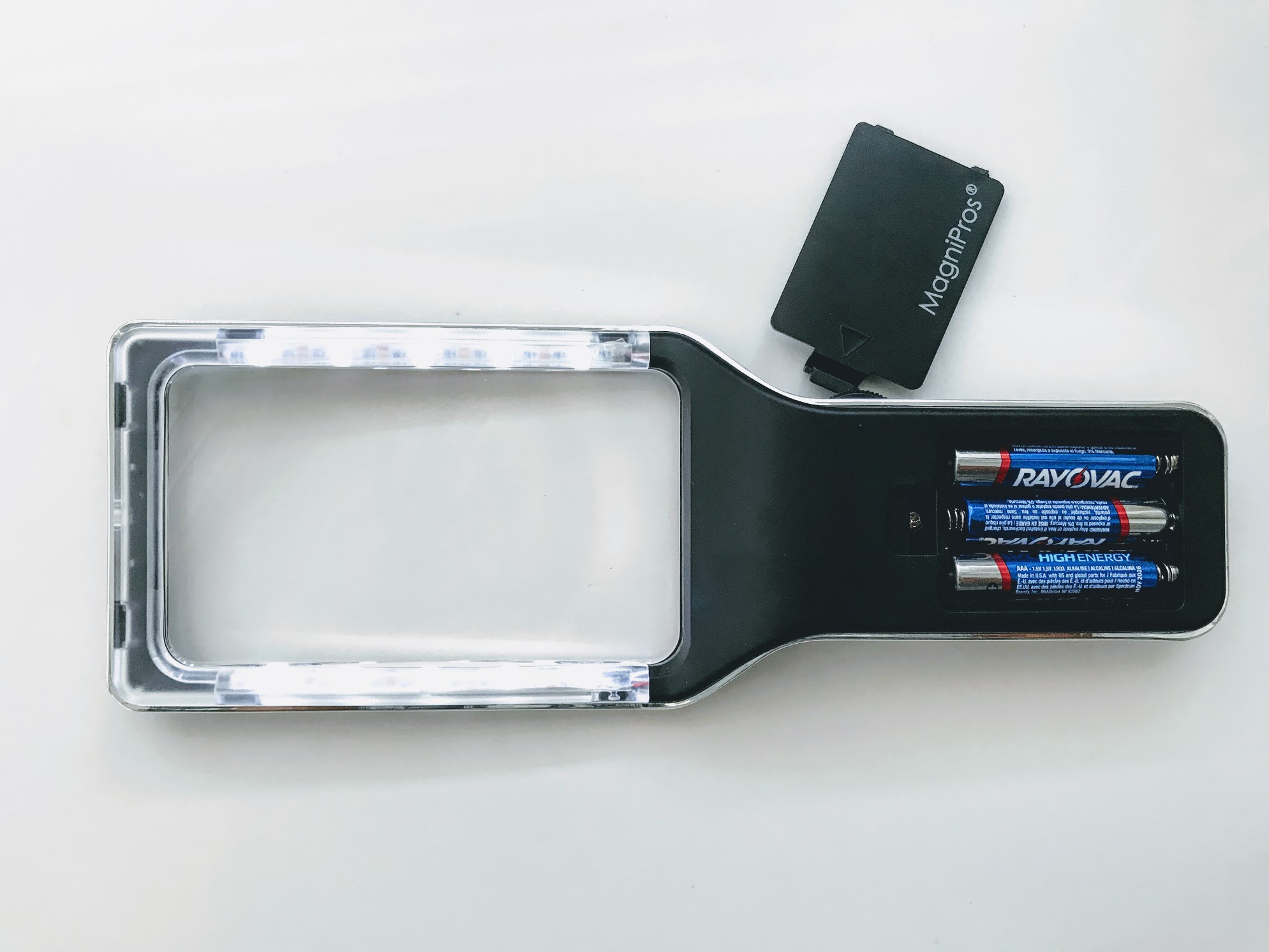 The lighting is scattered evenly to reduce glare or too much brightness. A rectangular lens allows for a wide viewing area meaning you can see more magnified print through the lens.  Be sure to remove the protective film covers on both sides of the lens or your won't get a clear view.  For best clarity and magnification hold the magnifier 2"-4" above your reading material and adjust accordingly.  The longer the distance the higher the magnification power will be. 
Lighted Magnifying Glass with Adjustable Brightness: 10 LED Lights
Hand Held Magnifier with Light
This magnifying glass with light is made by Shorewood Medical.  It uses LED lights, has a folding handle for easy storage or for carrying in your pocket or purse.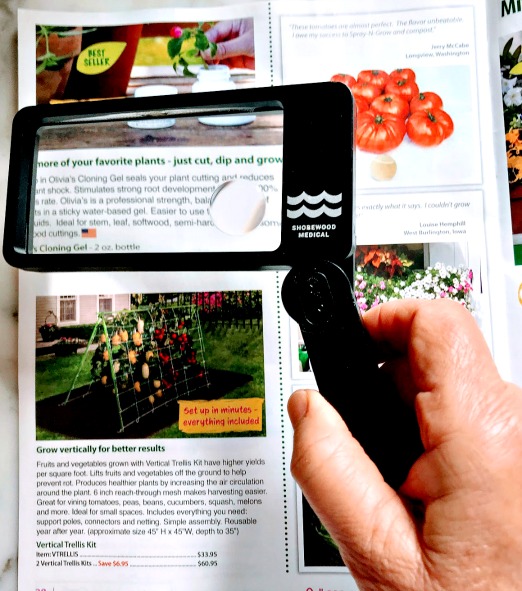 A rectangular lens works well for reading. A large viewing area provides 2.5X magnification with a 4X spot magnifier.
Magnifying Glass with Light. Magnifier for Reading with LED Lights. Large 2.5X Magnification with 4X Inner Lens.
Rimless Magnifying Glass with Light
This 3.5" rimless magnifying glass with light by Mighty Bright provides 2x magnification and has a single bright LED light.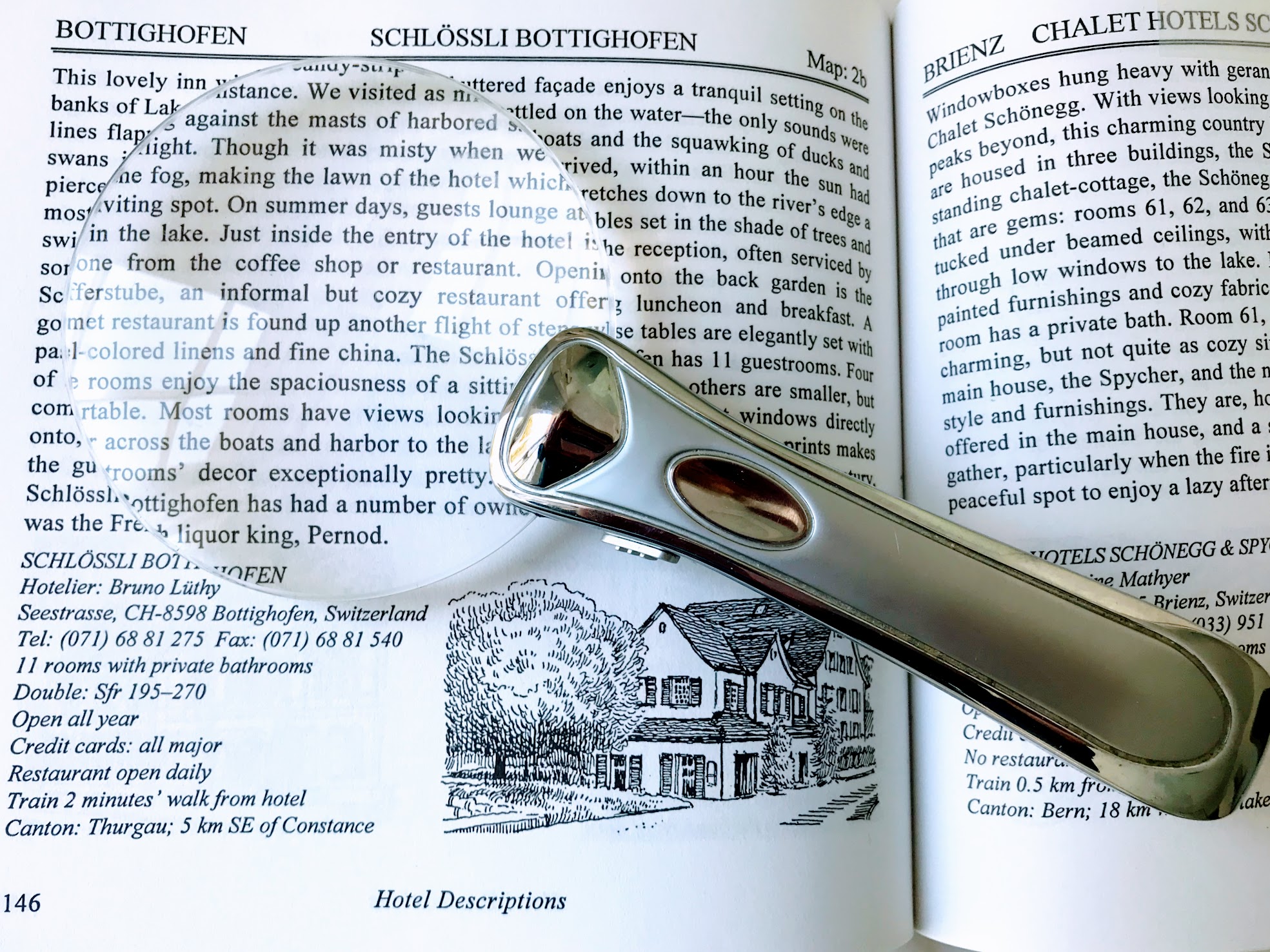 Made of durable optical grade acrylic lens for a lightweight handheld magnifier

textured grip for a comfortable grip

Powered by 1 AAA battery (included) with a battery life of 5 hours
The rimless design maximizes the visual field

Mighty Bright 3.5" Rimless Lighted Magnifying Glass
Eschenbach Magnifiers

Eschenbach magnifiers are high quality magnifiers that offer precision and quality.
The company has been in the optical business for more than 90 years manufacturing magnifiers for those with vision loss or for those who need magnification for technical purposes.
Known also for their constant innovation and product development, Eschenbach is constantly introducing new vision products to benefit those with macular degeneration.
For hands free lighted magnifiers check out the benefits of a floor lamp magnifier and a desk lamp with magnifier.

Go from Lighted Magnifier to Macular Degeneration Magnifiers
Return to WebRN Macular Degeneration Home

√ Prevention of Macular Degeneration?
√ Tips for Daily Living?
√ Food Suggestions for a Macular Degeneration Diet?
√ Ideas on Visual Aids to Maximize your Sight?
If you said "yes" to any of the above, sign up for the monthly Macular Degeneration News.