Hands Free Magnifier

A hands free magnifier can allow you to read, sew or do your favorite hobby without having to hold a magnifier. As your macular degeneration progresses you will need different magnifiers for different tasks.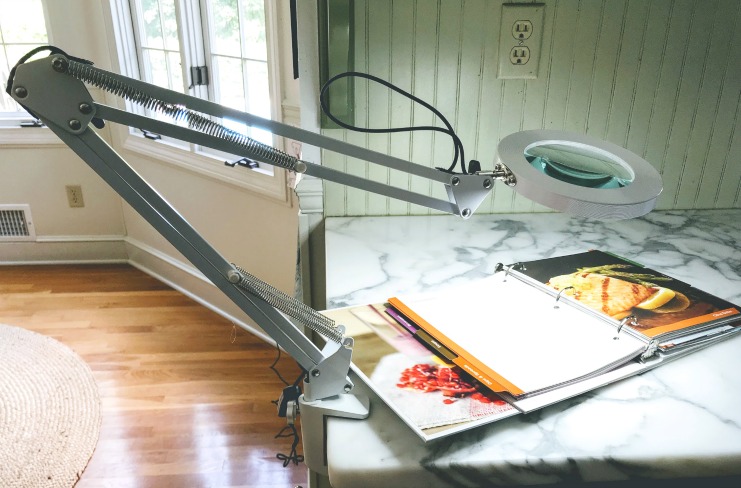 A handheld magnifier is good for briefly looking at a photo, reading a label or a price tag, but it can quickly be problematic if you are trying to use your hands and use the magnifier at the same time.
There are several magnifiers for macular degeneration that are hands free. Sometimes you will just need to try different styles to find out what you like best. Inquire about the return policy before you buy so that you can return the magnifier if it doesn't meet your needs.
These low vision magnifiers can come in many styles. So you will need to
identify what task you will use it for,
what magnifying power you need and
where you will be using the magnifier.
Neck Magnifier

Do you get tired of holding your magnifier and having to constantly adjust it to get it focused? Try one of these neck magnifiers for when your want to sit in your favorite chair and enjoy your favorite author.

This necklace magnifier by Carson offers a viewing area of 5" and magnifies 2x. 

The lens is scratch resistant and is mounted in a sturdy, but lightweight frame, so it is comfortable to wear for extended amounts of time. The string or lanyard is adjustable so that each individual can benefit from it being at just the right distance from the reading material.
Some of these neck magnifiers also offer illumination with battery operated bright LED lights. A lighted hands free magnifier can be useful for other hobbies besides reading. Use it for crafts or other detailed work so that your hands are free to hold tools, printed material, or sewing needles.
Hands Free Neck Magnifiers
Headband Magnifier

A headband magnifier is worn like glasses and your hands are free to work on your hobbies that require detailed vision or for just looking through the mail.
Keeping your hands free, a head magnifier can be used for hobbies or doing repair work in the garage or basement. Use this magnifier for doing fine detailed work like needlework, electronics, detailed gluing, soldering, etc. If close accurate work is something you do or enjoy, then a head magnifier is a great addition to your visual aids for macular degeneration.
The things you need to consider are:
1. Power of the Magnification
2. Lighted or not Lighted
3. Focal Length
How close do you need to be to do your detailed work
4. Lightweight and Adjustable Band

5. Wear over Prescription Glasses
6. Flip up When Not Needed
7. High quality lens for clarity
8. Wide Viewing Area
THE BEST MAGNIFIER FOR MACULAR DEGENERATION SUFFERERS By danno23 Amazon Verified Purchase
"My 92 year old dad could not live without his optivisor, he needs it to see everything, pay his bills, read his mail etc. As a severe macular degeneration sufferer, the Donegan-10 Optivisor is truly a godsend for him."
The lenses are interchangeable so you can buy more than one. Remember that the stronger the magnification, the closer you need to be to the object you are viewing. Many people like the wide viewing area and use it for reading.
Donegan DA-5 OptiVisor Headband Magnifier, 2.5x Magnification, 8" Focal Length
Magnifying Lamps

Magnifying lamps provide three features that are most needed by those with macular degeneration - light , magnification and hands free. A magnifier floor lamp can be set next to your favorite reading chair so all you have to do is hold the book.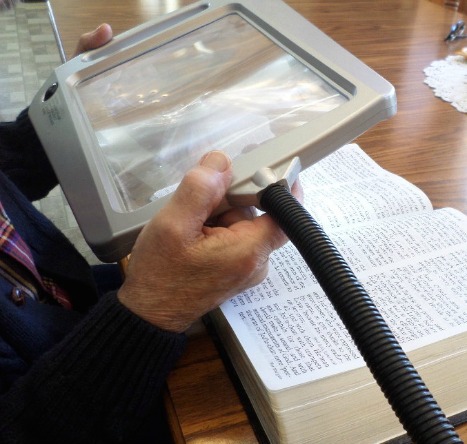 The lamp needs to be adjustable - either with a swing arm or a gooseneck so that the light and the magnifier can be positioned so that the magnifier is in focus and for the light to shine on the reading material or hobby.
LED lights offer several benefits - they are cool and won't get hot like other types of bulbs and they won't burn out (well, maybe after 100,000 hours of use they will).  While the magnification of most floor lamp magnifiers are 2X to 3X the bright LED lights make this lower power magnifier useful to many people with macular degeneration.  The Brighttech brand allows you to adjust the brightness by simply tapping the lamp. 

The 5" diameter lens provides lots of viewing area so it's large enough to show your reading material without having to move it around. 

A sturdy weighted base will keep it from tipping over.  Just set it next to a favorite chair or work surface.  
Lens clarity is another important feature and is usually found with a glass rather than acrylic lens. 
Magnifying Floor Lamps
Desktop Magnifier

A desk magnifying lamp can be used at your desk, workbench or craft table for hobbies like sewing, jewelry making or small engine repair.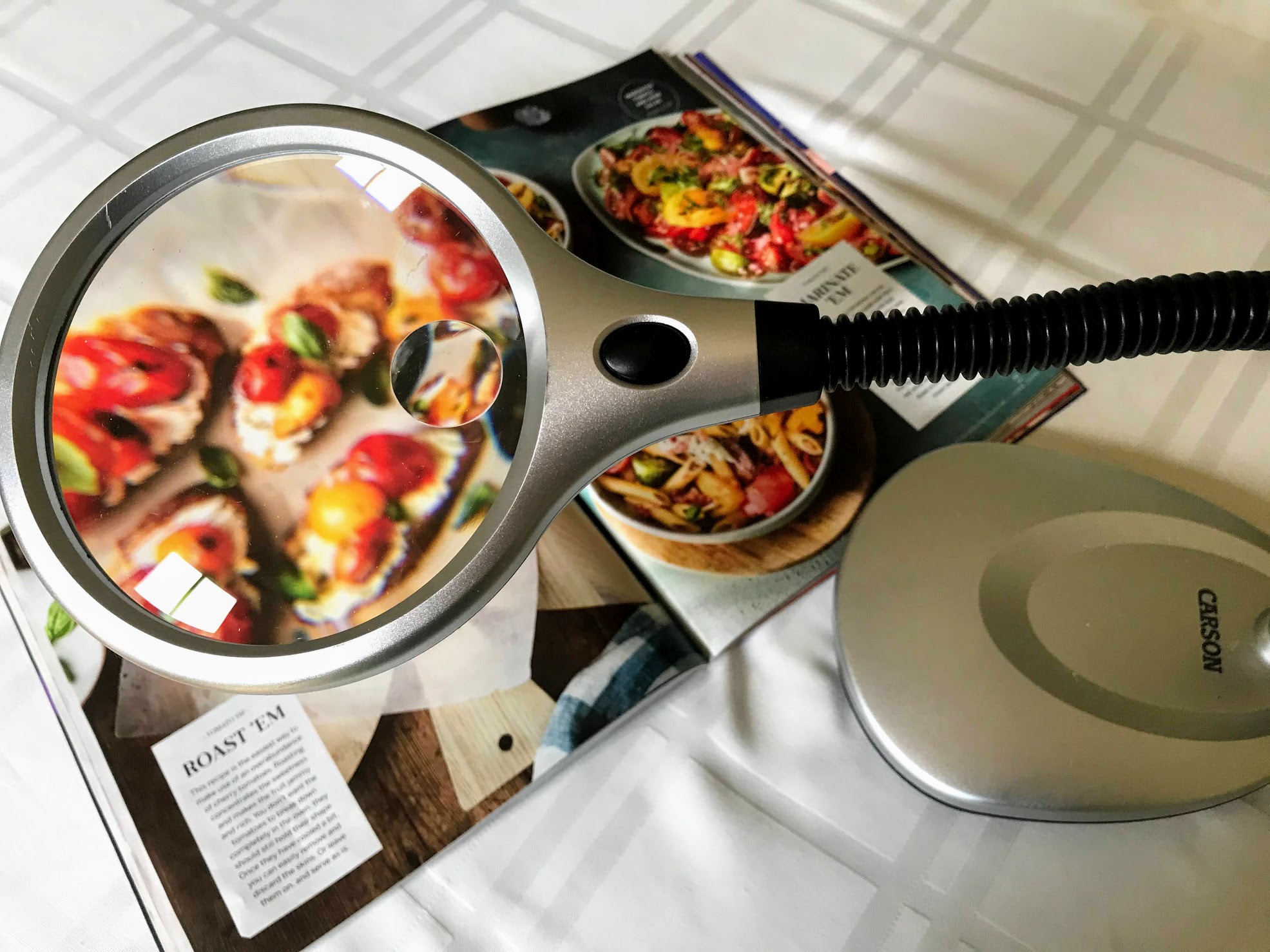 A gooseneck desk lamp is useful for office work, hobbies or crafts that need a flat surface to work on - whether it is a work bench in the basement or a craft table in a spare bedroom.

A magnifying desk lamp is about 3.5" in diameter allowing one to see a larger area than what most hand held magnifiers can accommodate. The magnifying power combined with bright LED lights reduces eye strain and makes it possible to see small pieces or lettering.
A gooseneck makes it easy to bend the magnifier and light to just the right position for clarity and brightness and a weighted base prevents it from tipping over. Cool LED lights mean it can be left on for hours without getting hot and they never burn out.
Magnifying Desk Lamps
Clip On Magnifier

You can use a clip-on magnifier at your workbench, craft table, desk or counter. Simply clamp the hands free magnifier onto the table or surface where you need additional magnification.
The three features you want to look for in this type of magnifier is a high quality clear lens, added lights, and a gooseneck or adjustable arm. Light allows a person to see better with less magnification and an adjustable arm allows the light and magnifier to be placed at just the right spot.
A clip on magnifier with light provides these benefits:
1. Portability
It can be moved and placed where needed - a desk, a counter, a table, or a work bench. The clamp on this one will accommodate up to 2.5" thickness.
2. Magnification
Don't give up hobbies or crafts that you enjoy because you can't see the details anymore with your regular glasses. This clamp on magnifier magnifies 2.5X.
3. Light
With better light comes better vision. Take this clamping magnifier anyplace that doesn't have light - because the light is built right into the magnifier.
4. Flexibility
The gooseneck on this magnifier is durable yet flexible so that it can be maneuvered into any position - AND it stays there.
5. Low Temperature Light Bulb
You can clamp on this magnifier where ever you are doing your project - on a workbench in the garage or your sewing table in the bedroom. It can be used anywhere even if there is no access to electricity thanks to it's dual power feature using 3 AAA batteries.

This Carson clamp on magnifier has 2x magnification but with a spot lens of 3.5x. It uses 3 bright LED lights for better visibility and a strong adjustable arm. It's important that once the light and magnifier are adjusted to where your project is in good focus, that the adjustable arm stays there. This one does that.

Use this type of magnifier for hobbies like needlework, fly tying, jewelry making, wiring, or other hobbies that require detailed vision.
The 2x magnification wit the light may not be enough magnification for those with advanced macular degeneration - so check out the return policy before purchasing.
Carson Optical Magni Magnifier

Magnifier Visor

Keep a magnifying visor at your desk, workbench, garage, kitchen or basement to help with tasks that require any close up work. Some of the things to look for are:
1. Lightweight
2. Fits over your prescription glasses
3. Adjustable fit and comfortable
4. Correct power magnifier for you
Carson offers a magnifying visor with 4 interchangeable lenses.

The magnification power of the three lenses are 1.5x, 2x 2.5x and 3x. In addition to magnification this one includes an adjustable LED light which runs on three AAA batteries. 
A hands free magnifier is incredibly versatile -- great for any sort of close work.
Use it to remove a splinter, trim toenails, make jewelry, check your cat's ears, do some delicate bead work, or read that fine print on the medicine bottle.
There are many applications in which this useful magnifier can enhanced your vision.  Keep it handy and you will find that you will use it several times a day.
Carson Optical Pro Series MagniVisor Deluxe Head-Worn LED Lighted Magnifier with 4 Different Lenses (1.5x, 2x, 2.5x, 3x) (CP-60)
Return to Macular Degeneration Magnifiers
Go from Hands Free Magnifier to WebRN Macular Degeneration Home
√ Prevention of Macular Degeneration?
√ Tips for Daily Living?
√ Food Suggestions for a Macular Degeneration Diet?
√ Ideas on Visual Aids to Maximize your Sight?
If you said "yes" to any of the above, sign up for the monthly Macular Degeneration News.