Magnifying Desk Lamp

Directed Lighting for Better Visibility
A magnifying desk lamp provides directed light and magnification that can be used for reading or for performing hobbies.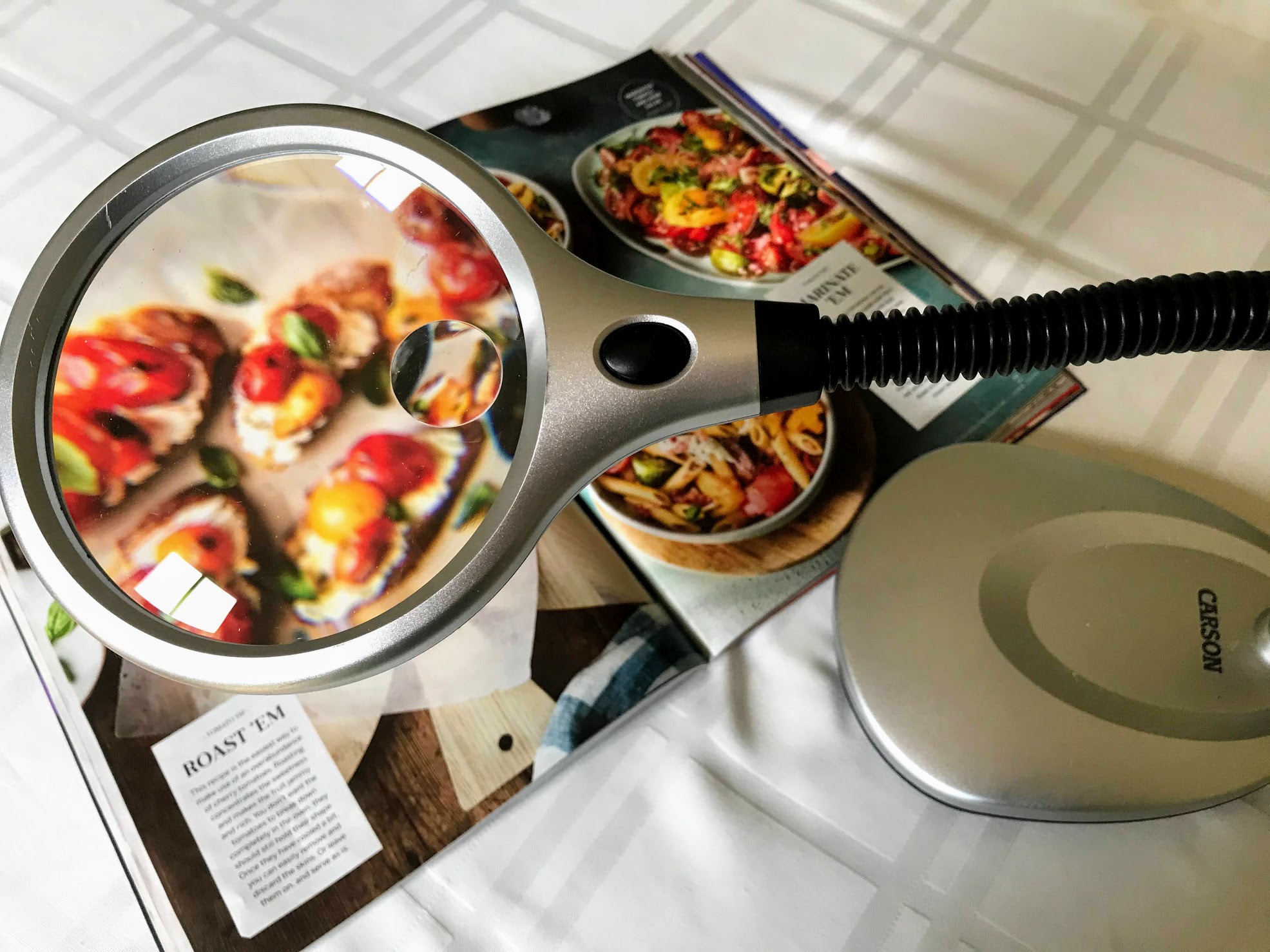 Instead of giving up activities you enjoy, adapt by getting the right magnification and light.  A magnifying desk lamp is great to have at the desk for hobbies or for going through your mail. Use it to read bills, enjoy a magazine, or to write a letter.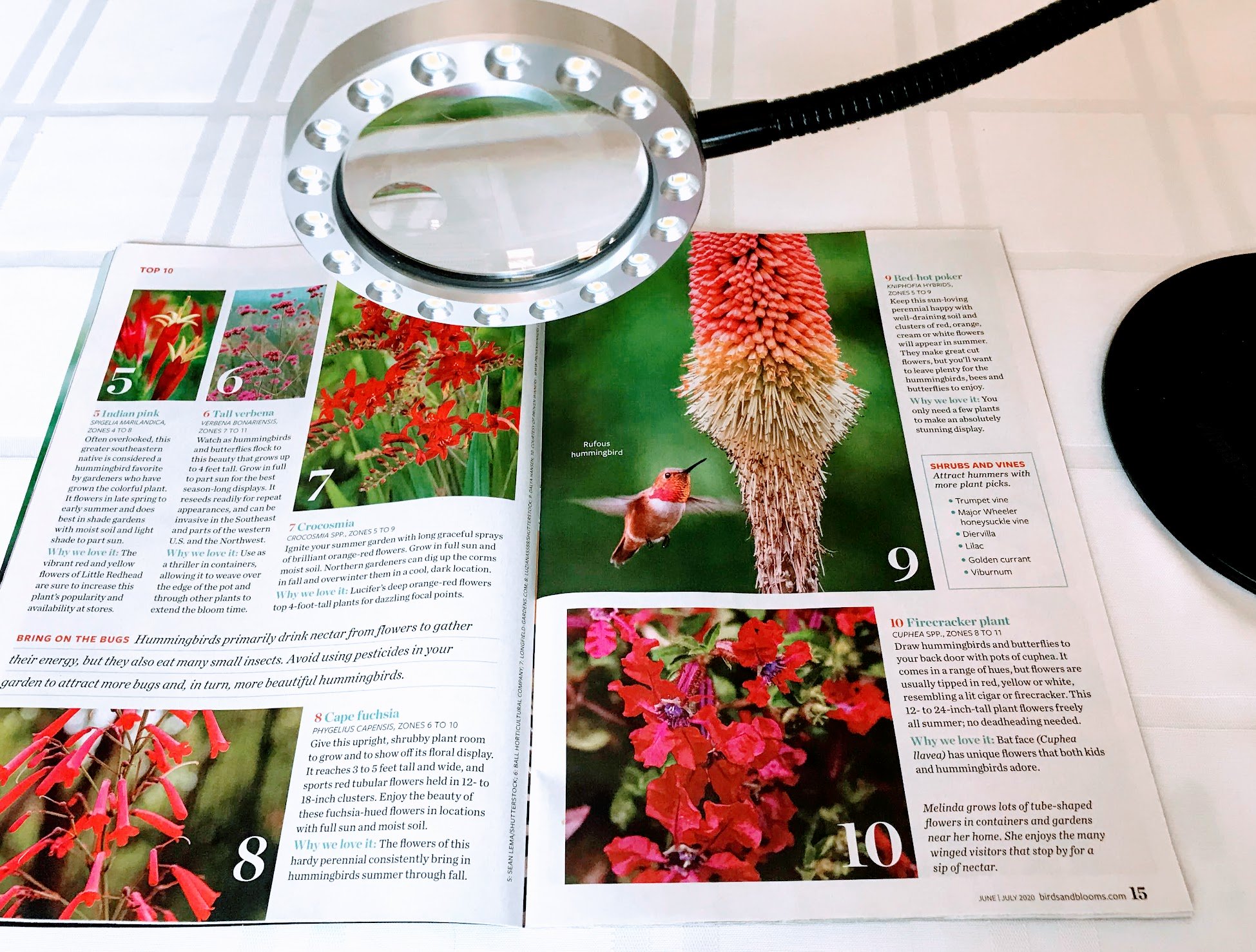 Adjust the light so that it is directed onto your reading material or hobby.
Desk lamps with magnifiers come in a variety of lens sizes and magnification power.  The closer the light to the object or material the better the illumination.
Choose a swing arm, gooseneck or adjustable desk lamp for better lighting and focus. The Carson Magnifying Desk Lamp has a circular lens that measures 3 1/2" and features a weighted base for stability.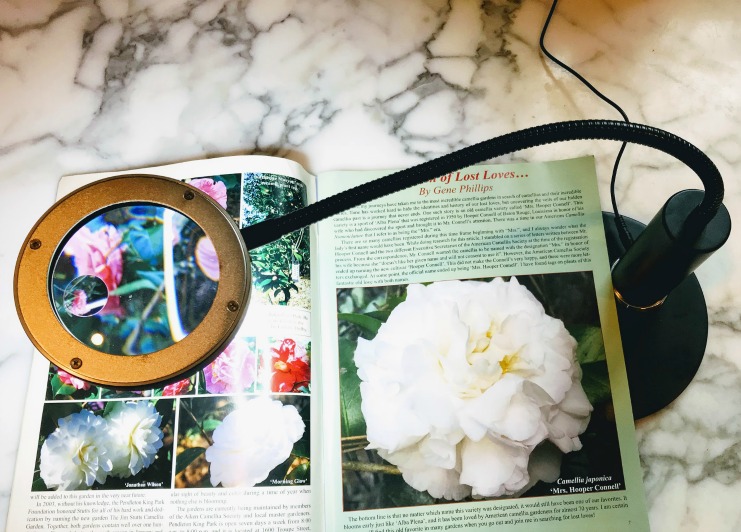 Some of the features to look for are:
1.  An adjustable arm so that the light and magnification can be directed to exactly where needed. The adjustable arm can be a simple gooseneck or a swing arm lamp that pivots, swivels and rotates so you can cast the light in any direction to brighten up an area without having to deal with glare. 
2.  The size of the lens
The size of then lens on a magnifier lamp can range in size from 5" to 12".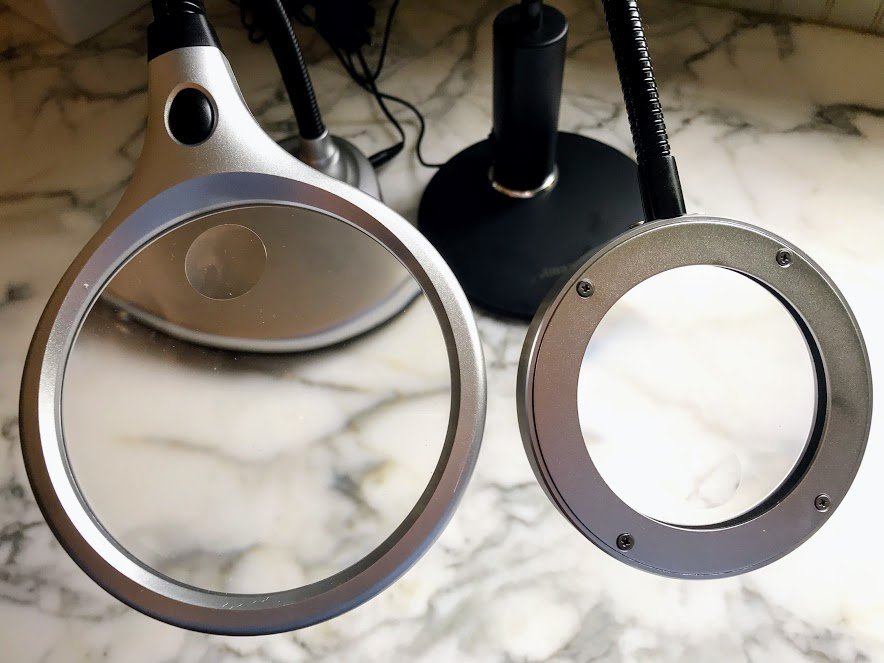 3.  The magnification power with an added higher spot magnification.  It can start at 2X and often these magnifier lamps are 5X with spot magnification up to 10X.
4.  Power source
Some desk lamp magnifiers use only AC and others can be powered by AC and batteries so the lamp can be used anywhere.  Others provide a USB option.

5.  The type and number of lights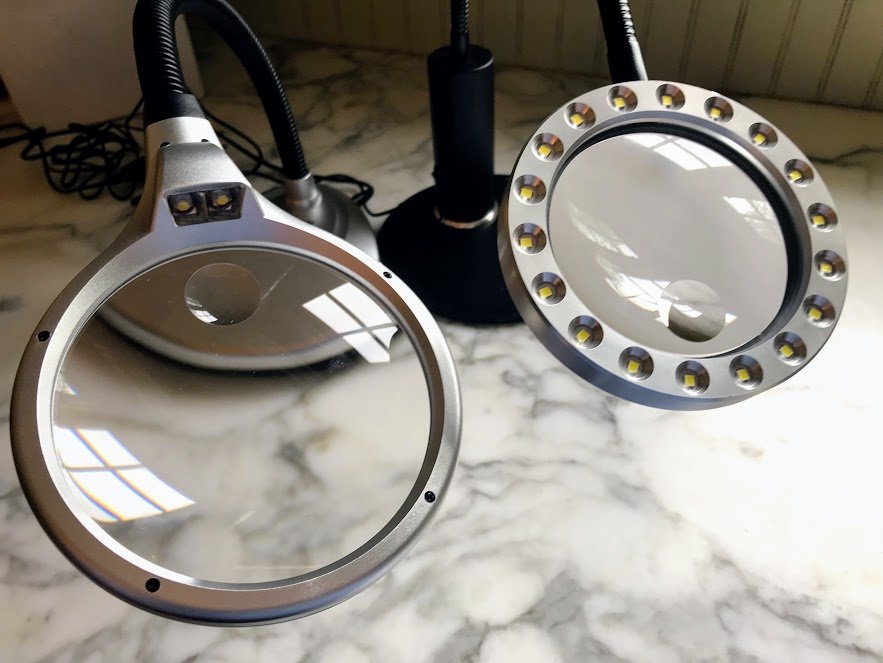 On the left is the Carson Desk Lamp which uses 2 LED lights.  On the right is the AmazLab desk lamp magnifier that has a circle of 18 LED lights.
Several magnifier lamps now offer an adjustable lighting feature that allows you to adjust your lighting up or down to best suit your needs. 
6. Quality of the Lens
The lens can be made of acrylic or glass. Choose a high quality glass lens that is super clear without distortion and haze.
7.  Stability
The magnifier lamp, once it's adjusted to your preferences needs to remain in that position and stay in place.  Look for a weighted base for stability.
Fully Adjustable Magnifying Desk Lamp
This magnifying desk lamp has 3 color temperatures to choose from - cool white, white or yellow.

Fully adjustable, the lamp head can rotate left or right and flip up and down so you can position the light where it's needed most.
The sturdy clamp allows you to move the magnifying light from your kitchen to your desk to your garage workbench. It illuminates your work area while providing magnification.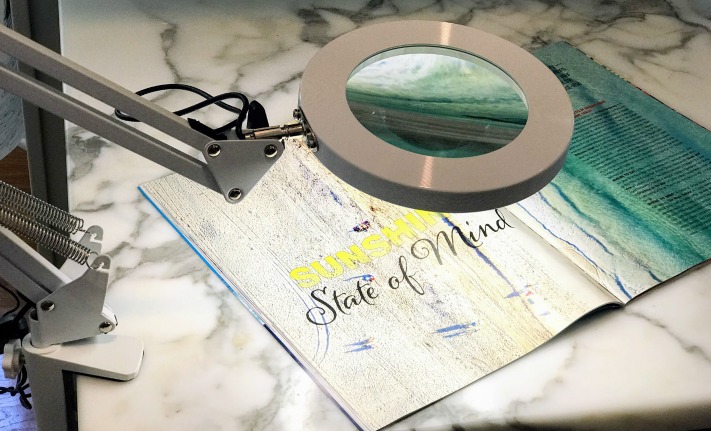 The circular LED light is adjustable for brightness and temperature from cool white, white to yellow.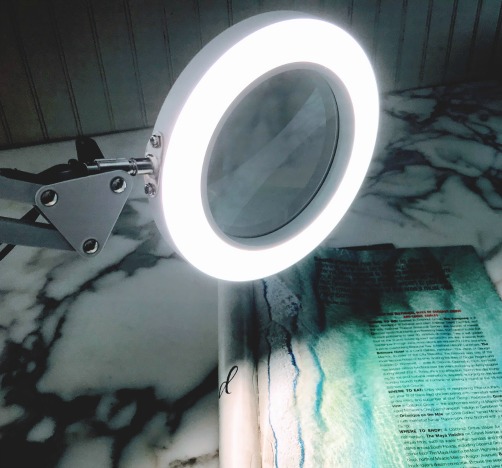 No more holding a lighted magnifier - go hands free and enjoy performing your hobbies, crafts or reading with this fully adjustable magnifying desk lamp.

As an Amazon affiliate I do receive a small commission for purchases made through the links provided at no cost to you.
Swing Arm Magnifying Desk Lamp
Carson Desk Lamp with Magnifier
You can also get a magnifying desk lamp that uses LED lights. The gooseneck feature allows the lamp to be positioned close to your reading material or hobby.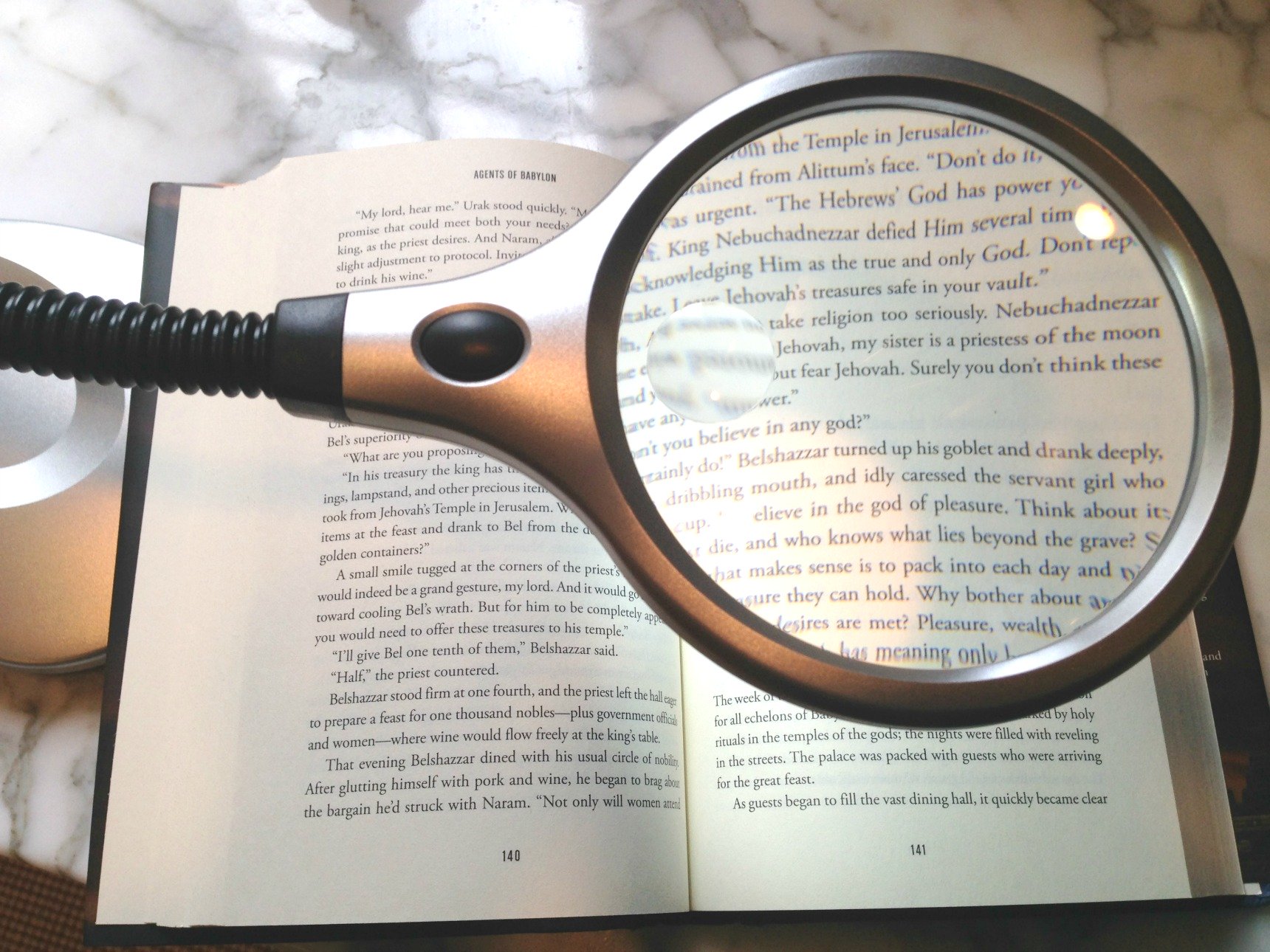 1. Lens Size is 4" diameter
2. Magnifying power of 2X with a spot 5X magnifier
3.  Two LED lights
4.  Powered by electric cord or 3 AAA batteries
5.  Gooseneck is adjustable and will stay in the adjusted position

Often with the brighter LED lights less magnification is needed.

This magnifier light is perfect for any desk or kitchen counter top. It can also run on batteries so you can move it anywhere - even if there is no electrical outlet.
Use it to read your mail, write letters, look at photos, or balance your checkbook. 
Carson DeskBrite LED 2X Magnifier & Desk Lamp 

Positioning Your Magnifying Desk Lamp
Obviously, the closer the light to your reading material the better the illumination. The farther the light source, the less illumination.  Aim your light onto your page or hobby work in a way that illuminates but doesn't create glare or shadows.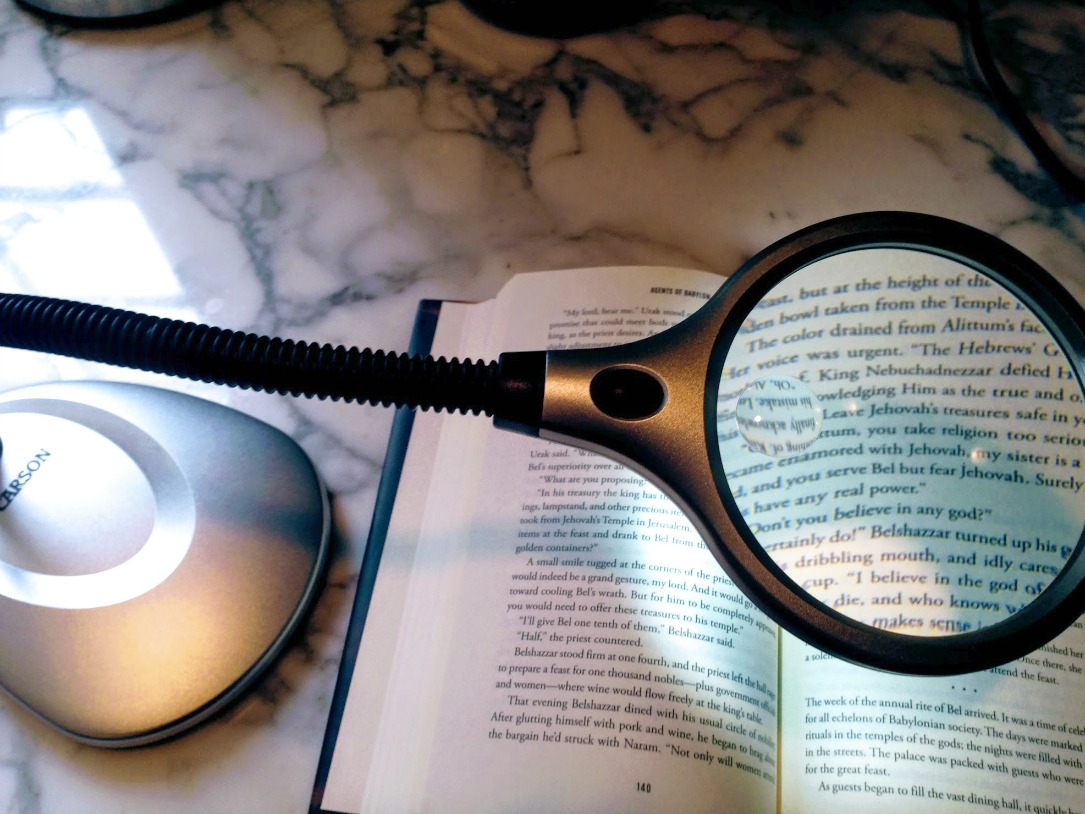 You may have to adjust it several times to find the position that will maximize visibility that's best for you.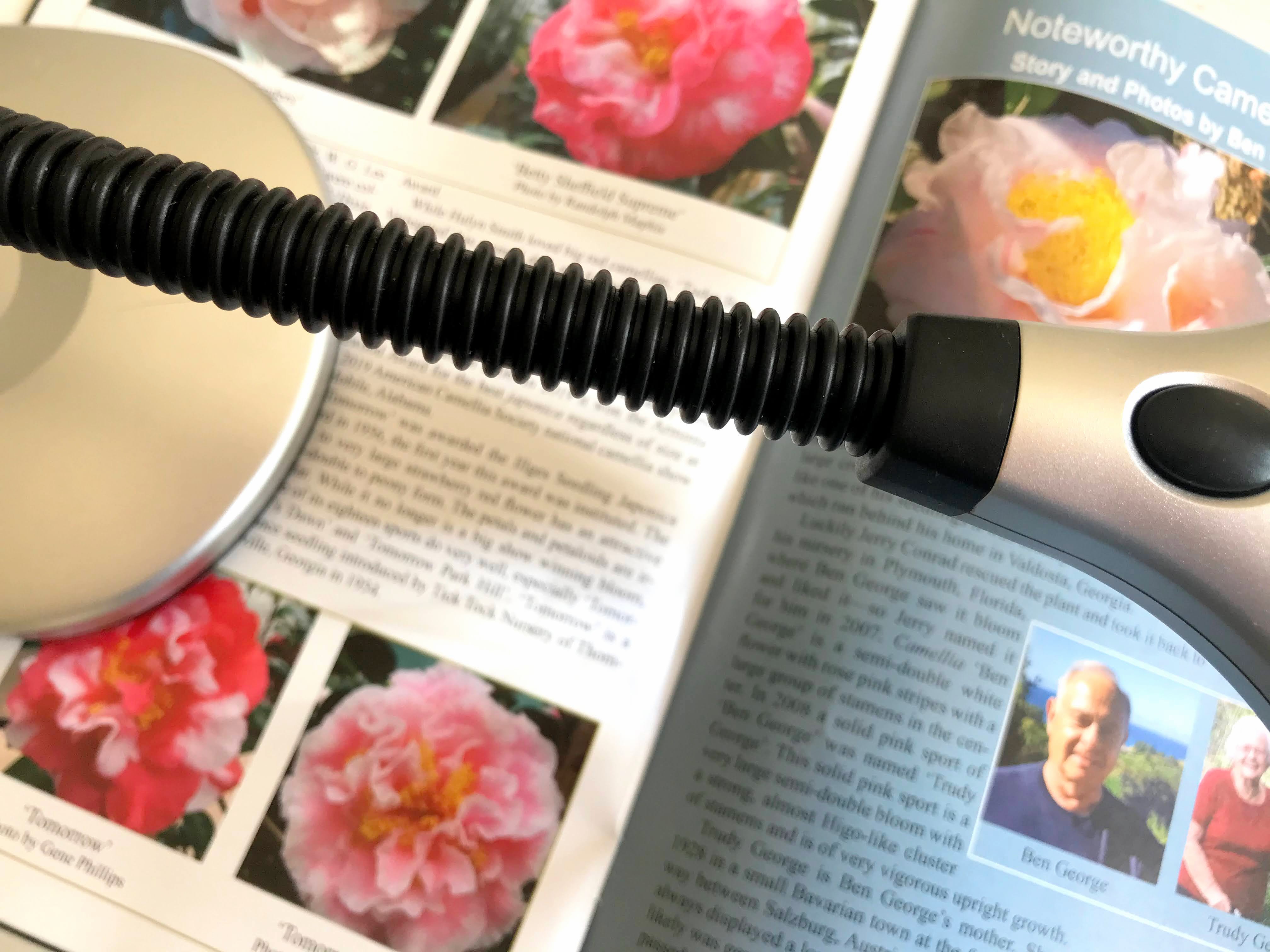 Continue to perform your hobbies or read your favorite magazines or books with an adjustable magnifying desk lamp.
Go Back to Macular Degeneration Magnifiers
Return to WebRN Macular Degeneration Home Page
√ Prevention of Macular Degeneration?
√ Tips for Daily Living?
√ Food Suggestions for a Macular Degeneration Diet?
√ Ideas on Visual Aids to Maximize your Sight?
If you said "yes" to any of the above, sign up for the monthly Macular Degeneration News.