Low Vision Magnifiers

Low vision magnifiers can help one adjust and adapt to vision loss whether it is from macular degeneration, diabetic retinopathy or macular dystrophy. The goal of these types of magnifiers is to maximize one's usable vision.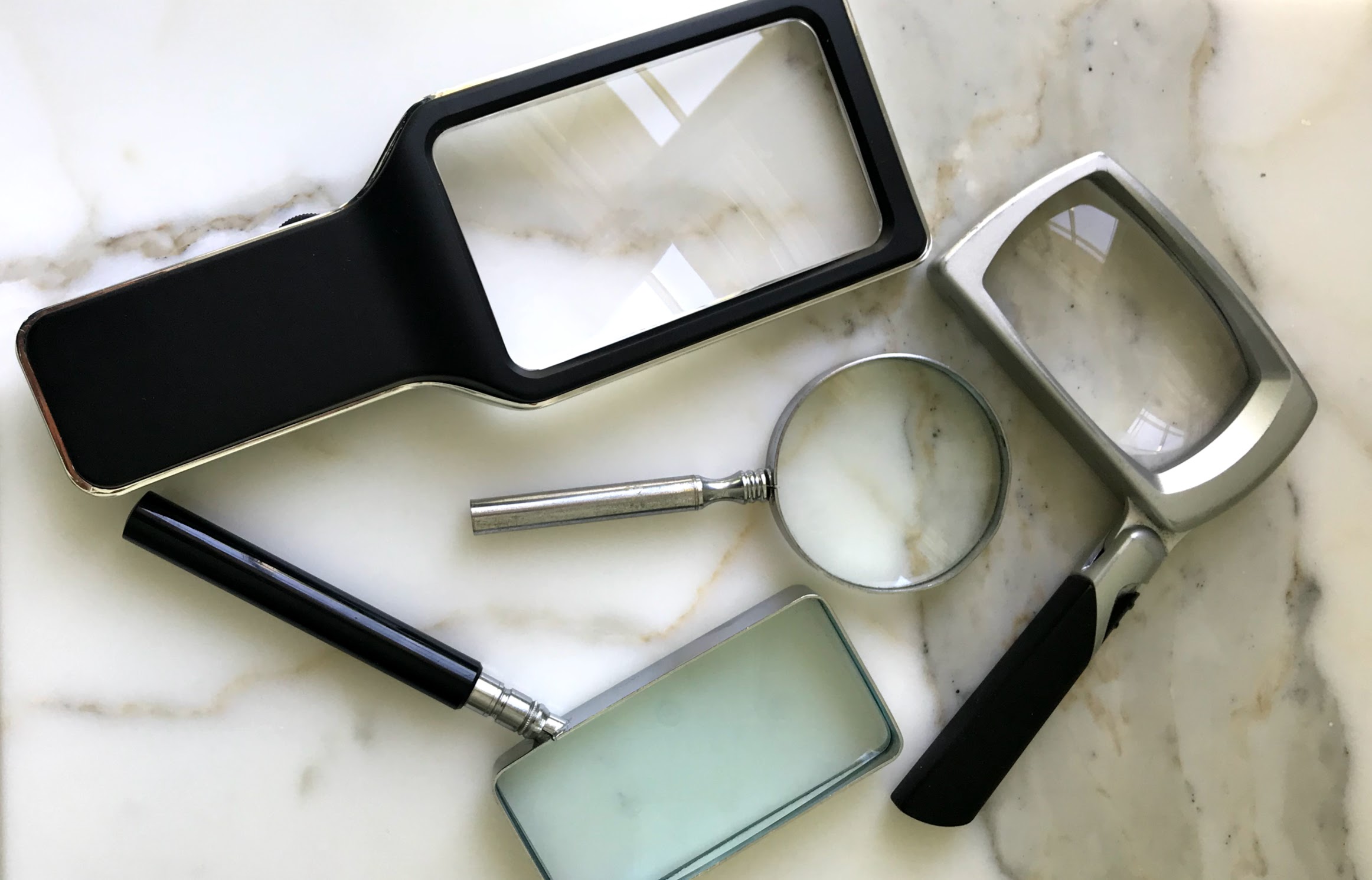 Macular degeneration is the loss of central vision - it is not blindness but rather low vision. Low vision means that a person's vision cannot be corrected by prescription glasses or through any medical or surgical intervention. Low vision magnifiers are meant to make the most of the vision that you do have.
As your macular degeneration progresses you will need more magnification and more light.
There is no one "best magnifier" for someone with macular degeneration.
Different tasks will require different magnifiers.
Decide first what task the magnifier will be used for - such as reading, watching TV, performing a hobby or something portable so you can see prices, labels or menus. Then purchase a low vision magnifier for that specific task. It is best to be evaluated by a low vision specialist to determine what power magnification is needed along with determining what magnifiers and vision aids will be most helpful.
Floor Magnifier Lamp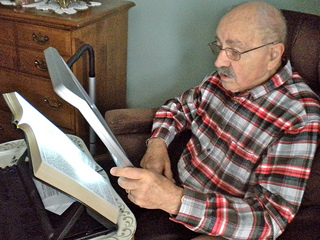 A floor magnifier lamp can be placed and used next to your favorite reading chair. You can keep your hands free and have plenty of light to see.
Good lighting is just as important at magnification. As one's macular degeneration progresses, so does the need for better and brighter lighting.
We purchased this floor lamp magnifier for my father-in-law who has macular degeneration. He is able to continue reading with the combination of light, magnification and large print books.
You can get yours at Amazon here:
Magnifying Floor Lamp with 12 LED Lights
Magnifying Glass with Light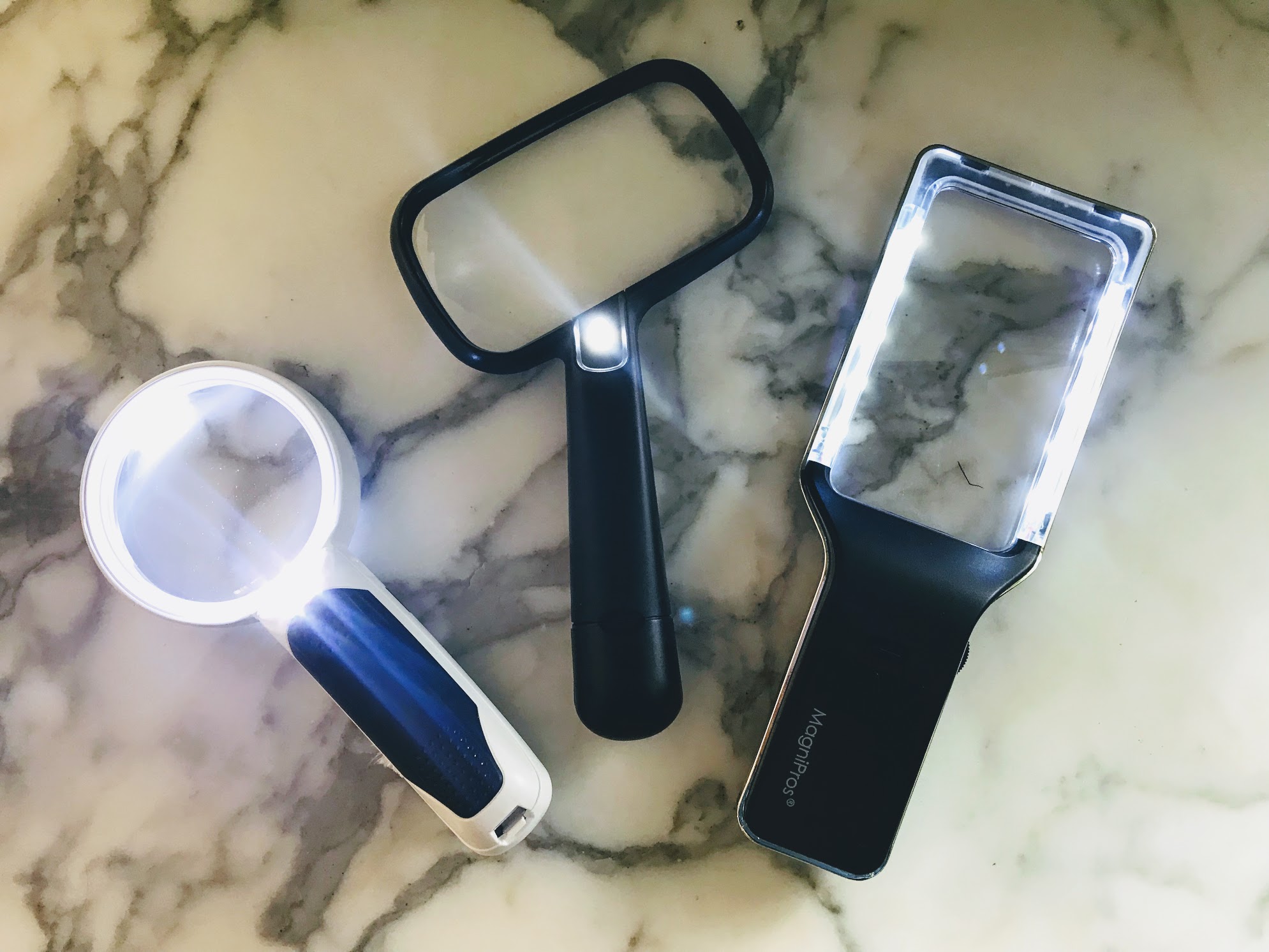 The rectangular lighted magnifying glass on the far right has 10 dimmable anti-glare LED lights. Many other lighted magnifiers have only one light.  You can adjust the lights to your preference.  The optical quality lens is distortion free which means words and letters will have better clarity. 
Use a magnifying glass with light for spot magnification anywhere in your house, garage, basement or while you are out shopping.
Turn the light on and off using a switch located in the handle.  The AAA batteries are easy to remove and replace. 

3X Large Lighted Magnifying Glass with 10 Dimmable Anti-Glare LEDs (Provides Even Lighting for Your Eyes) Ideal for Small Print, Low Vision, Seniors with Aging Eyes
Portable Electronic Low Vision Magnifiers

A portable magnifier can go with you wherever you go.
Keep one in your pocket or purse to use when you are at restaurants, shopping or traveling.
They can range in price from $200 for an electronic magnifier that offers the highest power of magnification to less than $10 for a high quality Bausch and Lomb hand held magnifier.
If you need higher magnification, then this hand held electronic magnifier will help those with macular degeneration keep their independence.
With a 4.3" screen and the ability to magnify from 6x to 25x, it is one magnifier you don't want to be without.
Magnifying Desk Lamp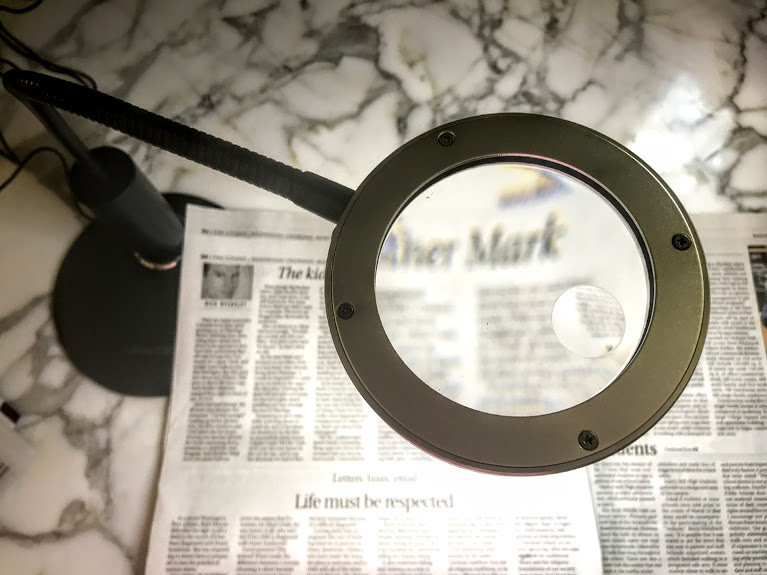 This magnifying desk lamp has an adjustable gooseneck arm that allow for flexibility to move and adjust the light and magnification for clarity and to maximize your useable vision.  The viewing area is 3.5" diameter and the magnification is 3.5X.
There is a ring of 18 LED lights that allows for an even spread of light. The base is nice and heavy so that the lamp does not easily tip over.  A clear distortion free lens means that one can easily see fine detail.  It can be used anywhere - even where there isn't an electrical outlet as it can be charged up with the included USB cord. 
This magnifying desk lamp is a practical choice for any close up work.

Amazlab DL4B Steel Dual Lens Magnifier LED Desk Lamp USB Cabled, 3x6x Magnifying Glass, Gooseneck and Extra Bright LED Lights.
Go from Low Vision Magnifiers to Low Vision Gifts

Go from Low Vision Magnifiers to WebRN Macular Degeneration Home

Would you like to be updated on:
The Latest Macular Degeneration Clinical Trials?
√ Prevention of Macular Degeneration?
√ Tips for Daily Living?
√ Food Suggestions for a Macular Degeneration Diet?
√ Ideas on Visual Aids to Maximize your Sight?
If you said "yes" to any of the above, sign up for the monthly Macular Degeneration News.