Argus II Retinal Prosthesis System for RP and Advanced Dry AMD

The Argus II Retinal Prosthesis System is the result of more than 20 years of research by Second Sight Medical Products, Inc.   The prosthesis  provides electrical stimulation to the retina through the use of several high tech pieces of equipment including a retinal implant.

Second Sight Medical Products Inc is located in Los Angeles, California.  Their mission is "to develop, manufacture and market implantable visual prosthetics to enable blind individuals to achieve greater independence." Their U.S. Headquarters are in Sylmar, CA, and European Headquarters are in Lausanne, Switzerland.

How It Works

The Argus II works by bypassing damaged photoreceptor cells - rods and cones that are responsible for converting light so that the brain can perceive images via the optic nerve.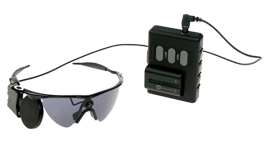 The system consists of:
1. Implanted electrodes on the retina in a single eye

2. An external miniature video camera
3. A video processing unit
4.  Eyeglasses that include a transmitter

The process begins with the video camera taking images that are then sent to the video processor.  The processor wirelessly transmits the images as electrical impulses to the implanted electrodes.  According to the Second Sight website, "These pulses are intended to stimulate the retina's remaining cells resulting in the corresponding perception of patterns of light in the brain. The patient then learns to interpret these visual patterns thereby regaining some visual function."
While the device has been life changing for many of those who have received the implant, the Argus II does not restore normal vision.  Those who have received the implant report their ability to see light or to determine that there are people in the room.  Patients see only in black and white, very low resolution images and are able to get a general sense of their surroundings.

It does not treat any retinal condition nor does it prevent the progression of any eye disease.  Several months of training with a low vision specialist is needed to maximize one's usable vision.

Clinical Trial for Advanced Dry AMD


A clinical trial to test the device in those with advanced dry AMD has opened up at Manchester Royal Eye Hospital in Manchester, United Kingdom. Because it is a Phase I study only a total of 5 patients will be enrolled. Eligible patients must have dry macular degeneration with geographic atrophy. There can be no sign of wet AMD or bleeding in the implanted eye or other ocular diseases like optic nerve disease.

According to clinicaltrials.gov, "Five subjects with severe dry AMD who are legally blind will be implanted with the Argus II System. The study will evaluate the safety of the device and surgery, as well as functioning of the system and the extent of any restored vision. Each subject will be followed for 3 years, with their eye health and visual function tested at multiple time points."
Professor Stanga,  Director of the Manchester Vision Regeneration (MVR) Laboratory at the National Institute for Health Research (NIHR)/Wellcome Trust Manchester Clinical Research Facility says: "On behalf of the Manchester Royal Eye Hospital, we feel privileged to be conducting the world's first study into retinal implants for patients with AMD. This technology is revolutionary and changes patients' lives - restoring some functional vision and helping them to live more independently."

Four of the 5 clinical trial participants with dry AMD have received the implant and are using the ARGUS II as of March 2016. 
"The system is well tolerated and we can restore some visual function in patients with advanced AMD … For us and the patients, this is a significant achievement," stated Consultant Ophthalmologist & Vitreoretinal Surgeon at the Manchester Royal Eye Hospital, Paulo Stanga at Optometry Tomorrow (Hilton Birmingham Metropole, March 13-14. 2016).
"[The device] improves orientation and mobility and improves everyday life," he highlighted.

FDA Approval for Retinitis Pigmentosa

The Argus II received approval by the U.S. Food and Drug Administration February 14, 2013 to treat individuals with late stage retinitis pigmentosa (RP).  It received European approval in 2011 and as of January 12, 2015 Health Canada has approved the Argus® II Retinal Prosthesis System to treat individuals with severe to profound outer retinal degeneration.
Since FDA approval, The University of Michigan's Kellogg Eye Center performed the  first U.S. commercial implants.

A Duke Patient's Experience

"It is incredibly exciting to have FDA approval to begin implanting the Argus II and provide some restoration of vision to patients blinded from RP. In the patients that have been implanted to date, the improvement in the quality of life has been invaluable," said Mark Humayun, MD, PhD, Cornelius Ping's Professor of Biomedical Engineering, Professor of Ophthalmology, Biomedical Engineering, Cell and Neurobiology, Doheny Eye Institute at University of Southern California.
"The fact that many patients can use the Argus implant in their activities of daily living such as recognizing large letters, locating the position of objects, and more, has been beyond our wildest dreams, yet the promise to the patients is real and we expect it only to improve over time."
Continual software improvements are being made and the researchers hope to expand the use of the system so that it will benefit those with vision loss due to other ocular conditions besides retinal diseases.

Return to Low Vision Technology
Go from Argus II to WebRN Macular Degeneration Home

√ Prevention of Macular Degeneration?
√ Tips for Daily Living?
√ Food Suggestions for a Macular Degeneration Diet?
√ Ideas on Visual Aids to Maximize your Sight?
If you said "yes" to any of the above, sign up for the monthly Macular Degeneration News.