Macular Degeneration Aids using Voice Activation
Simplify your life with macular degeneration aids that use voice commands or voice activation like this Amazon Echo.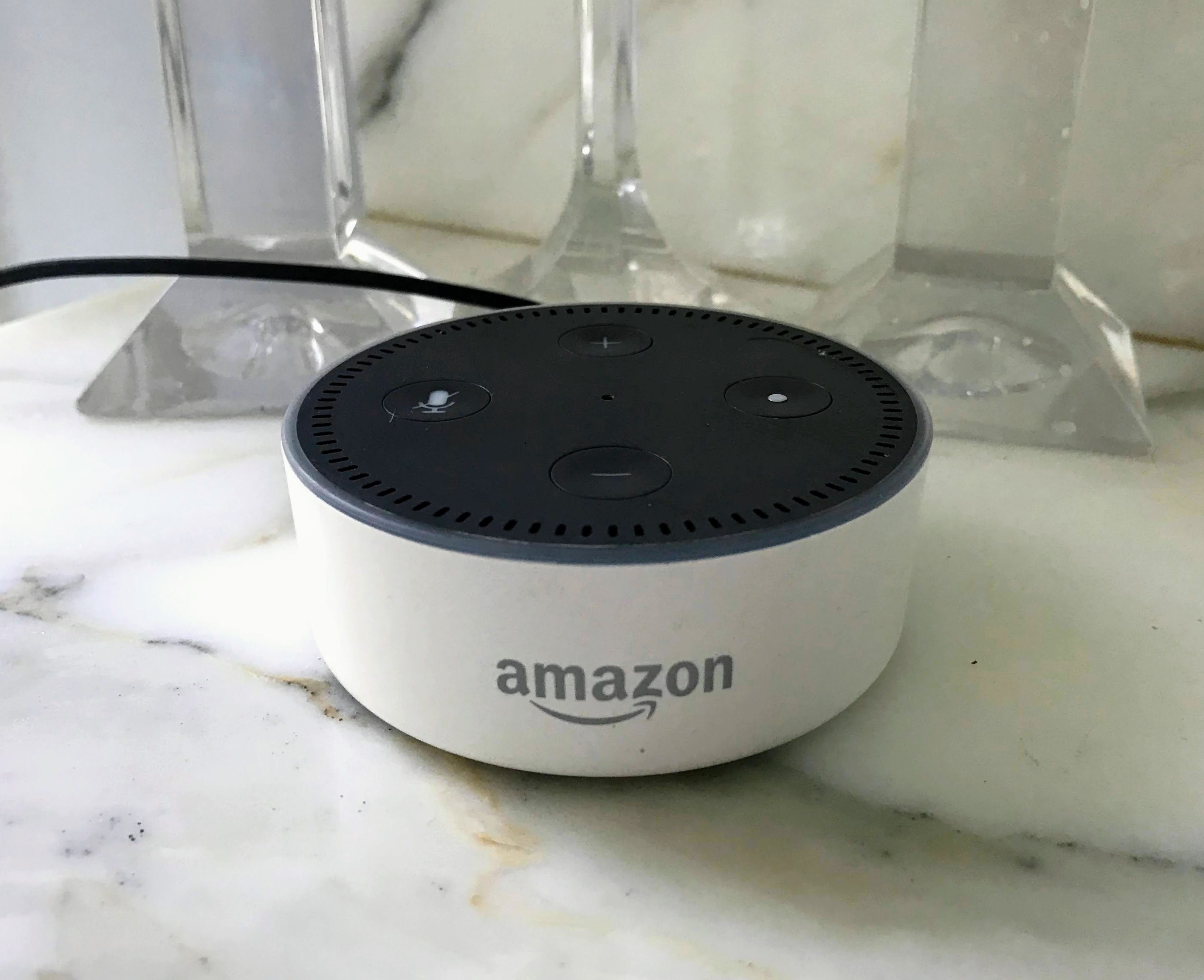 This low vision technology device is a cloud based voice service that is always getting smarter and adding new skills.  It can be used by itself or if you want better sound connect it to a Bluetooth enabled speaker or to an audio cable.  
What can Alexa do?
Play music, make calls, send and receive messages, read the news, check sport scores, and control smart home devices.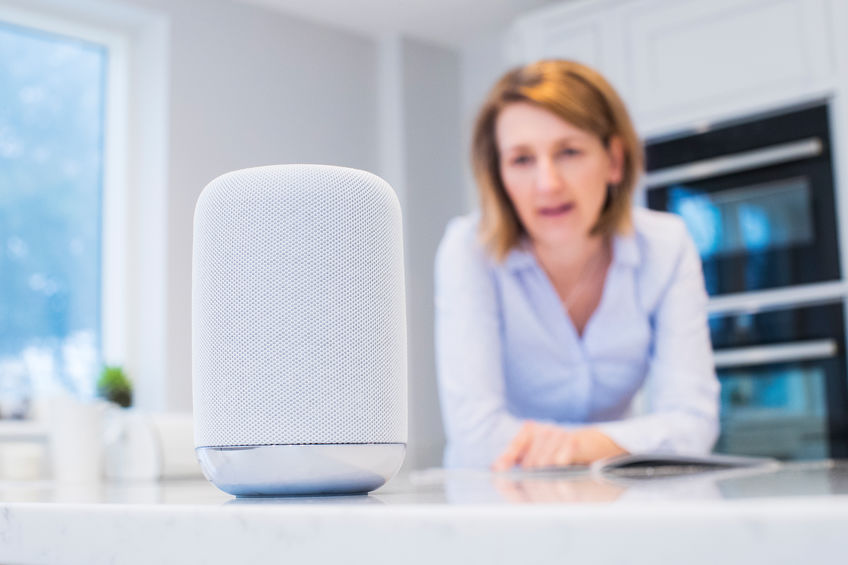 Want to know what time it is, check your local weather or just listen to your favorite tunes?  One device can do it all.  There is no need for checking large number clocks, searching on line for your local weather, or writing down a reminder to get eggs when you can simply ask Alexa, "Alexa, what time is it?" or "Alexa, what's the weather forecast for today?" or "Alexa, add eggs to my shopping list."
Echo Dot
Amazon has a technology that benefits those with macular degeneration or those with other low vision problems.  With a simple voice command you can:
Check the Weather
Play Music from Amazon Music, Pandora, iHeartRadio or Spotify
Set Your Alarm
Set a Timer
Ask a Question
Manage Your Calendar
Keep a To Do List
Set a Reminder for an appointment, a birthday or to call a friend
Create a Shopping List
Place an Order on Amazon
Get a News Update
Listen to audio books or Ted Talks
Request a ride from Uber
Connect to Smart Home devices such as lights, thermostat, garage door and sprinklers
As you can see in the above picture the top of the device is lit up which means Alexa is awake.  To activate, you simply use the word, "Alexa" and then follow with your question or command.

The Echo Dot is small - about 3 1/4" circle.  It comes in black or white.  You do need WiFi service for it to work. 
Echo Dot in Your Kitchen
In your kitchen ask Alexa to
set a timer
play your favorite music,
make a shopping list
order paper towel
ask how many tablespoons are in a 1/4 cup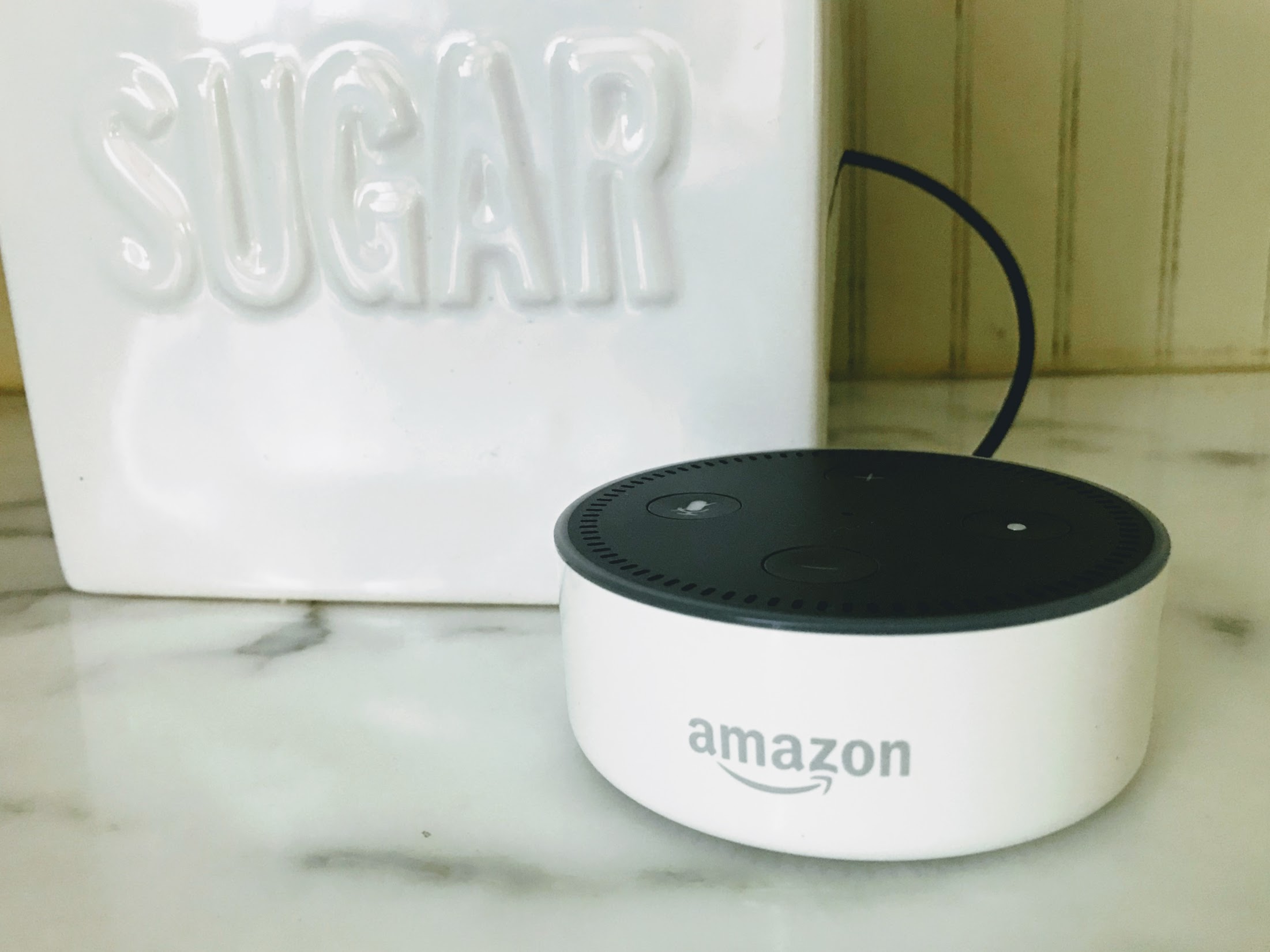 Echo Dot in Your Bedroom
You can use the Echo Dot in many different rooms.    In your bedroom you can ask Alexa:
to set an alarm,
ask for the time or
to play sleep promoting sounds or music
to read your Audible book as you drift off to sleep.

Echo Dot (3rd Gen) - Smart speaker with Alexa
Echo Dot in the Bathroom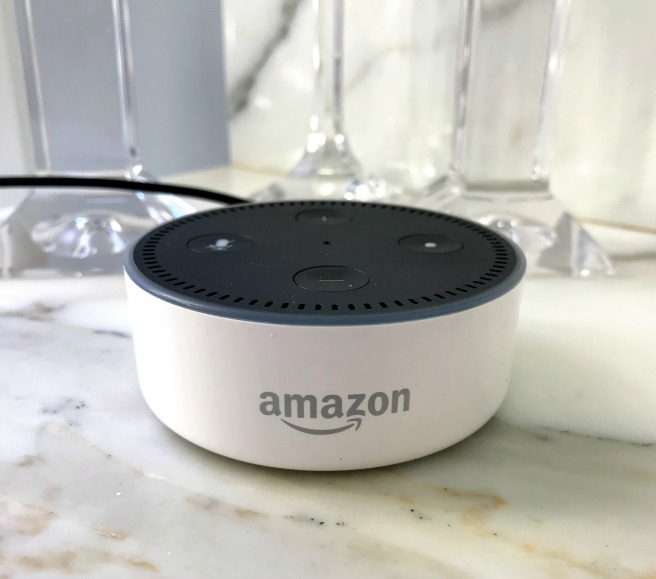 While you are getting ready for the day you can ask Alexa
What is the temperature
What is the weather today
What are the news headlines
Add toothpaste to your shopping list
Create a to do list
What are the SEC football scores?
Echo Smart Speaker
The Echo Smart Speaker features upgraded speakers that provide 360 degree sound. The built in smart home hub helps you set up your smart home devices so with simple commands it will turn on a light, change your temperature settings or start your coffee machine.  

The Ehco Smart Speaker has better audio for listening to your favorite music or audio books.
Echo (2nd Generation) - Smart speaker with Alexa and Dolby processing
Download the Amazon Alexa App
At this time the Alexa app is available for download from U.S. app stores.  It is available on these devices:
Fire OS 3.0 or higher
Android 4.4 or higher
iOS 8.0 or higher
You can also go to https://alexa.amazon.com on your Wi-Fi to enable your computer to manage your setting and skills. 
Shopping with Amazon Alexa

You will want to be a Prime Member in order to take advantage of free shipping on most items.  Once you set up an account with your home address and credit card you can have items delivered to your door quickly and so simply.

How to Find a Deal
I was in need of some batteries, so I asked Alexa if there were any deals on batteries today and there was.  So you can shop simply and save money.

Echo Dot and Smart Plug
Combine the Echo dot with a smart plug for using your voice to turn on or turn off your electric device or lamp.  
Go to Amazon here and check out all the ways this low vision aid can simplify your life:
Echo Dot (3rd Gen) - Smart speaker with Alexa
Use your Echo with your lamps for easy one and off voice commands by adding two Smart Switches.
Smart Plug 2 Pack Wi-Fi Enabled Mini Smart Switch Compatible with Alexa, No Hub Required, Remote
When connected to your smart home she can control your thermostat, turn on your sprinklers and open your favorite TV show. Call or message anyone who has an Echo device or the Alexa App.  You can also connect to other rooms in your home using your voice. 
Alexa is always getting smarter, with new skills and new updates constantly being added. Some of the skills you can take advantage of with an Amazon Echo are Amazon Music, Tunein, demo, ecobee, Samsung SmartThings, Allrecipes.com, CapitalOne, pandora, Spotify, iHeartRadio, Friends of Hue, Audible and Expedia. 
Return to Low Vision Technology for Macular Degeneration
Go from Macular Degeneration Aids to WebRN Macular Degeneration Home
√ Prevention of Macular Degeneration?
√ Tips for Daily Living?
√ Food Suggestions for a Macular Degeneration Diet?
√ Ideas on Visual Aids to Maximize your Sight?
If you said "yes" to any of the above, sign up for the monthly Macular Degeneration News.