Magnifying Floor Lamp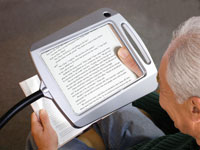 A magnifying floor lamp provides light and magnification making it hands free so that reading or performing hobbies is easier. One that has a gooseneck or swing arm is important so that the lighted magnifier can be adjusted or moved for optimal lighting and magnification.

Floor Lamp Magnifier

Floor lamp magnifiers come in different styles and with different features - the best one being it is hands free. These lamps make reading enjoyable when you can place it next to your favorite reading chair and enjoy a good read without eye strain.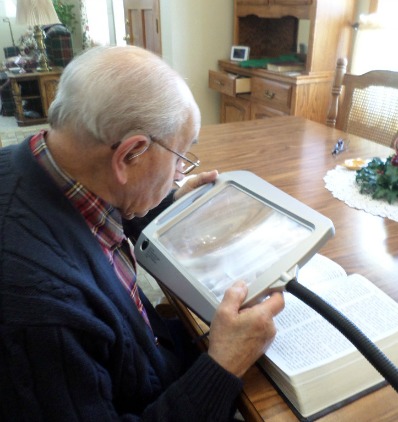 While visiting my in-laws I noticed that they had many table lamps but no swing arm desk lamp or swing arm floor lamp. More direct lighting is needed for those with macular degeneration. In fact one of the first signs of macular degeneration is the need for more light.
Being able to adjust the lamp or direct the light so that the light hits your book, newspaper or hobby is the most important feature of this vision aid.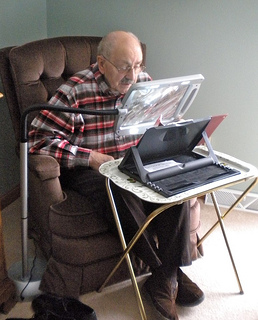 Using magnifying lamps with a flexible arm allows one to adjust the location and the angle of the light and magnifier to best suit your project or reading material. It is one of the most useful vision aids for macular degeneration. 
A hand held magnifying glass is good for quick, short tasks like reading a label on a can or looking at a photograph or checking a bill. But for hobbies that involve using your hands or for reading that takes more  time, then you need a hands free magnifier. A floor lamp magnifier is a good option.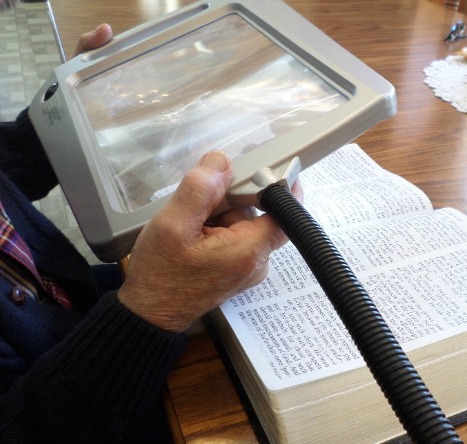 It can be placed near your favorite reading chair for reading books, instructions, magazines or newspapers. Or it can be used at a table or desk to perform your favorite hobby or maybe less favorite activities like writing checks and balancing your checkbook. Combine this magnifying lamp with a large print book for even less eye strain.

Brightech - LightView PRO SuperBright Magnifier Floor Lamp with 60 Embedded LEDs
Light and Magnification

Although this one only provides 2x magnifier there is a 5x bifocal insert. This is typical for any page magnifier. However with the combination of brighter lights less magnification is needed. Also many people combine a magnifying floor lamp with large print books.
Bright LED Lights
Bright LED lights provide bulbs that last much longer than traditional light bulbs and do not get hot or give off heat. Cool - these bulbs do not cause heat build-up; LEDs produce 3.4 btu's/hour, compared to 85 for incandescent bulbs. 12 LED lights provide plenty of lighting. You will never need to replace the light bulbs. More efficient - LED light bulbs use only 2-10 watts of electricity (1/3rd to 1/30th of Incandescent or CFL).
Page Magnifier with a Large Viewing Area
While you may not be able to view a full page, the large viewing area makes reading easier when more words and sentences can be seen at one time.
Flexible Neck
It's important to have a lamp that can be adjusted and positioned so that the light and magnification is in a spot that provides the best clarity for the reader.
Stable Base
A heavy base means that even though the lamp is top heavy it won't tip over.
Read this 5 star review by JCH
JUST PERFECT!, February 5, 2013
"This is just what my friend needed. She is 90 years old with wet macular degeneration. She tried everything to be able to read--the magnifiers that hang around your neck, those held in your hand, etc. Nothing worked until this. The beauty of it is that she can place it by her chair, against a desk, no worries that it will tip over that way, then she just swings it over and pushes the button on top. She has light and magnification without having to hold anything but what she is reading!"
Go to Amazon Here To Get Yours
Mighty Bright LED Floor Light and Magnifier
As one's macular degeneration progresses the need for light and magnification increases. Using a hands free magnifier like a floor lamp magnifier is one way to adapt to your macular degeneration.
This full page magnifier means your hands are free to hold your book, newspaper or magazine. Just set it near your favorite reading chair, desk or table.
We bought the floor lamp magnifier like the one pictured here for my father-in-law who has wet macular degeneration. He loves it and uses it everyday for reading. To check it out click here:
Find ways to adjust so that you can continue doing the things you enjoy and the tasks you need to do to maintain your independence.
Better floor lamp magnifiers have become available since we bought the one in the video.
Amazon now offers a lamp that uses bright LED lights and 1.75 magnification.
Even with the bright lights, the lamp stays cool.  A heavy base keeps it sturdy so it doesn't tip while moving and adjusting the lamp.

If you live outside the United States, Amazon ships internationally.
The flexible gooseneck allows you to position the light/magnifier wherever it is needed. Go to Amazon and check out some of the great reviews:
Brightech LightView Pro LED Magnifying Floor Lamp
Use a magnifying floor lamp for more than just reading. Continue with some of your favorite hobbies by combining light and magnification. 
Go from Magnifying Floor Lamp to Reading Magnifier

Return to WebRN Macular Degeneration Home
√ Prevention of Macular Degeneration?
√ Tips for Daily Living?
√ Food Suggestions for a Macular Degeneration Diet?
√ Ideas on Visual Aids to Maximize your Sight?
If you said "yes" to any of the above, sign up for the monthly Macular Degeneration News.