On Line Grocery Shopping
On line grocery shopping provides not only convenience but the opportunity to eat healthier.  You can often find a better selection of organic and non-GMO foods and you can get fresh produce, meat and dairy products delivered right to your door step.

How to decide which service(s) you want depends on what you are looking for.  Some on line grocery shopping only offers non-perishable items while other services offer fresh produce, frozen food and cold dairy products.

Amazon Prime Pantry
With Amazon Prime Pantry you can order your paper goods, personal care products, and non-refrigerated food items like rice, canned soup, oatmeal, etc.
Add at least $35 of Prime Pantry products to get free delivery. For Prime Pantry orders under that amount, a $5.99 delivery fee applies. You receive free shipping on orders $35 or more. All Prime Pantry boxes are shipped using ground shipping, and may take 1-4 business days to arrive.
If you don't like shopping or transportation is a problem, order your paper goods, laundry soap, cleaning supplies and a whole lot more on line and enjoy the convenience of home delivery.

Prime Pantry
On Line Grocery Shopping with Amazon Fresh

You can buy your groceries on line from Amazon using Whole Foods if there is a store near you or using their service called Amazon Fresh.
Since there is no Whole Foods in my area, I use the Amazon Fresh option and was surprised that often their prices are better than what I can get using Instacart from my local grocery stores.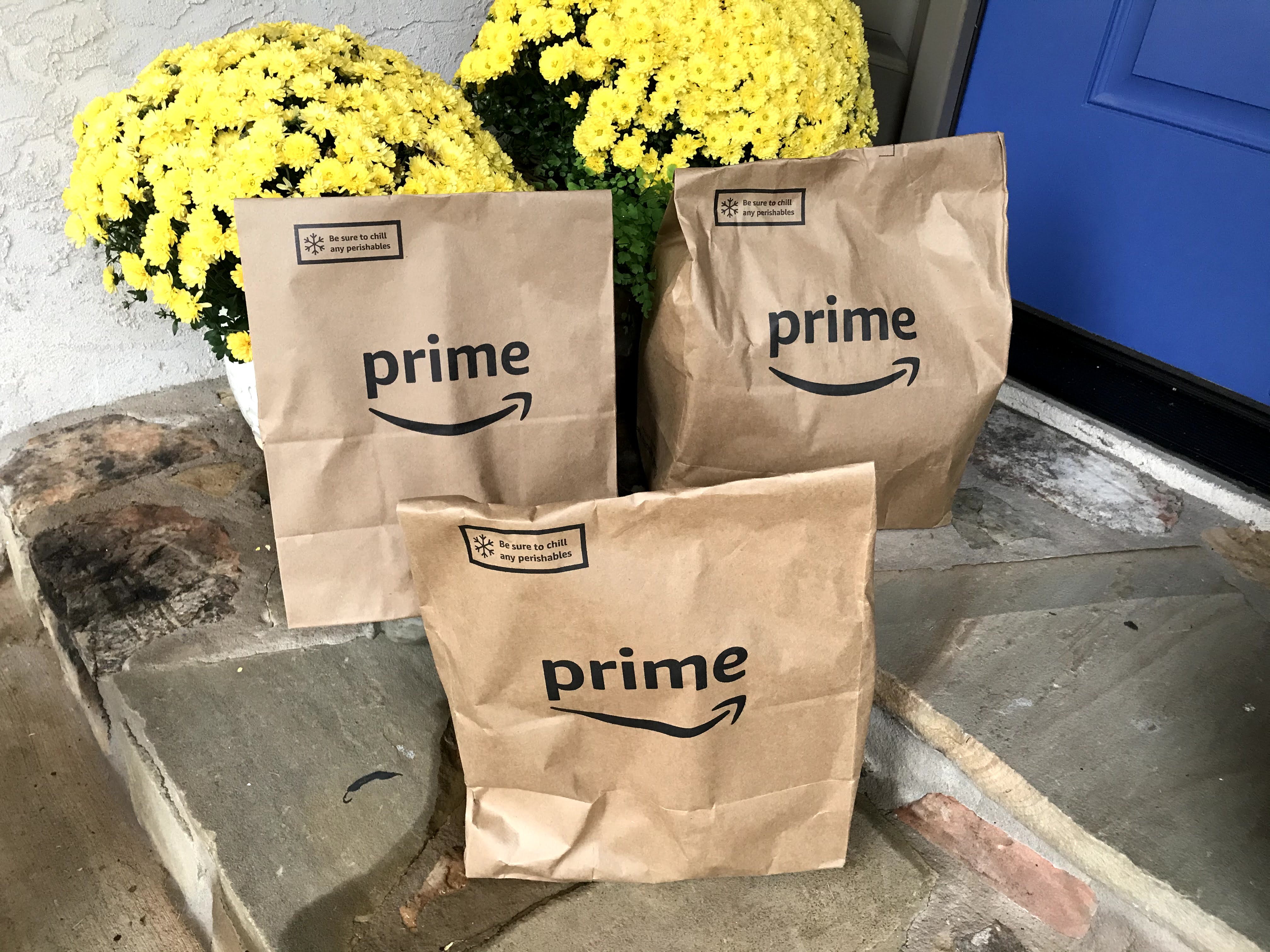 As you can see it's a great way to get fresh produce and frozen foods delivered right to your door.

Amazon Fresh
On Line Grocery Shopping with Amazon Prime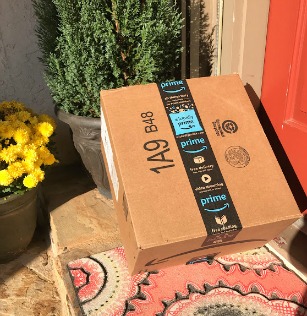 Amazon Prime is a yearly membership of $139 that gives you free 2 day shipping on items that have the Prime Logo.
I have this membership and I'll often check Today's Deals to order my organic goji berries, canned beans, and organic flour when there is a special.
Of course you get free shipping on thousands of other non-food items as well. 
Amazon Prime
On Line Grocery Shopping with Thrive Market
For those who are looking for organic and non-GMO food items at a big savings, Thrive Market is a great option.  I often compare their prices on-line with Amazon and Vitacost before ordering, and consistently Thrive Market has the lowest prices. 
Shipping is fast - usually I get the order in about 3 days.
I can buy my supplements and safer personal care products from Thrive as well such as Molly's Suds laundry soap, Dr. Bronner's Toothpaste and Seventh Generation dish soap usually at better prices than the grocery store.  You can try it for free for 30 days before deciding if you want to cancel and then if you think you'll use them pay the yearly membership fee of $59.95.  You can also give the membership fee to someone who struggles getting to the grocery store.

Thrive market also offers frozen organic, wild caught and grass fed meat. I bought the variety pack that included wild caught shrimp and salmon, grass fed beef and pork and organic chicken.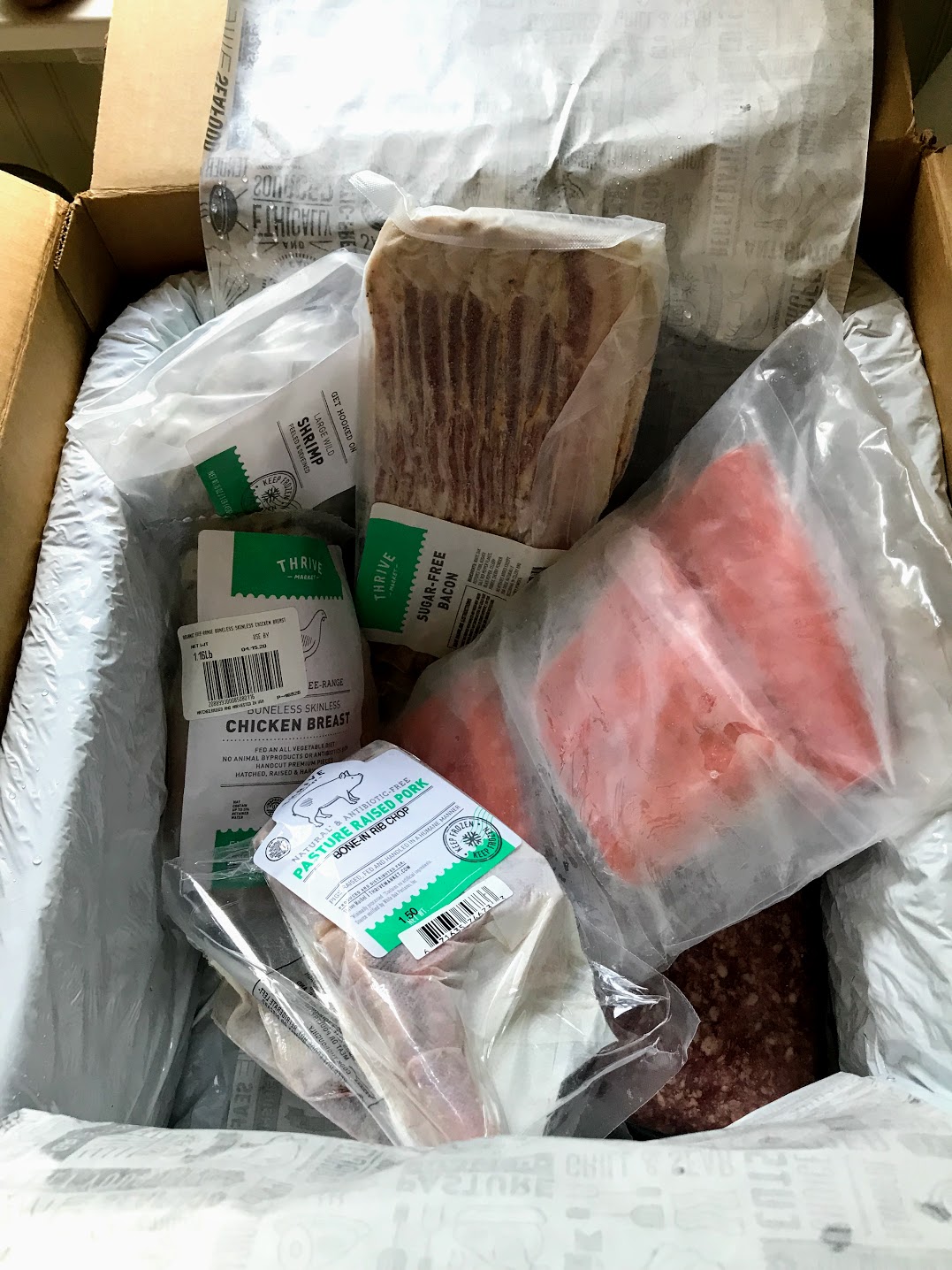 This company has become my go to for non-perishables and now for high quality meat. I order from them at least twice a month.
First time customers get 25% off their first order and free shipping with a $49 purchase for just trying before you commit.

On Line Grocery Shopping for Quality Meat
I have been getting my grass fed and grass finished ground beef along with organic chicken from ButcherBox. 
The food arrives frozen and well packaged.  One can choose from wild caught fish to organic chicken to grass fed and finished beef delivered right to your door.  The delivery options range from every 2 weeks to every 8 weeks. This certified B corporation is one that I like to support. 
On Line Grocery Shopping with InstaCart
InstaCart gives you the option of on line grocery shopping with Aldi, Sprouts, Costco, Publix, Target, Kroger, CVS and Petco. Delivery is free on your first order. You will see a line for a 10% service charge that is optional.  
I tried the free delivery for my first time to see if I liked the freshness of the produce.  If you think you'll be using their services frequently you can purchase an annual membership that provides unlimited delivery on orders $35 or more.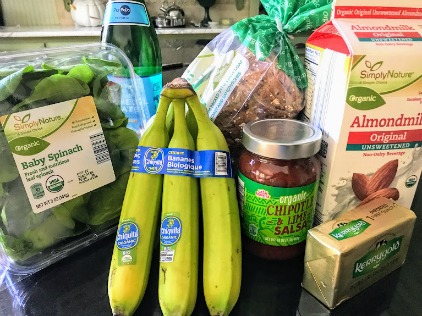 When you go to their website you enter your zipcode to see if the service is available in your area. Your products can be delivered in as little as an hour and free delivery may be limited to certain times of the day.
The Aldi website offered fresh produce, frozen goods, dairy products, canned goods, meat, snacks, nuts, cereals, etc.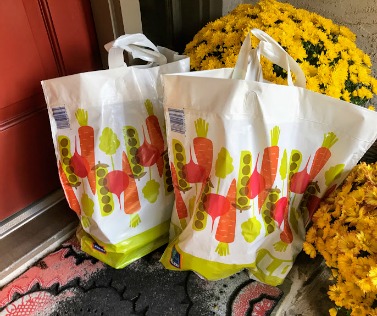 Two of my orders - one for organic eggs and one for organic grapes - were out of stock.  I received a text message asking me to approve other options or receive a refund.  Since the options weren't organic I opted for a refund. 
A link is provided that gives a very easy to read screen showing I was getting a refund for the organic grapes and organic eggs and replacing the organic strawberries with organic pears.  You can see what is in your cart and you have the option to "chat" with your shopper. Although I was disappointed that several of my organic produce orders were not available the shopper was very communicative via text and I was happy with the process.
A text was sent when the shopper was on her way and provided me with an estimated time of delivery which was spot on.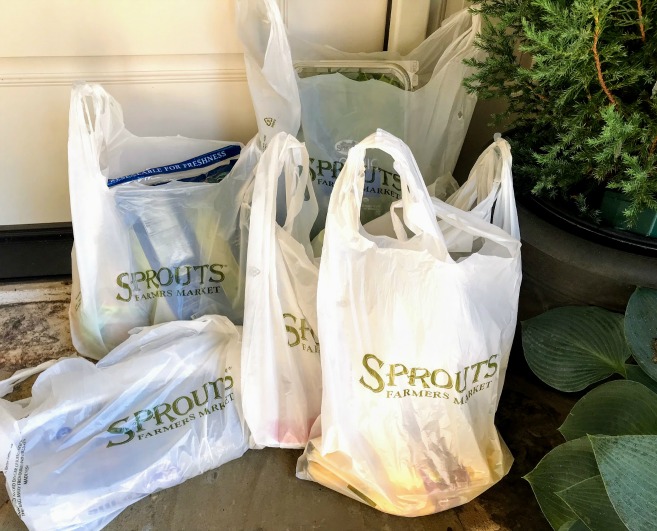 I've used Instacart to place orders with Publix, Aldi and Sprouts and again received excellent service from my shoppers with on-time deliveries.  I schedule the delivery at a time that I will be home so I can get the cold items in the refrigerator and freezer.
InstaCart
The convenience of ordering groceries on line has changed how I grocery shop and I find I'm not missing going to the grocery store at all.

Go Back to Macular Degeneration Diet

Return to WebRN Macular Degeneration Home Page
√ Prevention of Macular Degeneration?
√ Tips for Daily Living?
√ Food Suggestions for a Macular Degeneration Diet?
√ Ideas on Visual Aids to Maximize your Sight?
If you said "yes" to any of the above, sign up for the monthly Macular Degeneration News.