Low Vision Watches

Talking Wrist Watches to Large Number Watches
There are so many great looking low vision watches that come with special features like alarms or nightlights, so that telling time doesn't need to be one of your frustrations.
If your glasses aren't handy or the light is low, by simply pressing a button on a talking wrist watch the time of day is spoken in a clear voice.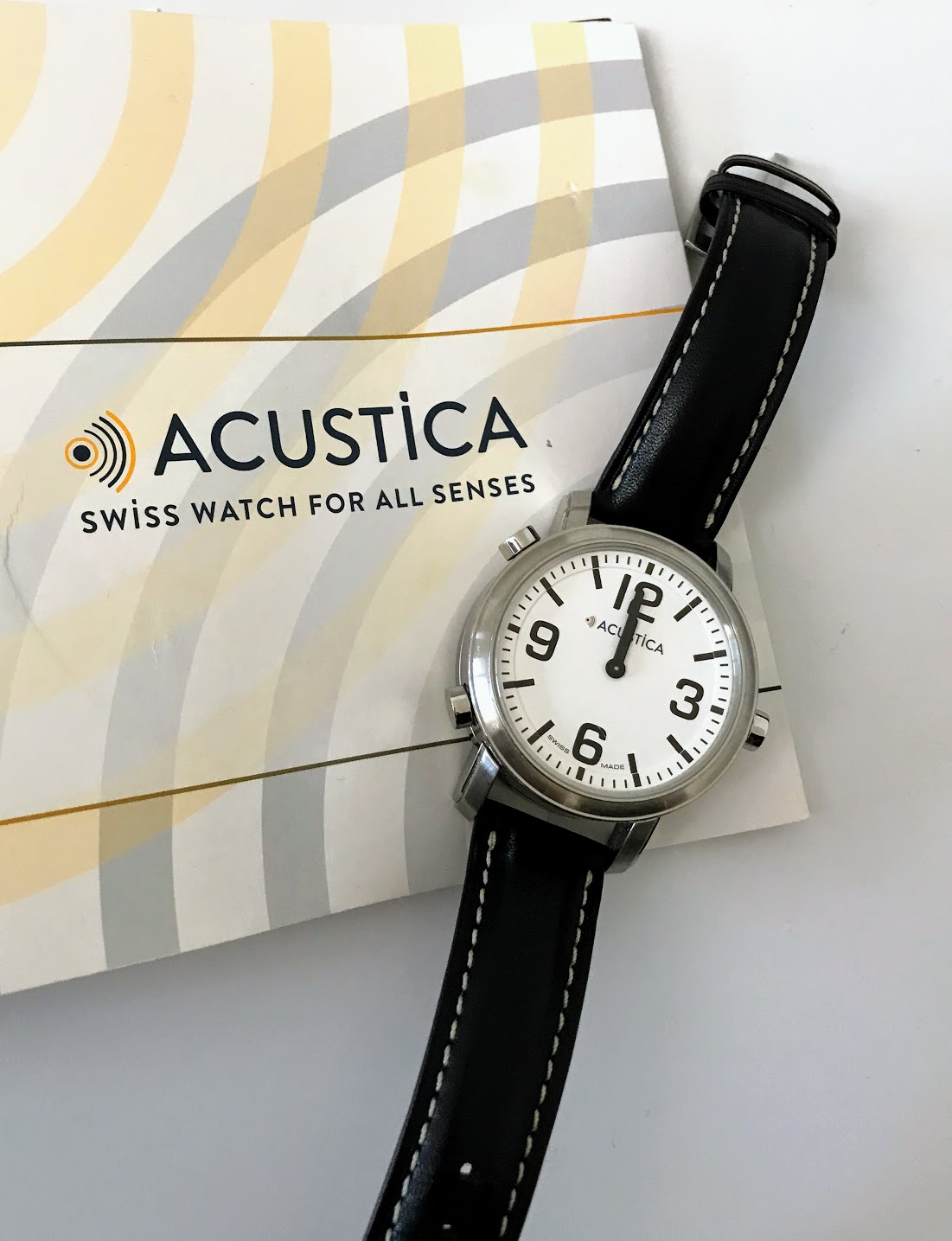 A talking wrist watch is designed to help those with low vision such as macular degeneration know the time and look stylish while doing so. It can also can be helpful when there's no light around or if your glasses aren't handy. A calm and audible voice clearly states what time it is when prompted by the touch of a button.
Determine which vision aid for macular degeneration you prefer - a watch that talks and tells you the time or one with large bold numbers contrasting on a bright white background or both.
Before you make that special purchase let me tell you what some of your options are.
First decide what style you want.
√ Wrist watch,
√ Pocket watch or a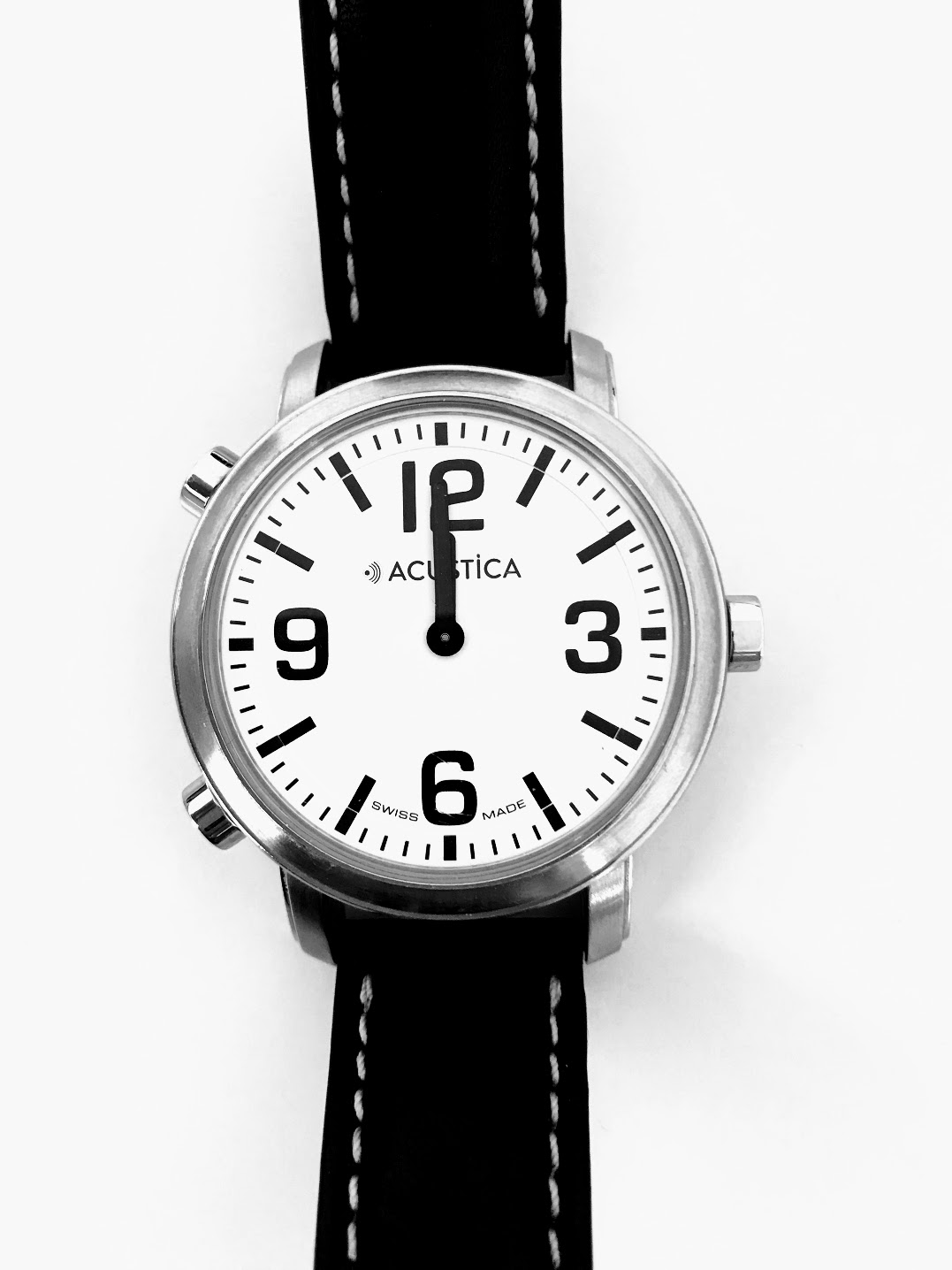 √ Pendant watch which is worn around the neck.
Once you decide on what style you like, think about what features might be most helpful.
√ Analog - Bold, black numbers on a white face or white numbers on a black face
√ Atomic - automatically adjusts the time for daylight savings time or when you go into different time zones
√ Battery or solar powered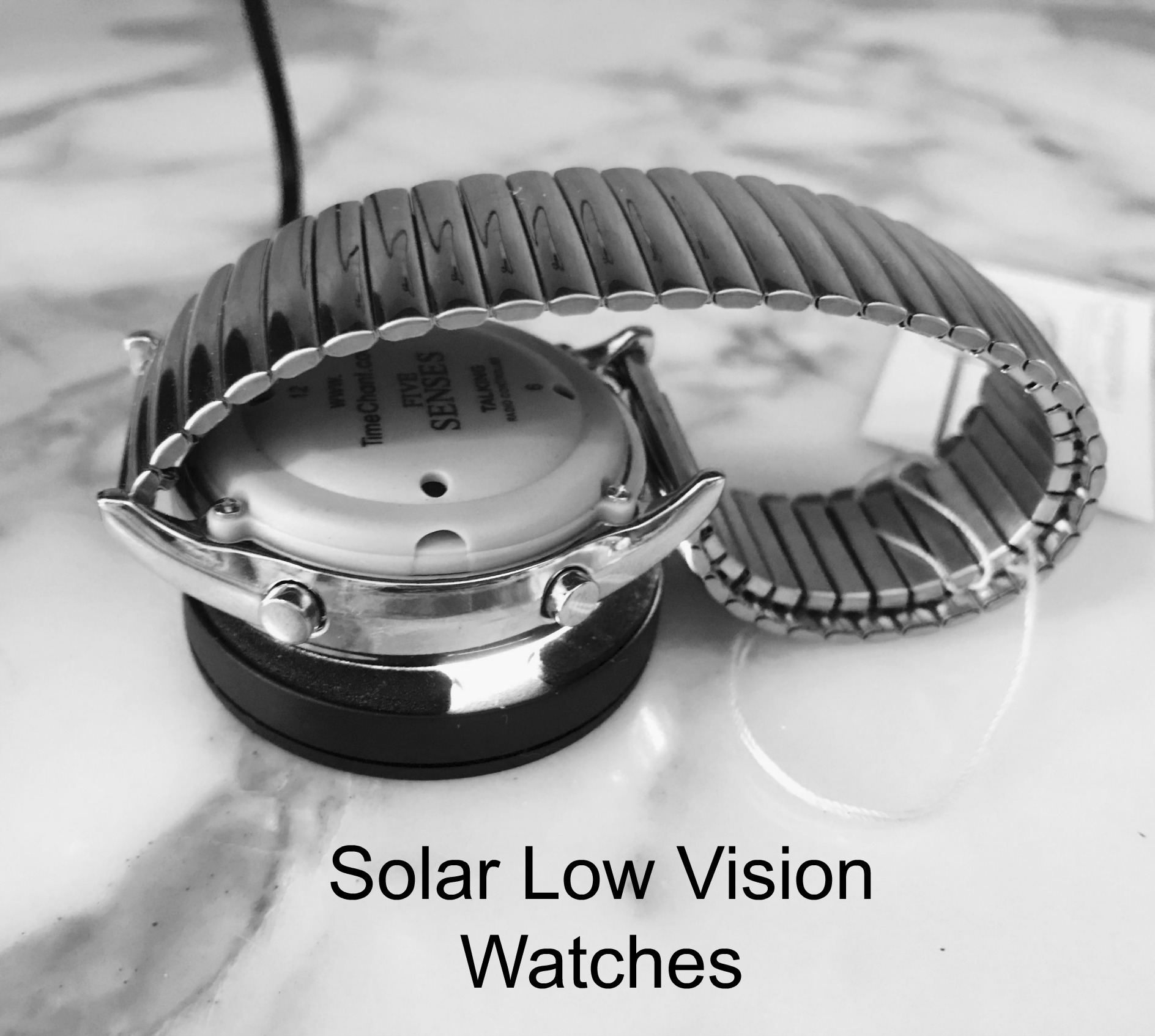 √ Illuminated Dial for low light
√ One touch night light
√ Alarm Feature -  Alarm can be set to remind you of appointments or to take medications
√ Talking watch that gives the time with a press of a button and/ or chimes on the hour
Don't speak English? Talking watches also come in a variety of languages.
Talking Wrist Watch for Women
To get all of the features of a large number talking watch for women, the best and seems to be only option at this time is a unisex watch.

If you find one with an atomic option it means your watch will change automatically when Daylight Saving starts and ends.

Talking Wrist Watches
On a recent trip to the country that's known for it's timeliness, we found that the official Swiss Rail clock face by Mondaine was chosen for it's simplicity and readability.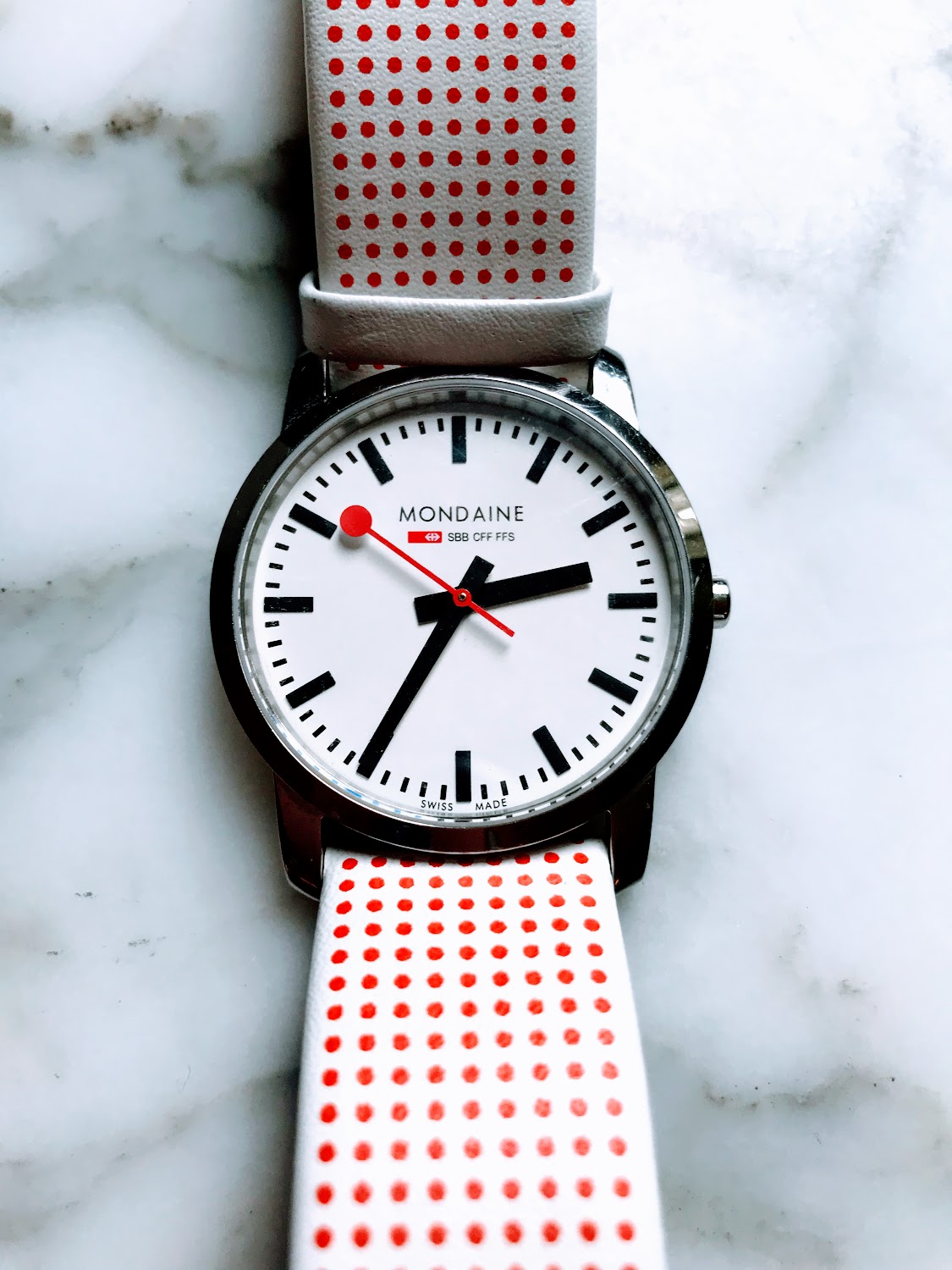 The white background with dark black markings provides needed contrast, while the famous red seconds hand is what makes it Mondaine. While this watch is easy to read it does NOT have a talking feature.

Simple to Read Mondaine Low Vision Watches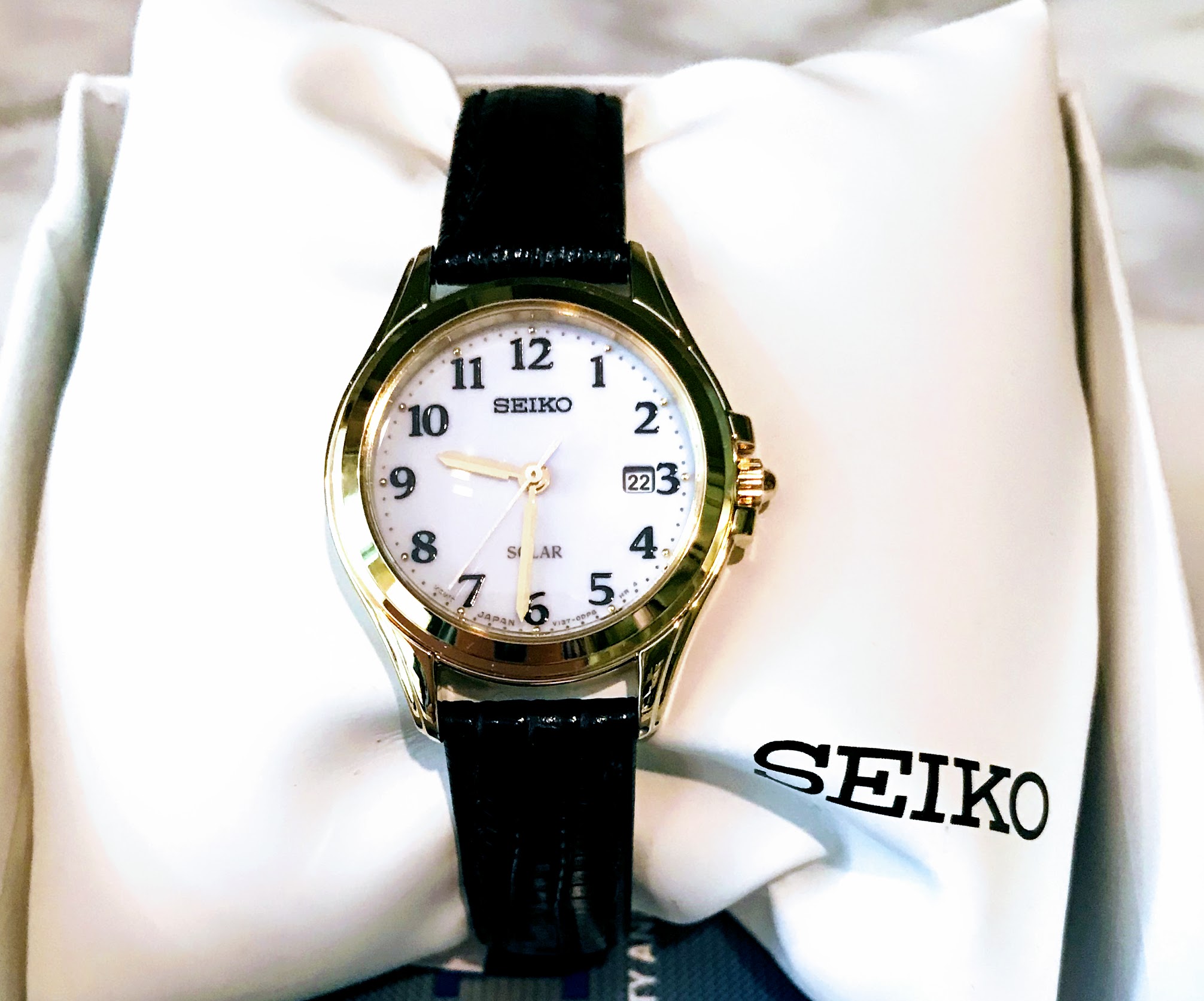 I was looking for a lady's low vision watch (like the one we got my father-in-law) that has large numbers, talking feature, solar charged with atomic automatic time change but have not found one.  I settled for a Seiko solar powered watch and I for one am happy not to be replacing watch batteries every year. 
Solar Citizen Eco-Drive Corso Quartz Womens Watch, Stainless Steel
Ladies Talking Wrist Watch
A ladies talking watch provides the time and date by simply pressing a button. Even in dim lighting or when you're not wearing your glasses you can find out what time it is.
If you are looking for a really pretty piece of jewelry that is also functional, this talking watch features both.
This watch has a large face with bigger numbers. 
You don't have to give up pretty for function.  This ladies watch has an expandable stretch band making it easy to slip on and off.
Large, dark black numbers along with a female voice this low vision watch makes for a perfect gift for someone with macular degeneration.

But if you prefer, just simply press a button and a clear male voice will tell you what time it is.  Go to Amazon to check it out ...
TimeOptics Women's Talking Gold-Tone Day Date Alarm Expansion Bracelet Watch
Pendant Talking Watches
Some women prefer not to wear a watch, find that the watch does not fit their wrist, or want something more stylish.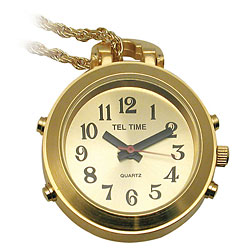 The talking watches have larger or wider wrist bands to accommodate a larger face and some women don't like that look. Many older ladies have small wrists and find that most wrist bands are too loose.
A stylish alternative to a talking wrist watch is a ladies talking watch pendant. It's easy to put on and easy to take off and there is no concern as to whether it will fit.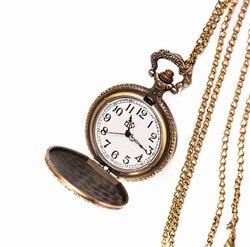 The attractive necklace can be worn with any outfit. A bright white background with bold black contrasting numbers makes it easy to read.  If you like the added feature of an alarm, this watch has that too.
Low vision watches reduce or minimize the frustration of not being able to read your old watch anymore.
TimeOptics Women's Talking Gold-Tone Pendant Watch
Men's Talking Low Vision Watches
Solar powered, atomic setting, talking voice and bold, black numbers were why we picked this watch for my father-in-law who has wet macular degeneration.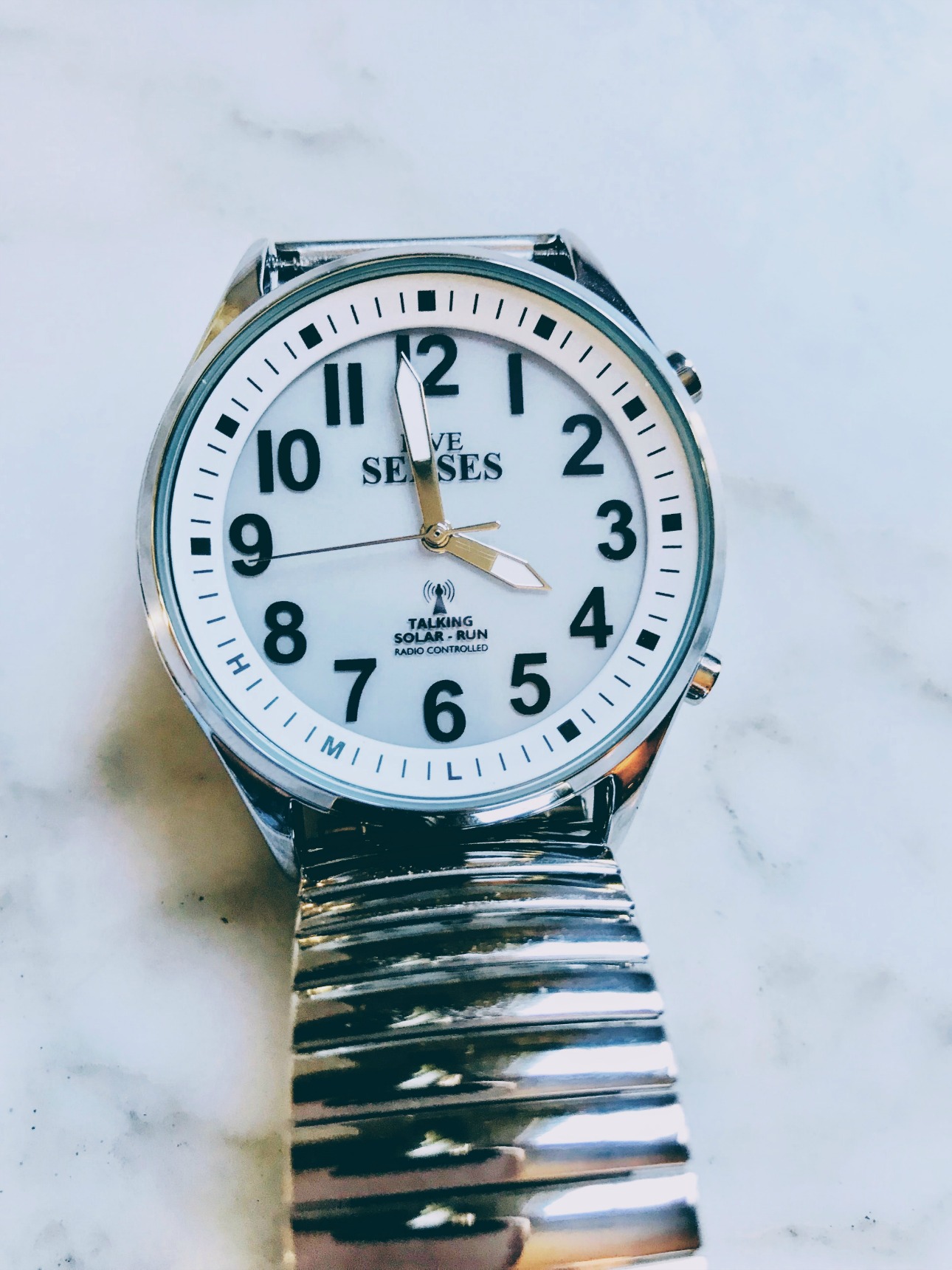 It automatically sets the time when daylight savings starts and ends.  A solar powered watch either charges through exposure to the sun or the included charging station.  There is no need to go to a local jewelers to have the watch battery replaced.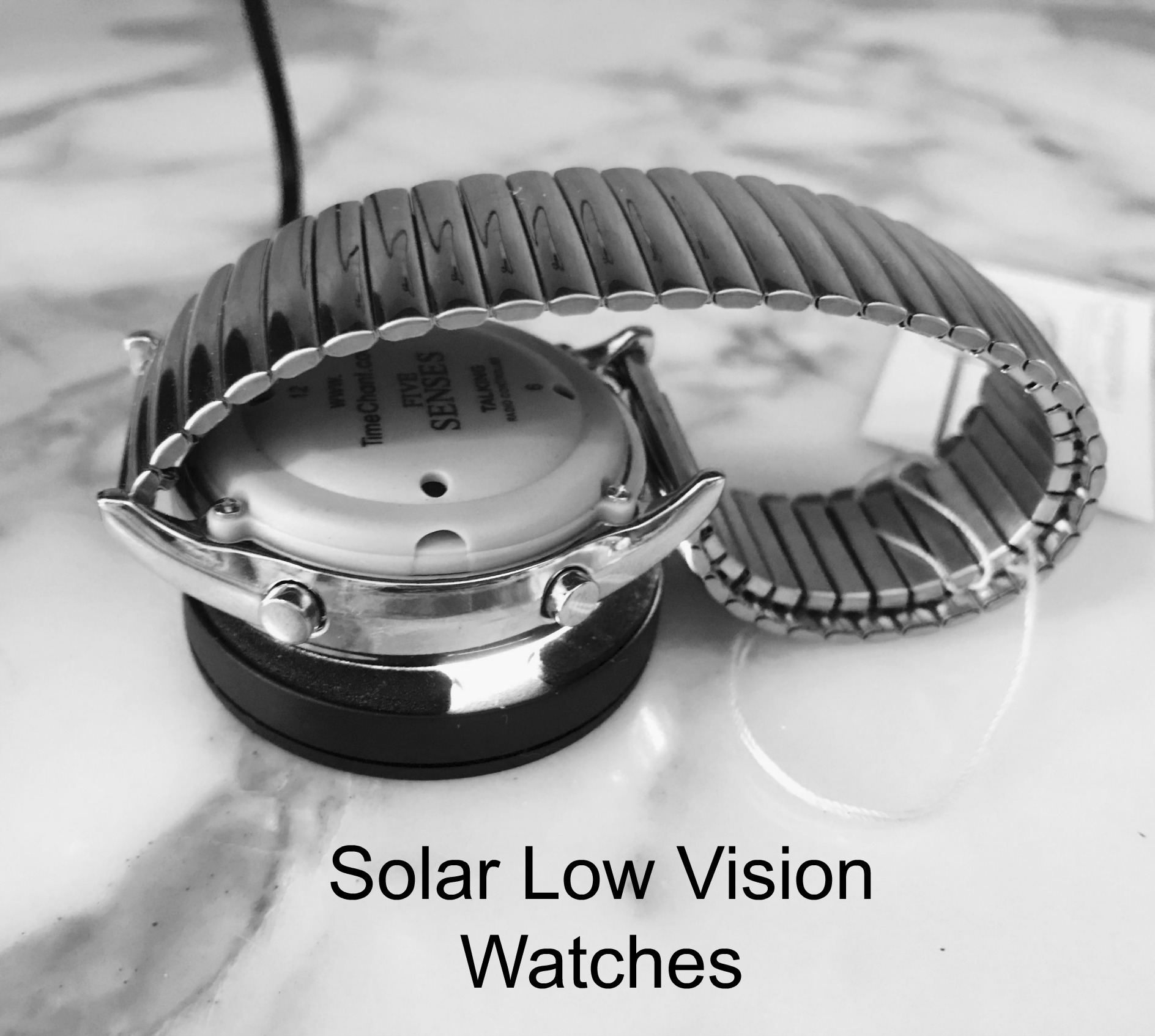 A radio signal from the US atomic clock in Ft. Collins, Colorado is received by the atomic watch which automatically sets the time and date adjusting when Daylight Savings starts and ends.  Not only does this watch tell you the time, it also will announce the date, day, month and year.
The atomic signal is not able to reach Alaska, Hawaii or Canada. Solar charging can be automatic when you are outside in the sunlight or you can use the USB Solar LED charging lamp. 
Atomic Solar Talking Watch! Sets Itself Solar Power by Five Senses
Battery Operated Talking Watch
A large face with big numbers make this men's talking watch easy to see and hear.
Everyone's vision is different - some prefer stark white numbers on a bold black face others a white face and black numbers.
This one chimes on the hour for an easy reminder of what time it is. Also by simply pressing a button a clear male voice will give you the time.
If you want an alarm to go off to remind me to take your pills or to get ready for an appointment, there are three alarm sounds.

Go to Amazon to get this talking watch or to see other choices that are available:
TimeOptics Men's Talking Silver-Tone Alarm Expansion Bracelet Watch
Make it simple again to tell time and to set the time with bold numbers, a voice feature, solar powered and atomic time setting. 

Go from Low Vision Watches to Visual Aids for Macular Degeneration


Return to WebRN Macular Degeneration Home
√ Prevention of Macular Degeneration?
√ Tips for Daily Living?
√ Food Suggestions for a Macular Degeneration Diet?
√ Ideas on Visual Aids to Maximize your Sight?
If you said "yes" to any of the above, sign up for the monthly Macular Degeneration News.