Large Print Newspapers

Large print newspapers are made possible thanks to different reading magnifiers and electronic book readers, making it easier for those with macular degeneration to read the daily news.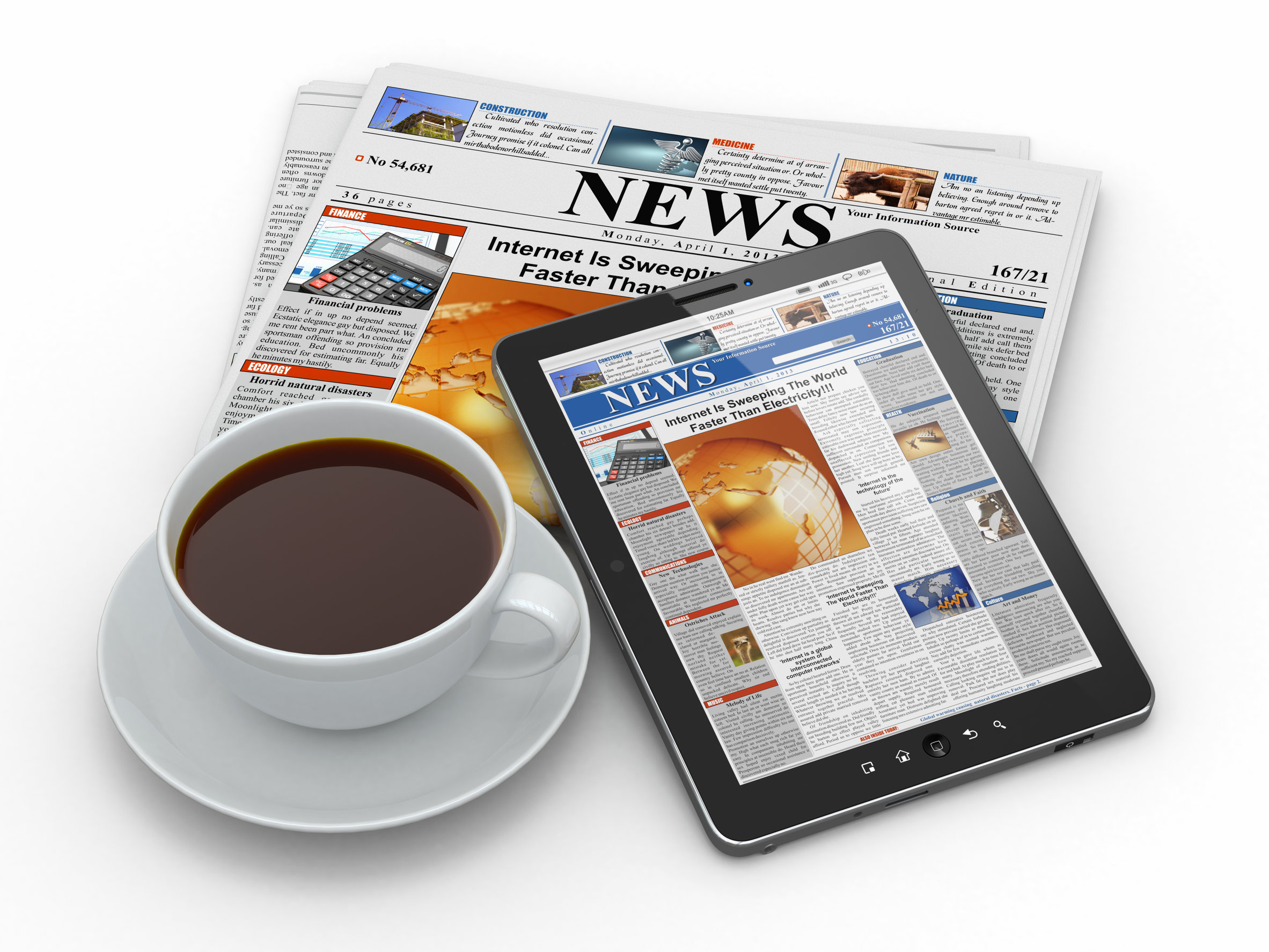 Large fonts with bold, dark letters, with a white contrasting background makes reading easier for those with macular degeneration.
If you are looking to subscribe to your favorite daily newspaper in a large print edition, it is now possible - thanks to a variety of reading magnifiers - like electronic readers, dome magnifiers or page magnifiers.
Large Print Newspaper on an E-Book Reader
Adjustable Font and Contrast
Electronic readers, such as Amazon's Fire HD make it possible to turn your favorite daily newspapers into large print newspapers.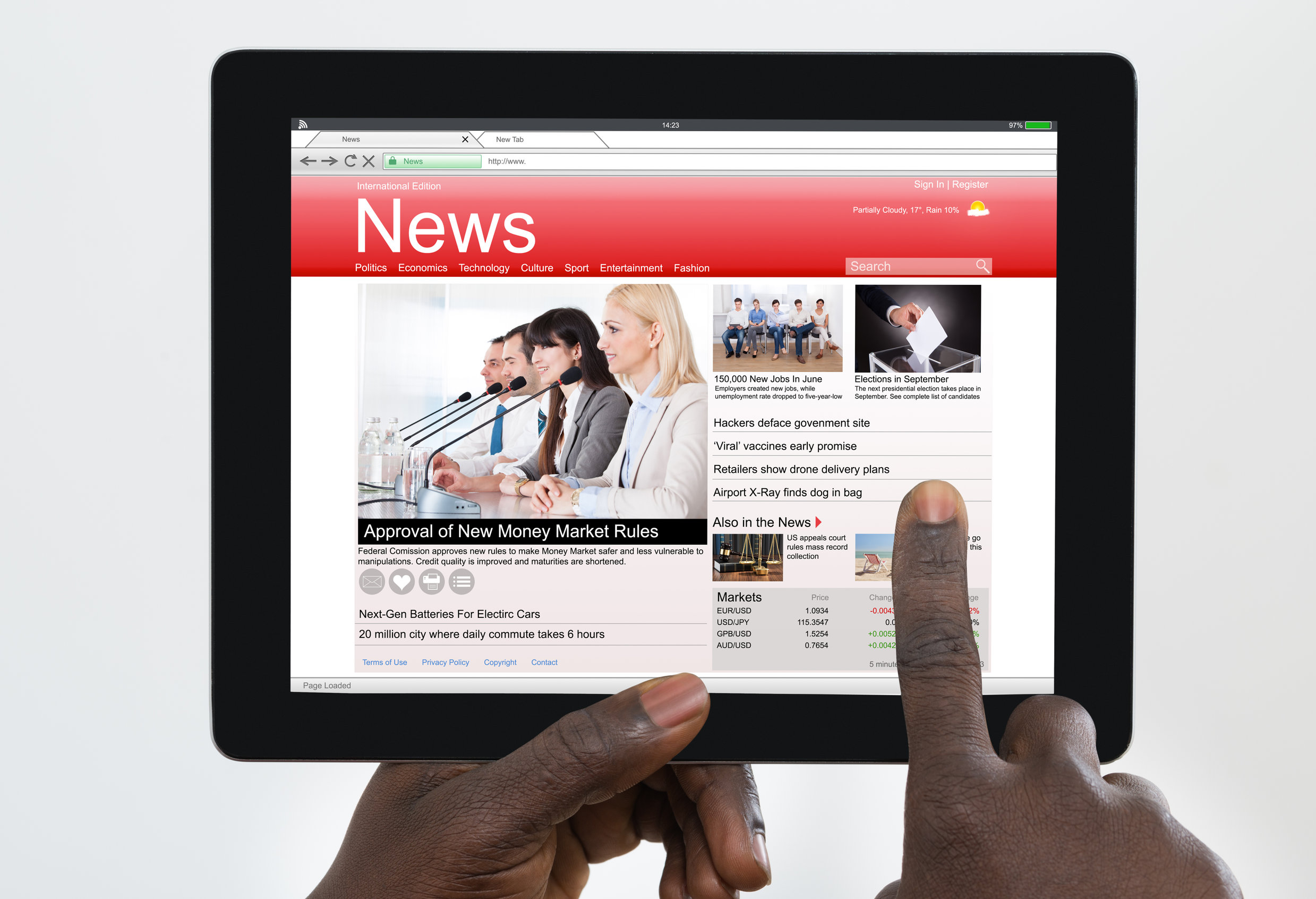 Each morning the newspaper is downloaded right to your wireless reading device.
The advantages of reading your newspaper on an electronic reader, is that you can enlarge the font and adjust the contrast.  For reading newspapers, the larger the screen the easier it is to read. The Kindle Fire HD 10 offers the largest screen with a 10.1" display.  You can also select the color combination of white on black or black on white for easier reading.  Increase line spacing for even less eye strain.
Click here to go to Amazon to learn more:
Large Screen Fire HD 10 Tablet with Alexa Hands-Free, 10.1"
E-Newspaper
You can subscribe to just about any major newspaper. It is delivered wirelessly every morning - you don't even have to step outside.
Not sure how well this is going to work for you? You can try out your favorite newspaper subscription for two weeks for free and if you don't like it, cancel it.  There are some advantages and disadvantages to reading an e-newspaper.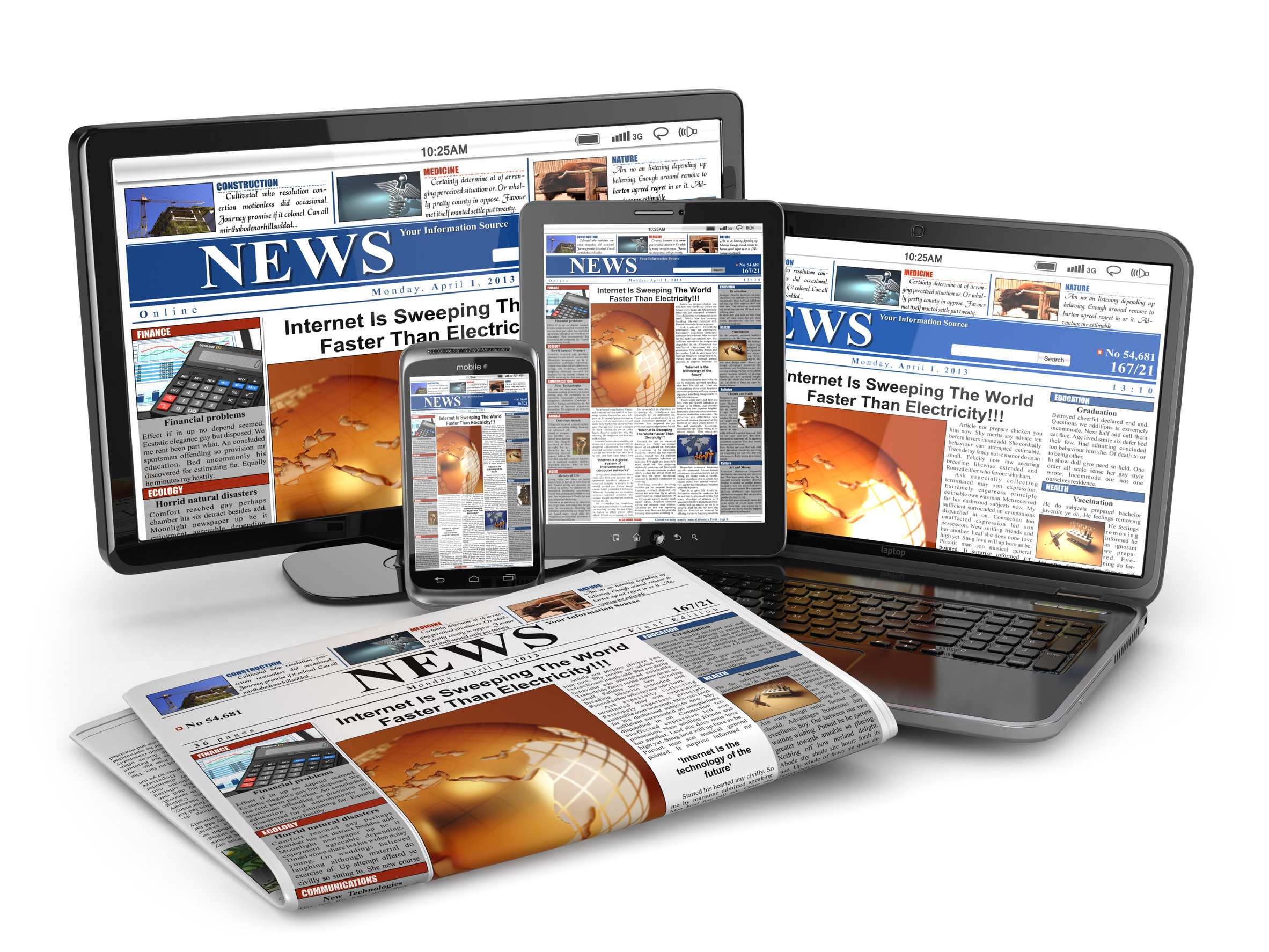 Some of the Benefits Are:
1. No ads 

2. Last minute news can be added that can't get added to a hard print copy
3. Easier to read - adjust the font size and contrast
4. Can take it with you wherever you go
5. Downloaded right to your wireless reading device. So if you are not at home or you've moved away, you can still get your favorite local paper.
6. Usually cheaper than a hard copy subscription
The Kindle Newspaper subscriptions start with a
14-day free trial.
You can cancel at any time during the trial period. If you enjoy your subscription, you do nothing and it will automatically continue at the regular price. If you don't like it be sure to cancel your subscription before the 14 days are up.
You are charged automatically every month. Prices range from $11.99 per month USA Today to $5.99 for newspapers like the Houston Chronicle. National and international newspapers are available.
If you'd like to see a list of newspapers that are available at Amazon that can be downloaded to your Kindle reader click here: Kindle Newspapers
Large Print Newspapers using a Full Page Magnifier
Magnifying floor lamps are another option for those with macular degeneration who want to continue reading the daily newspaper.
They provide a large lens that can magnify the print so that there is less eye strain.  This lens measures 6-3/4" x 4-1/4".

SMD (surface mount diode) lights are used that don't create heat, glare or shadows like other lights.  40 of these lights are used to similate natural daylight which provides great clarity with little distortion.
An adjustable flex-neck allows for perfect positioning for the best lighting and magnification.

Bright LED lights make the small print easier to read:
Brightech - SuperBright Magnifying Floor Lamp with 42 Embedded LEDs and 1.75 X Magnification Brings Print into Focus -Large Clear Glass Lens
Dome Magnifiers
A dome magnifier easily slides across your favorite newspaper, magazine or book.  It allows ambient light to flow from all surfaces to illuminate your reading material. There is no need to hold the magnifier at a certain distance because it is pre-focused.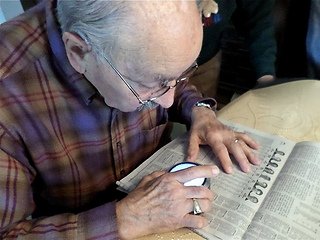 My father-in-law first started out with a 3x dome magnifier for reading his daily newspaper and is now using a dome magnifier with built in LED lights. He is happy to continue his morning ritual of reading the Milwaukee Journal Sentinel.

Use this reading magnifier while sitting at your kitchen table or desk.
Smolia XC 3X LED Lighted Magnifying Glass Dome Magnifier USB Rechargeable
TV Screen As A Magnifier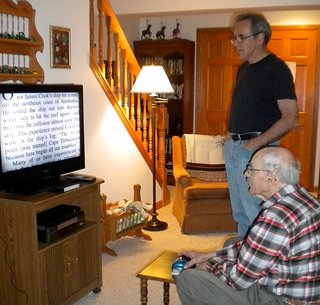 The size of your TV screen determines how large the print. The larger the screen the larger the print.
This is my father-in-law's favorite way to read the newspaper. He is in his mid eighties and has wet macular degeneration.  He needed a bigger screen to enjoy reading his daily newspaper.
We purchased this reading aid from Amazon and it is now his favorite way to read newspapers and magazines. If you live outside the US they ship internationally.
ViSee VM-100 Electronic Digital Video Magnifier for TV:
Large Print Newspapers Using Magnifying Desk Lamp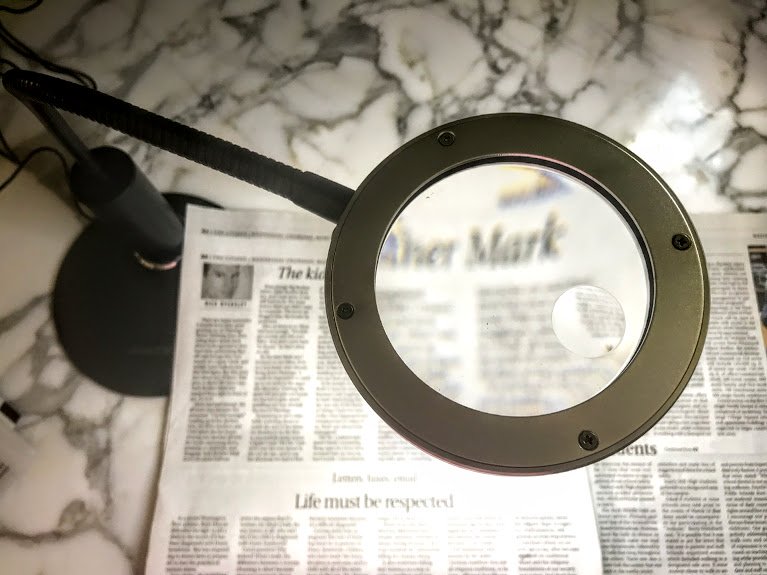 An gooseneck magnifying desk lamp allows the reader to adjust the magnifier and light to just the right distance for clarity and brightness. The 3X magnifying lens is 3" in diameter with a small 6X spot magnifier.  The LED lights encircle the frame providing even lighting so there is less glare. 
Brightech LightView Pro Flex 2 in 1: 2.25x Magnifier with Bright LED Light - Magnifying Glass Lamp with Base Stand & Clamp
Free Audio News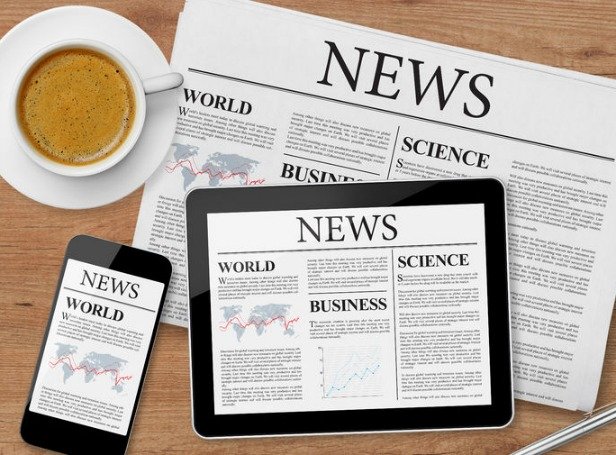 NFB-NEWSLINE is a free audio news service for anyone who is blind, low-vision, or otherwise print-disabled that offers access to more than 500 publications, emergency weather alerts, job listings, and more.
NFB-NEWSLINE subscribers have access to:
National newspapers, including the Wall Street Journal and USA Today
Breaking news sources, including CNN, BBC, and ESPN Online
International newspapers, including Financial Times and Vancouver Sun
Magazines, including Family Circle, Time, Consumer Reports, Guideposts, and Smithsonian
Emergency weather alerts and seven-day forecasts localized to your zip code or GPS location
The information that scrolls along the bottom of your television screen during emergency alerts
More than 100,000 job listings from two national job sources 
TV listings localized to your zip code and provider
Retail ads
NFB's national channel, including the ebook Building the Lives We Want, the Braille Monitor, Future Reflections, and presidential releases
 You can sign by phone by calling 866-504-7300 or on line at https://www.nfb.org/programs-services/nfb-newsline

Go from Large Print Newspapers to Low Vision Reading Aids

Go from Large Print Newspapers to WebRN Macular Degeneration Home
√ Prevention of Macular Degeneration?
√ Tips for Daily Living?
√ Food Suggestions for a Macular Degeneration Diet?
√ Ideas on Visual Aids to Maximize your Sight?
If you said "yes" to any of the above, sign up for the monthly Macular Degeneration News.