Kindle Fire for Those with Macular Degeneration
Trying to decide if the Kindle Fire is better than the black and white Kindle readers or if it is comparable to an Apple iPad? It depends on what you want to use it for. For sure the Kindle Fire HD has many more features and uses than the Kindle Paperwhite.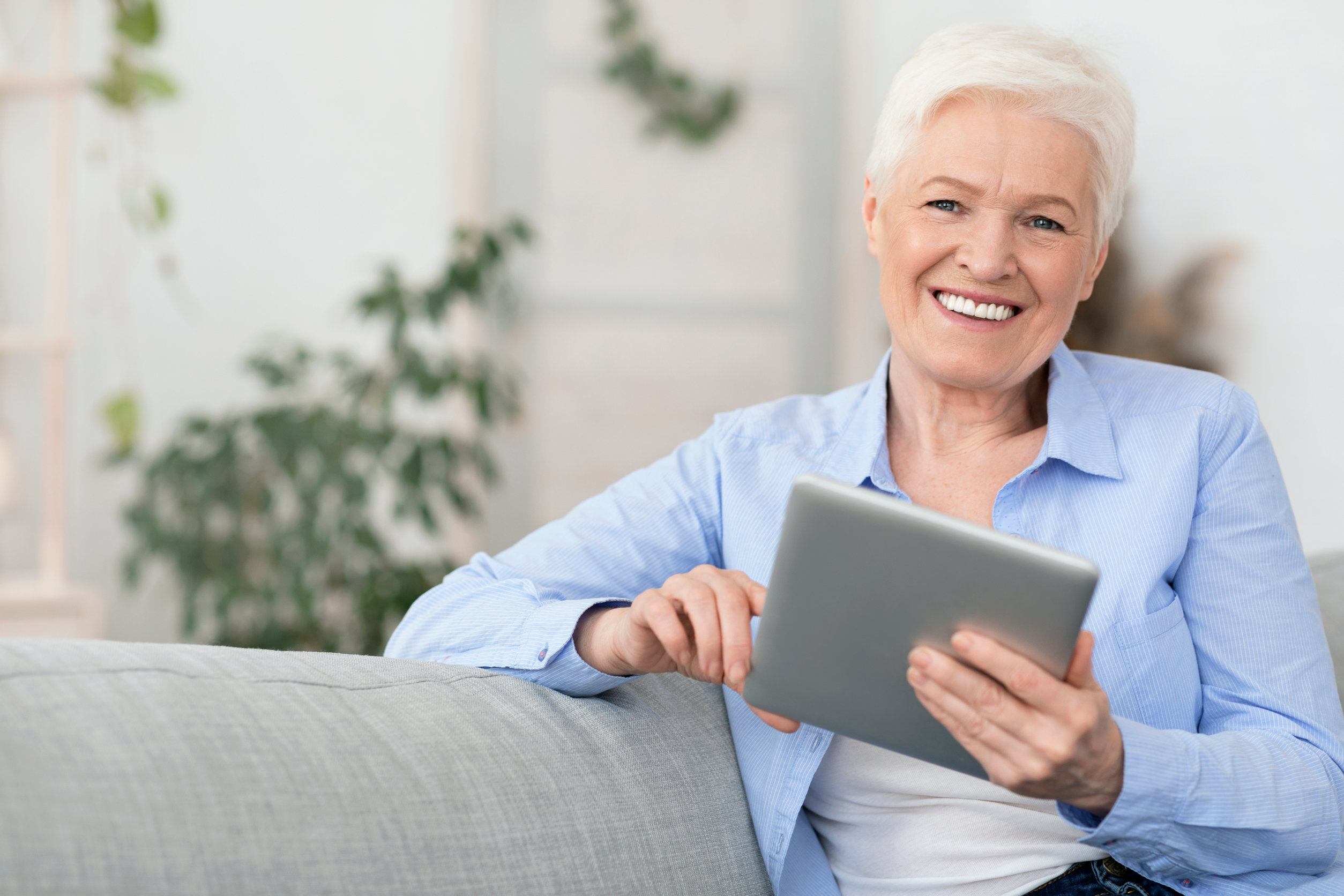 First let's take a look at some of the features that make the HD a great option for those with macular degeneration.

---
Some links in the following sections are eBay or Amazon affiliate links, which means that if you purchase a product through them I receive a small commission. There is no extra cost to you. Find more details on this page.
---
Kindle Fire HD 10 Color Screen
The vivid colors of the HD (high definition) Fire make this an amazing electronic reader for enjoying magazines, looking for recipes, and watching videos.  The Kindle Fire HD 10 offers 1080p HD display and more than 2 million pixels.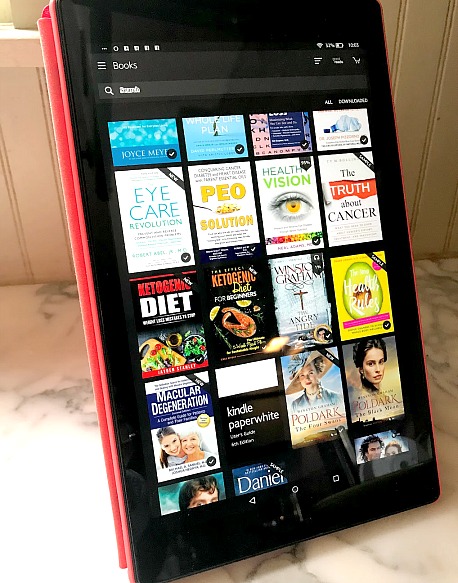 You will find deeper contrast and sharper details with this color screen over the older version.
There are many reasons why someone would want a tablet or electronic reader that offers bright, vivid colors. Perhaps reading children's books to your grandchildren (one of my favorite things to do) is a struggle using hard copy books.
With the Kindle Fire HD/HDX you can download beautifully illustrated children's books, enlarge the font and still enjoy this special time together.

Or, perhaps you enjoy cooking and love to use illustrated cook books (that's what I need for inspiration :).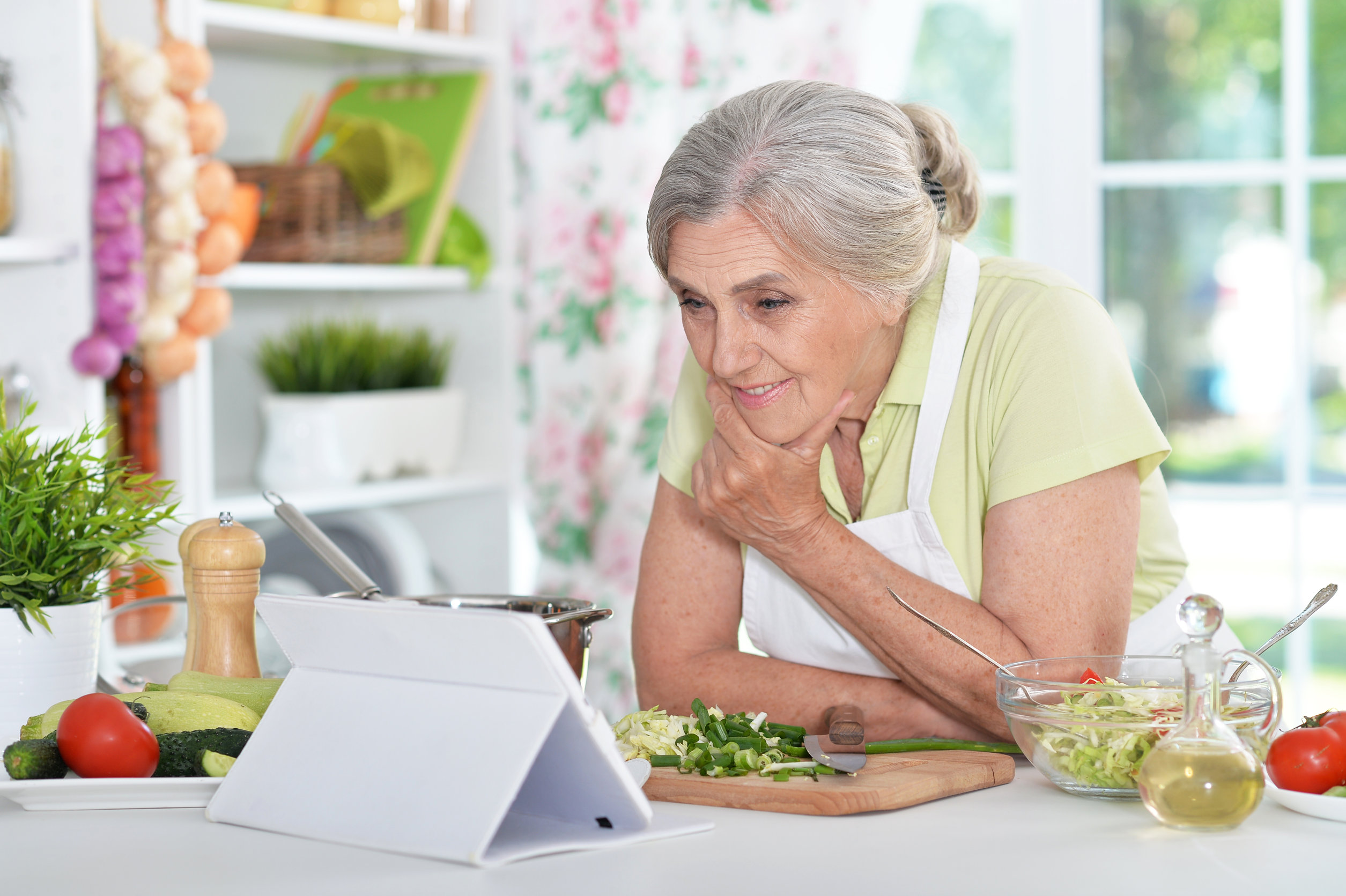 Download a colorful cook book, enlarge the font to better read the recipe and use the color Kindle reader to help you try new recipes.

Maybe gardening books give you enjoyment as you learn about new perennials or how to grow kale.
Certainly the color graphics are as important as the information.

Reduced Glare
I read almost all of my books on my Kindle Paperwhite. It's lightweight and I use it on the train going to and from work. I often found it hard to read by the window with my iPad because of the glare. The Paperwhite screen is glare free, has great contrast, and feels more like I am reading a real book.
One of the benefits of the new HD Fire is that it has a screen that produces less glare and reflection than the original Kindle Fire.
The reduced glare is noticeable which is an important feature for those with macular degeneration. When sitting by the window, the glare was not a problem for me, however, when taking the Kindle Fire outside I could see a lot of reflection and enhanced glare.
All-new Fire HD 10 tablet, 10.1", 1080p Full HD, 32 GB, (2021)
Contrast and Settings
With the Kindle Fire and Paperwhite side by side the Kindle Fire has better contrast. It has a crisper and whiter background than the Paperwhite - which made the text appear darker and bolder.
Options for color settings include white on black and black on white.

Font Magnification
The Fire HD has 11 different font sizes and the Paperwhite has 8 font sizes.
Granted, if you use the largest font on the Fire you get maybe 5-6 words on a screen which would make for some slow reading.  In that case the largest screen would provide more words showing up on a page.

Screen Sizes
Here are the screen sizes for Kindle Fire. There are several versions of the Fire HD and HDX.
6"

7"
8.9"
10"
If you need the largest font magnification then the larger screen would allow more words to be viewed at one time.

All-new Fire HD 10 tablet, 10.1", 1080p Full HD, 32 GB, (2021)
Read or Listen to Your Current Book
Did you know that you can have the option of reading your book or listening to it?  When your eyes get tired or feel strained simply press the headset image and listen to your book. To stop simply say, "Alexa stop."

Many Uses for Your Kindle Fire
If you want to have one electronic reader that has several uses, the Kindle Fire HD 10 is the best value right now.

It can be used to enjoy

color graphics
listen to books on tape,
watch videos,
enjoy music

check your email, or
manage your appointments.
Alexa Feature
Use voice commands to bring up a favorite TV series on Amazon, listen to a favorite artist, shop on line or just find out today's weather.  If you enjoy reading you can switch between reading your book and listening to your book.  So when your eyes get tired or strained you can continue to enjoy your book by simply closing your eyes and listening to the narrator.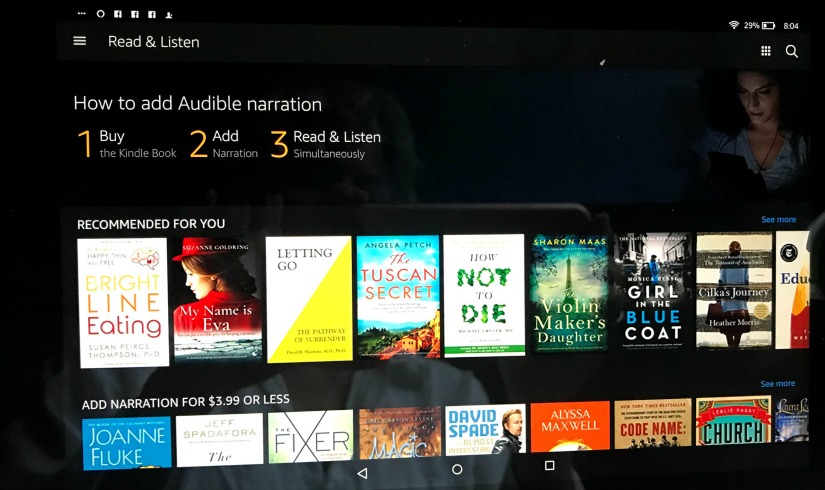 With an Alexa feature you can simply ask your Kindle Fire what the time is, what's the weather, and who won last night's sports game. 
Set a timer, order a gift or put an appointment on your calendar. Listen to your favorite music or watch a movie all with voice activation.  
All-new Fire HD 10 tablet, 10.1", 1080p Full HD, 32 GB, (2021)
Download Colorful Magazines
Another reason for a color e book reader is to use it for magazine subscriptions. There are very few magazines that are available in large print. If you or your loved one has macular degeneration, there is now no need to give up this reading enjoyment.

Just about every magazine in all areas of interest are now available to download onto this Kindle reader.

You can try out some magazines for 14 days for free - if you are not happy with it, simply cancel. Many annual magazine subscriptions are available for $5. 

I've downloaded my Southern Living subscription onto my Kindle Fire. The vivid colors and the ease of navigation make it the best e reader for magazines.
To see the selection that's available go to Amazon here:
Kindle Fire Magazines
Listen to Audio Books by Audible
Did you know that some Kindle versions boast Dolby Digital plus speakers which translated means you get great, easy to understand sound for listening to audiobooks?
I listen to audiobooks and find it a great alternative to reading.

This easy to use touch screen or voice activation makes listening to books fun and enjoyable.
Audible – Audiobooks
Low Vision Apps
Useful apps like an easy to see calculator or large number calendar make this a multi-use device.
Download the Skype app and you can have face time when talking with friends or family.

Amazon's Kindle tablets use the Android apps.
Watch Movies or TV Shows
The vivid colors and details in the high def version are amazing. If you are an Amazon Prime Member, like I am, then you can watch thousands of movies and TV shows for free with wi-fi connection.

You also need Wi Fi for connectivity as this device does not use the 3G wireless connection.
So it all depends on what you will use this electronic reader for the most and where you will use it.
Kindle Fire HD10 Cover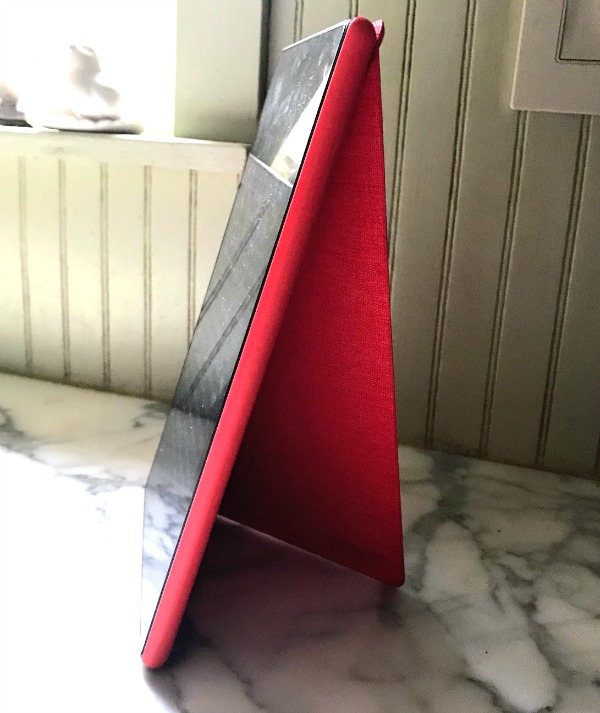 This Kindle Fire cover has a built-in stand that works both vertically and horizontally.  Even with the cover on you can easily access the camera and charging port.  When you close your cover you put your Kindle Fire to sleep and when you open the cover, the tablet automatically "awakes."
All-New Amazon Fire HD 10 Tablet Case (7th Generation, 2017 Release), Red
Go from Kindle Fire to Electronic Book Readers

Return to WebRN Macular Degeneration Home
√ Prevention of Macular Degeneration?
√ Tips for Daily Living?
√ Food Suggestions for a Macular Degeneration Diet?
√ Ideas on Visual Aids to Maximize your Sight?
If you said "yes" to any of the above, sign up for the monthly Macular Degeneration News.