Full Page Magnifier
A full page magnifier is a great reading aid to help those with macular degeneration. It can be hand held or hands free. Use these magnifiers for reading a book, checking a recipe, looking at a photo, or enjoying a magazine.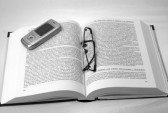 With macular degeneration words start to look blurry and fuzzy making it difficult to read without some kind of reading aid.
Mighty Bright Rigid Full Page Magnifier
Page magnifiers usually are around 2x because of their large lens.
The larger page size lens cannot offer higher magnification.
The lens size is usually around 8 1/2" by 11" and provides a large viewing area compared to hand held magnifiers. Magnifying the whole page makes it easier to read and one is less likely to loose their place. 
Select one that uses optical grade acrylic and is scratch resistant. The material for this sheet magnifier is rigid like glass and will not bend or distort the image.
One of the disadvantages of this type of low vision magnifier is that it has to be held and kept at a certain distance for clarity and sharpness. If one holds it too high or too low the words appear blurry.
However, they are inexpensive, less than $10. So it can be a handy low vision aid to keep in your favorite recipe book, telephone book or to take to an appointment to see and fill out forms. 
Mighty Bright Rigid Page Magnifier
However, this type of magnifier is not meant for any lengthy reading - like enjoying a novel.
Lighted Reading Magnifier
While this reading magnifier is not a full page one, measuring at 2.3" x4" I wanted to mention it because many people use this rimless magnifier for reading.
It has a 2x magnifying power, high quality lens that provides sharpness and 3 LED lights for light. For best viewing hold the magnifier 3" to 5" from your reading material. Distortion free, use it to read magazines, newspapers, instructions, or books. 
LED Light 2X Large Rectangular Handheld Magnifier Reading Magnifying Glass - 2.3" X 4" Rimless Distortion-Free Lens
Hands Free Page Magnifier
Page Magnifiers Have A Large Viewing Area But Less Magnification. Combine it with light for less eye strain and to reduce the need for magnification.
A reading magnifier that is large enough to see a full page has a larger viewing area but the magnification is at most 3X and usually only 2X. This low power magnifier will work for some people with macular degeneration, but not for those with more advanced AMD and extreme vision loss. 
1. A stand magnifier magnifies a page by sitting on a table or desk with a magnifier on small legs that sits over the page like the one pictured above.  It works for some and for others the magnification won't be enough. 
Hands-Free Full Page Stand Magnifier for Reading with LED Lights - Powerful 3x Magnification
2. A hands free magnifier that sits around your neck leaving your hands free to hold your book or do your knitting or cross stitch.

A hands free magnifier is best if you will be reading for an extended amount of time. You do not want to be holding a large magnifying glass to read a book, a newspaper or a magazine. It gets tedious and tiring to hold one for an extended period of time.
Use your hand held magnifier for spot magnification - like reading a label, instructions, or checking a price.
To continue reading, it is important to get a high quality reading magnifier as you will be using it for all of your reading material. This reading magnifier lens measures 4" x 5". Although not the same size as a full page magnifier - it still allows for a large section to be seen at one time. An adjustable necklace allows for positioning the magnifier at the best distance. 
It can be used of course for other things like going through one's mail, knitting, or crossword puzzles. Bausch and Lomb is known for their high quality, distortion free lenses. Go to Amazon here:
Bausch & Lomb Hands-Free 2X Magnifier
You will find several reviews on this reading magnifier from others with macular degeneration here:
Reviews From Those With Macular Degeneration
Lighted LED Magnifying Sheet
A magnifying sheet is an inexpensive macular degeneration magnifier. It is used to magnify a page of a book, a magazine or a phone book.
They usually cost under $10. Small hand held magnifiers make it difficult to read pages in a book or magazine. Only a few words can be seen at a time in a small lens. 
Page magnifiers offer a large lens size and increase the font size of any book or magazine. Most of these reading magnifiers are large enough to magnify a full page of text.
They vary in size but are typically about the size of a page - 8 1/4" by 11". 
The bigger size is appealing because of the increased viewing area, however because the sheet is so large most of them are limited to a magnification power of 2X to 3X. They need to be held at just the right distance, a couple of inches above the page, to get the print in focus. Do not set it flat onto the reading material.
You wouldn't want to hold it and try to read for a long period of time, but for reading a newspaper article or viewing a magazine picture it is nice to have the large viewing area. 
Combine a magnifying sheet with super bright LED lights.  By combining the two the magnification of 3x may be sufficient. A high quality Fresnel lens means clarity with little to no distortion. Batteries are included.  Use it as your bookmark and when it's time to read you'll know just where you left off.
This type of reading magnifier is portable and can be taken to the kitchen to read a recipe or to your desk for reading a bill. 
Ultra Slim Book Magnifier and LED Light with Large viewing area
Go from Full Page Magnifier to Reading Magnifier 

Go from Full Page Magnifier to WebRN Macular Degeneration Home
Would you like to be updated on:
The Latest Macular Degeneration Clinical Trials?
√ Prevention of Macular Degeneration?
√ Tips for Daily Living?
√ Food Suggestions for a Macular Degeneration Diet?
√ Ideas on Visual Aids to Maximize your Sight?
If you said "yes" to any of the above, sign up for the monthly Macular Degeneration News.