Turn Up the Lights!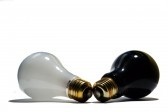 Now that the days are short and there are less hours of sunlight, you may be noticing that the lighting in your home just doesn't seem adequate.

It is so much easier to see things during the day when the sun is shining through the windows into your kitchen, laundry room, bathroom or bedroom than it is in the evening or early mornings.

One of the early symptoms of macular degeneration is the need for more light. Dan Roberts, the author of The First Year: Age-Related Macular Degeneration: An Essential Guide for the Newly Diagnosed
writes, "My low vision therapist taught me that illumination is probably the most important aspect of my environment. It is also the easiest to modify."
Low Vision Lighting
For general lighting around the house, you will need more overhead lighting, floor lamps or table lamps. Use lights that offer 3-way lighting or can handle a higher wattage. Unfortunately, there is no one type of lighting that can be recommended for everyone.

In her book, Macular Disease: Practical Strategies for Living with Vision Loss
, Peggy Wolfe says, "As your vision changes over time, experiment with different types of light bulbs in your various lamps." She has had to change her combination of lights over the years to find the bulbs that produce less glare yet adequate lighting.
Lighting needs vary with each person and for each purpose.
To learn how to improve the lighting in your home go to:
Lighting For Those With Macular Degeneration



Thanks so much for subscribing to Macular Degeneration News.

Leslie Degner, RN, BSN
Better Health for Better Vision
www.WebRN-MacularDegeneration.com