SuperSize It!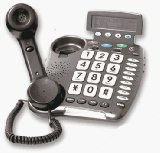 Macular degeneration affects our vision in several different ways. Blurred vision and loss of central vision are the two most common problems. A person is said to have low vision - in other words it is not blindness, but rather a type of vision that can't be corrected with special glasses, surgery or treatment.
Macular Degeneration Aids
Everyone has different degrees of vision loss. Some may be at the beginning stages with just some blurriness and a need for more light while others with more advanced macular degeneration have large scotomas (a grey or dark spot right in the middle of their vision).

However, no matter what stage you have, there is still some usable vision. The main purpose of visual aids for macular degeneration is to help maximize that usable vision. The most well known low vision aids are magnifiers.
Large Number Phone, Large Number Watch, Large Print Calendar
But did you know that instead of trying to magnify everything, that getting something with larger numbers or buttons is a whole lot simpler? For example, perhaps you have a hard time seeing the buttons on your TV remote - instead of holding a magnifier over the buttons, just get a large button TV remote.

You may not even be aware of all the things that one can get that are "supersized," inexpensive and yet so helpful.

Everyday items like large print calendars, large print checks, large number calculators, large number watches, large number timers and large number clocks - can make daily tasks less of a struggle.

Find out how to make your life or your loved ones a little bit easier: Visual Aids for Macular Degeneration


Thanks so much for subscribing to Macular Degeneration News.





Leslie Degner, RN, BSN
Better Health for Better Vision
www.WebRN-MacularDegeneration.com