Hello


Wow - What an Improvement!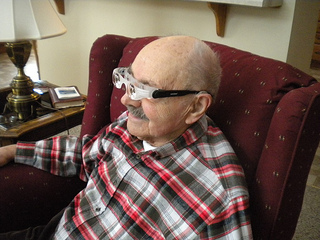 As an 85 year old with macular degeneration living in Wisconsin, television is a favorite pastime for my father-in-law, Les - especially in the winter and especially when the Braves are playing.
Although he purchased a new 42" high definition TV a year ago, he still needed to pull his chair up really close to the television so that he could see it better. This is typical for those with AMD. But not anymore for Les.
At Christmas we gave him a pair of high quality Reizen TV glasses. This is what he said as soon as he put them on:
"Wow"
"What an improvement!"
"It's not blurry anymore."
Each lens can be focused separately, since no two eyes are the same. Lightweight and comfortable they can be worn for an extended period of time.
Find out more about how well these TV glasses work and other ways they can be used:
TV Glasses for Magnified Viewing
P.S. Please hit the Facebook "Like" button on the left if you like it. Thanks!


Thanks so much for subscribing to Macular Degeneration News.

Leslie Degner, RN, BSN
Better Health for Better Vision