Hello


Do I Need a Macular Degeneration Specialist?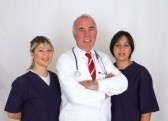 Do you have a macular degeneration specialist? If you have been diagnosed with macular degeneration it is important that you are seeing an ophthalmologist who is specially trained in retinal diseases like macular degeneration, maculopathy or macular edema.
Retina Doctor

A retina specialist is a medical doctor - an ophthalmologist who has done an extra fellowship training in retinal diseases for one or two years after completing his residency in ophthalmology.

The Retina Fellowship includes an intensive one or two year full time program treating patients with retina problems and learning how to perform office based surgeries like laser and intraocular injections as well as hospital based surgery like vitrectomy.
Low Vision Specialist
Another macular degeneration specialist to have on your team is a low vision specialist. They are licensed Doctors of Optometry or Ophthalmology, who are skilled in the examination, treatment and management of patients with eye conditions that are not treatable or correctable by medicine, surgery or with glasses.

This health professional will assist the patient in:

Determining what low vision optical devices are best for them

How better lighting can help them see better

Finding eye specialists with the right credentials is just one aspect of finding the right doctor for you. You may need to get a second or third opinion, before you find a doctor that meets your needs.

Dr. Yale Solomon writes in his book Overcoming Macular Degeneration: A Guide to Seeing Beyond the Clouds , that although your first impulse is to find a physician that can offer a cure, you also need to find a doctor that offers compassion and comfort.
He writes," The doctor's demonstration of compassion- a true understanding of and empathy for the distress, pain, and anxiety that the AMD patient is experiencing - is of utmost importance in establishing a doctor-patient bond that facilitates and augments any therapy."
Another macular degeneration patient writes, "The key to this condition is getting the right doctor who's interested in you, who will give you the time."
To learn more about these macular degeneration specialists and others such as low vision occupational therapists or orientation and mobility specialists click here:
How to Find A Macular Degeneration Specialist

Leslie Degner, RN, BSN
Better Health for Better Vision