Tomatoes Benefit the Eyes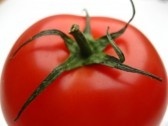 We have an abundance of tomatoes this week thanks to the generosity of some neighbors and co-workers. Like us, you can also find plenty of fresh tomatoes this time of year.

The best kind are home grown or found at your local farmer's market. Fresh tomatoes not only are good tasting they are also a good source of lutein.
Macular Degeneration and Lutein
Lutein and zeaxanthin are two carotenoids that are found in the retina - specifically the macula.

The macular pigment (MP) is found in the macula - the center of the retina with the highest concentration found in the fovea (the center of the macula). It is responsible for protecting our eyes from the harmful effects of free radicals and blue light.
Macular Pigment
The MP is made of two carotenoids:

1. Lutein is the main carotenoid in the peripheral retina, making up 67% or greater

2. Zeaxanthin is the main carotenoid in the central macula making up to 75% of the MP

Increasing the concentration of these pigments in the eye may help prevent age-related macular degeneration.

The body cannot make these antioxidants so you must get them from food or supplements.

Tomatoes are a good source of lutein as well as other antioxidants like lycopene. To see a list of other foods high in lutein like corn and spinach click here:



Thanks so much for subscribing to Macular Degeneration News.





Leslie Degner, RN, BSN
Better Health for Better Vision
www.WebRN-MacularDegeneration.com