Adapting in the Aspens
One of the common statements you will hear from those living with macular degeneration is that you can still do what you did before, you just have to do it differently.

Learning to adapt to knew ways of reading, cooking, writing, etc. takes patience and the willingness to change how you do things.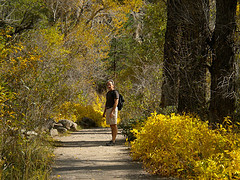 My husband and I love to hike and had planned a fall hiking trip in Colorado. This summer while hiking down a steep incline I started to feel some knee pain. Concerned that it may interfere with the hiking trip, I had my knee checked out and then saw a massage and physical therapist.

Knee strengthening exercises and calf stretches became part of my daily routine. I researched trekking poles and found ones that absorbed the best shock to the knees and ordered them.

After a visit to a local sports store, I was fitted for a new pair of hiking boots.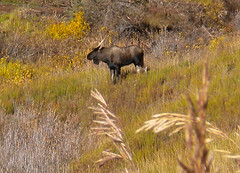 Four days into our trip with some great hikes everyday my knee is feeling good. The first two days we picked hikes with more gradual inclines but yesterday we hiked to Piney Lake. Several hours of hiking with lots of steep inclines never bothered my knees.

What does this have to do with macular degeneration? It's about adapting and not quitting an activity without trying to see if there is another way you can do it. Sure, I wish I could go hiking and not bother with the exercises, or not have to pay money to go to physical therapy. It took extra time to research hiking poles and to get fitted for boots that were good for my arch. Hiking with poles is different but it was all worth it to be able to enjoy this vacation together.
Reading Aids
Let's take reading as an example. You may find that reading books, newspapers and magazines has become a struggle. Instead of quitting reading, find ways to adapt. Better lighting may make all the difference.

My father-in-law has wet macular degeneration. While visiting them last year I was surprised that the only type of lighting they had was overhead lights or regular table lamps.

A simple swing arm lamp with LED lights that allows the light to be directed to the reading material made all the difference for him. He also got an electronic book reader that allows him to magnify the font. It has taken patience for him to learn to read with an ebook reader and while he would rather be reading "the old way" he is happy to be reading again.

For more tips on reading aids visit: Reading Aids for Macular Degeneration



Thanks so much for subscribing to Macular Degeneration News.





Leslie Degner, RN, BSN
Better Health for Better Vision
www.WebRN-MacularDegeneration.com