Slow Down You Move Too Fast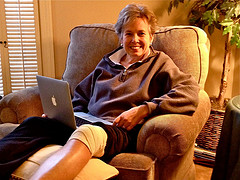 One of my favorite Simon and Garfunkel songs from the 70's is Slow Down You Move Too Fast. Those words took on new meaning for me as I was running, well, more like racing, to catch the train that takes me to work. I flew down the stairs just fine, but when I got to the wet pavement, I was face down on the cement before I even knew what happened. Some nice man helped me up and got me into a seat on the train.

Not knowing if I was hurt or where I was hurt, I couldn't respond to the kind people asking me if I was OK. However, when I reached my stop, it didn't take me long to figure out that my left knee was quite painful when I walked on it. A couple of x-rays and a doctor's visit later, I found out that I had two hairline fractures on my knee cap. Thankfully, the knee just needs to be in a brace for 4 weeks and immobilized while it heals.

What does this have to do with macular degeneration? Well, this week we have the privilege of hearing from Lynne Laney, an Orientation and Mobility specialist. She assists in training people who have macular degeneration on how to safely and comfortably navigate their surroundings. I'm sure the first thing she might suggest is to "slow down" in order to assess where you are and where you need to go.

Perhaps you have never heard of an Orientation and Mobility specialist. Let me give you an example of a situation where this training can benefit someone with AMD.

I know my mother-in-law would have wished that her husband, my father-in-law had had this training to have helped them in one of their recent travel adventures. My father-in-law, who has wet macular degeneration, had gone to the restroom shortly before their plane was to board. When he left the restroom he got disoriented and couldn't find his departing gate. He finally made it back to the correct gate just before the doors were to close.

There are several different strategies a person can use to safely and independently navigate their environment - whether it's at home, at work, or at the airport. Lynn gives us insight and details on how orientation and mobility training can help those with macular degeneration, like my father-in-law, get around safely and independently

Orientation and Mobility Training

P.S. If you belong to Facebook and found this page or any other pages on the website informative or helpful, go to the top left corner where you see the Facebook button and hit the "Like" button and post it to your Facebook page.

This helps to build the traffic numbers which then attracts the attention of Google in a positive way.

Thanks for your help! Leslie


Thanks so much for subscribing to Macular Degeneration News.





Leslie Degner, RN, BSN
Better Health for Better Vision
www.WebRN-MacularDegeneration.com