Some Simple Changes

I have noticed that those who have family members who are struggling with macular degeneration are the ones who are most interested in preventing or delaying this retinal disease.

My latest read is a book called, SuperFoods Healthstyle: Simple Changes to Get the Most Out of Life for the Rest of Your Life by Dr. Stephen Pratt. What intrigued me when I ordered the book is that the author is a senior staff ophthalmologist at Scripps Memorial Hospital in La Jolla, California.

I wondered why as a medical doctor, he had such an interest in the role of nutrition in our health. And then I found the answer on page 131. He had seen his mother struggle with the vision loss associated with age related macular degeneration (AMD) for 16 years.
Macular Degeneration Resource Books
Although there is much that can be learned on the web about AMD, it is still no substitute for what can be learned from reading books.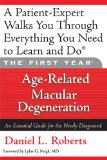 Dr. Pratt's book offers many simple tips on how to incorporate foods that are full of antioxidants, healthy fats, and good carbohydrates into one's daily diet.

There are many other excellent macular degeneration books written by other ophthalmolgists as well as books written by patients to help one learn more about the disease.



To find a list of these books and my reviews on them go to:

Macular Degeneration Resource Books

Thanks so much for subscribing to Macular Degeneration News.





Leslie Degner, RN, BSN
Better Health for Better Vision
www.WebRN-MacularDegeneration.com