Magnifying Tips for Those with Macular Degeneration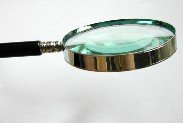 Macular degeneration is the loss of central vision - it is not blindness but rather low vision.

Low vision means that a person's vision cannot be corrected by prescription glasses or through any medical or surgical intervention. Magnifiers for macular degeneration are meant to make the most of the vision that you do have. As your loss of vision progresses you need to find ways to adjust and adapt.
Low Vision Magnifiers
Low vision magnifiers will be your most important visual aid.

Using magnifiers takes some training and practice. Here are some tips to help you: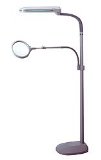 1. There is no one "best magnifier" for someone with macular degeneration.

2. Different tasks will require different magnifiers. Expect to own and use several different magnifiers.

3. As your macular degeneration progresses you will need more magnification.
4. You need to know the magnifying power that is best for you. Ask your low vision specialist to make a recommendation.

5. If you have more light, you may be able to lower the power of the magnifier.

6. The stronger the magnification, the shorter the distance between the magnifier and the object.
7. The lower the magnifying power the larger the field of view.

8. The higher the magnifying power the smaller the field of view.

Decide first what task the magnifier will be used for - such as reading, watching TV, performing a hobby or something portable so you can see prices, labels or menus. Then purchase a magnifier for that specific task.

To learn more about magnifiers for macular degeneration and the different styles that are available click here:

Macular Degeneration Magnifiers



Thanks so much for subscribing to Macular Degeneration News.





Leslie Degner, RN, BSN
Better Health for Better Vision
www.WebRN-MacularDegeneration.com