Hello


I Haven't Seen This Clearly in Years

There are three different avenues to take in coping with one's vision loss. One is to seek treatment to halt or reverse changes in the macula or retina, another is to make lifestyle and diet changes to support healthy eyes and surrounding tissue and the third is to find and use technology that can enhance the usable vision one does have.
Low Vision Glasses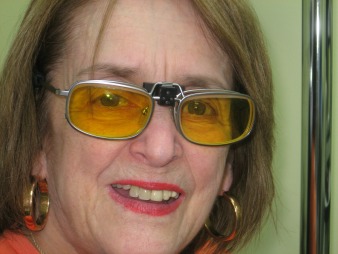 This technology can come in many different forms from visual aids to special glasses and lenses. A recent development out of Holland has made possible a new lens that clips on over a person's prescription eye glasses. The special lens improves vision by:

1. Enhancing the image

2. Improving contrast

3. Shifting the image to a healthier spot on the retina

As one patient who was newly fitted with these special glasses stated:

"I haven't seen this clearly in years."

Find out more about these low vision glasses, how they improve vision and where to get them from low vision optometrist Randy Kinkade.

P.S. Please hit the Facebook "Like" Button if you like the page! Thanks so much for subscribing to Macular Degeneration News.




Leslie Degner, RN, BSN
Better Health for Better Vision