Hello


Super Berries with Super Nutrients
Optometry and Vision Science (2011 Feb;88(2):257-62) posted a study that evaluated the effects of daily supplements with a goji berry formula in participants who ranged in age from 65-to 70 years old.
The 90 day placebo controlled study's purpose was to assess macular pigmentation, soft drusen count and to measure plasma zeaxanthin level as well as total antioxidant capacity. Those taking the goji berry supplement showed significant increased plasma zeaxanthin levels and antioxidant capacity but no changes were found in the placebo group. The placebo group accumulated soft drusen in the macula while the supplement group remained stable.
Increased Plasma Zeaxanthin and Antioxidant Levels
Here is a quote from the study's conclusion: "Overall, daily dietary supplementation with goji berry for 90 days increases plasma zeaxanthin and antioxidant levels as well as protects from hypopigmentation and soft drusen accumulation in the macula of elderly subjects."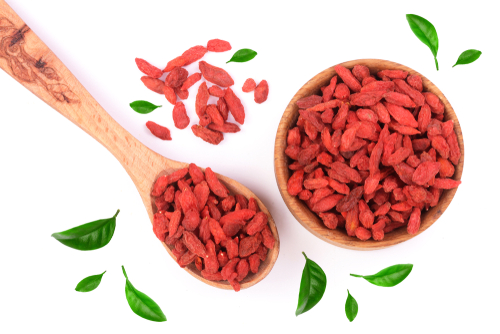 Discover more health benefits of this super berry and why this nutrient dense fruit may be one of the best antioxidant rich foods for your eyes:

Eye Health Benefits of Goji Berries

Leslie Degner, RN, BSN

Better Health for Better Vision

www.WebRN-MacularDegeneration.com