Hello


The Best Gift Was Free
We celebrated Christmas in Dallas this year with my husband's side of the family. Being with our great nieces and nephews was so much fun. Gifts of Disney dolls, airplanes, golf balls and scarves brought laughter and joy to the recipients. But the best gift was given to my 87 year old father-in-law who has wet macular degeneration.
Free Talking Books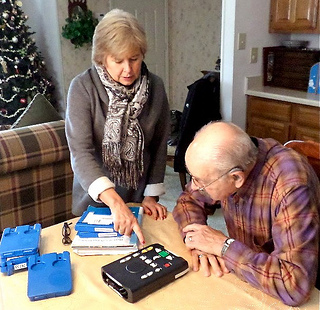 Several months ago he told us that despite the assitance of many different reading aids, his eyes became tired after just 30" of reading.

So with this in minds, I contacted the free Talking Books Program back in November. They provided me with the telephone number to the Wisconsin Talking Book and Braille Library in the state where my in-laws reside.

This service provides a free book player that looks much like the old cassette players and free books on tape. I asked if they would mail the player and the books to my address so that I could show it to my father-in-law during our visit to Dallas. They were more than accommodating.

To see a short video of how the Talking Book program works and how you can contact the Library of Congress to take advantage of this free service go to:

P.S. Please hit the Facebook "Like" Button if you like the page! Thanks so much for subscribing to Macular Degeneration News.



Thanks so much for subscribing to Macular Degeneration News.




Leslie Degner, RN, BSN
Better Health for Better Vision