Hello


Not All Magnifiers Are Created Equal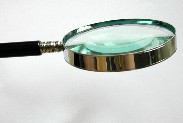 The most important vision aid for those with macular degeneration is a magnifier. They can be used for checking mail, reading a menu, catching a score, admiring a photograph, performing a hobby, or cooking in the kitchen.

Low vision or macular degeneration magnifiers come in all different styles, shapes, and powers. Selecting one that will work best for you or your loved one can be a challenge.
Eschenbach Magnifier
Here to give us some guidance on this important vision aid is Tim Gells from Eschenbach Optik. Eschenbach knows magnifiers. They have been in the magnifying business for more than 90 years.

He explains how Eschenbach magnifiers stand out from other low vision magnifiers and how to match the appropriate magnifier for the appropriate task.

Get your tips here: Magnifying Tips by Tim Gells

Thanks so much for subscribing to Macular Degeneration News.




Leslie Degner, RN, BSN
Better Health for Better Vision