Hello


An Early Sign of Macular Degeneration
Last week my husband had his annual eye exam and this Friday I will be having mine. The American Optometric Association recommends eye examinations:
For those 18 - 60 every one to two years
For those 61 and older every year
And more frequently for those who have risks for eye disease or have any kind of eye conditions or diseases.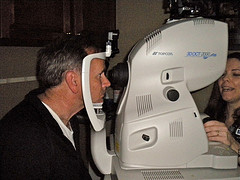 It may surprise you, but it didn't surprise our optometrist that I came along to Bill's eye exam. Because of a strong family history of age related macular degeneration he is at a higher risk of developing this retinal disease.

Retinal Exam
I wanted to be there during the retinal portion of the eye exam to ask some questions about his macula and what the eye doctor was seeing that may indicate any early signs of AMD.

Did you know that the retinal exam can show initial changes in the macula even before a patient experiences any changes in their vision?

Find out what you should know about this early symptom of AMD and what questions you would want to ask your eye doctor here:




Leslie Degner, RN, BSN
Better Health for Better Vision