Hello


Early Macular Degeneration Treatment - Eliminating Drusen
What if there was a way to treat the first signs of macular degeneration that would prevent the progression of this retinal eye condition into the advanced form?
Australian professor and retina specialist Dr. Robyn Guymer treated and eliminated macular drusen in the eyes of those who had not yet developed macular degeneration in an early clinical trial.
Using a newly developed non-thermal laser that administers nano-seconds of energy macular drusen were eliminated in a pilot group of patients.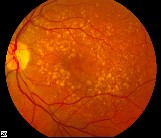 The purpose and goal of the treatment is to see if by eliminating the drusen, the degenerative process can be arrested and the patient's sight saved. In the initial study 20 patients who had both eyes diagnosed with early AMD had one eye treated by the nano-laser and the other eye untreated and used as the control.

What surprised the study investigators six months later is that ".. the 10 fellow eyes also improved in either visual function or drusen resolution," Dr. Guymer said.

Indicators of vision improvement were dark adaptation, flicker, color thresholds, visual acuity, or drusen resolution - not only in the treated eye but in the untreated eye as well. Find out more about the next phase of this study, who is eligible and where the study is being conducted:

Early Treatment of Macular Degeneration - Eliminating Drusen

Thanks so much for subscribing to Macular Degeneration News.




Leslie Degner, RN, BSN
Better Health for Better Vision