Hello


A Week At The Beach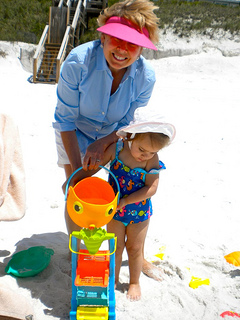 Maybe most of you didn't notice, since you probably get more emails than you would like, but our weekly Macular Degeneration News just didn't get out last week. There was good reason for it - at least I thought so. We went on our yearly beach vacation with our adult children, son-in-law and grandchildren.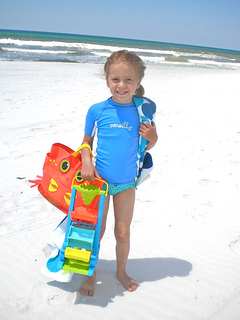 We had a week of making great memories swimming in the ocean, riding bikes and building sand castles. For the last several years we have had our mini-family reunion to regroup and re-connect at one of the beaches near Destin, Florida.

Our youngest daughter flew in from Minneapolis. The warm temperatures and bright sun was a welcome change from a late snow storm in May. Our oldest daughter, son-in-law and three grandchildren joined us as well. We all enjoyed being away from the daily responsibilities of jobs, school, car pools and commutes.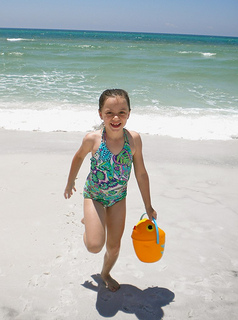 With cars full of suitcases, beach gear, and food, every year we vow to pack less. But who can go to the beach without beach chairs, umbrellas, towels, coolers, and sand toys?

Along with all of our beach gear, we made sure to pack beach cover-ups, hats, visors and sunglasses to protect our skin and eyes. But this year I didn't bring just any sunglasses - here's why.
Blue Light Hazard
Two of our newsletters this year covered the topic of blue light hazard. Blue light waves are wavelengths from 400-500 nanometers and are the waves that give the sky its blue color. Thankfully, we experienced lots of beautiful blue sky days. According to optometrist, Dr. Gary Morgan, "Blue wavelength light is a major contributor to oxidative retinal damage that causes Age-related Macular Degeneration (AMD)."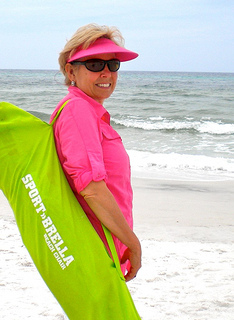 Dan Roberts, the founding director of MD Support, Inc and the author of The First Year: Age-Related Macular Degeneration: An Essential Guide for the Newly Diagnosed writes that even though the evidence is not conclusive, ""Retinas compromised by disease are more at risk from light damage than healthy ones. Blue light, specifically light that is in the higher frequency nearing ultraviolet (UV), is not filtered well by retinal tissue that is weakened by genetic deficiencies, poor nutrition, polluted environments, health habits, and aging."
Not all sunglasses protect eyes from blue-light - only those with a certain color lens. Some lenses only provide minimal to medium protection while other sunglasses provide 100% blue light protection.
Find out which sunglasses I brought to the beach and more on how to protect your eyes with blue blocker lenses.
Blue Blocker Sunglasses

Thanks so much for subscribing to Macular Degeneration News.

Leslie Degner, RN, BSN
Better Health for Better Vision