Hello


Dry AMD Progression and Promise

The vast majority of those with age related macular degeneration have the dry form, which is considered the lesser of two evils. The wet form causing more severe vision losses and advancing more quickly while the dry form is associated with less vision loss and slower progression. However for those whose eyes continue to progress to the more advanced form of dry AMD, called geographic atrophy (GA), they would tell you that indeed their vision has been greatly impacted.
Geographic Atrophy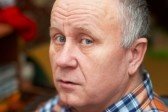 This advanced form of age related macular degeneration is gaining more attention as research scientists discover a greater understanding of the underlying causes and processes that lead to the development of this retinal condition. One of the identified processes, called the complement pathway, damages supporting tissue layers of the retina when it becomes activated.

In the Phase II MAHALO study, lampalizumab was shown to slow the progression rate of GA. The drug works by inhibiting complement factor D which is involved in the complement pathway, an immune system response associated with the development of age related macular degeneration.

"This is the first positive treatment result for patients with dry age-related macular degeneration and geographic atrophy," Frank Holz, MD, from the University of Bonn in Germany, told Medscape Medical News.

Find out what kind of impact the study had on dry AMD progression here:

Dry Macular Degeneration Research

P.S. Please hit the Facebook "Like" Button if you like the page! Thanks so much for subscribing to Macular Degeneration News.




Leslie Degner, RN, BSN
Better Health for Better Vision