Health Benefits of Blueberries
The blueberries on our 8 bushes are just starting to ripen and are loaded with berries. They are one of my favorite fruits - for their flavor and for their anthocyanins. It is the anthocyanins that make the berry blue.
Antioxidant Fruit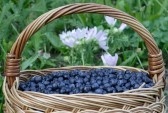 USDA scientists Dr. Ronald Prior and Dr. Guohua Cao have demonstrated that these wonderful berries contain the highest antioxidant capacity of the 40 different fruits and vegetables tested.

"The antioxidant characteristics in blueberries appear to be due largely to anthocyanins," said Dr. Prior, who has been a key researcher in the role of antioxidants. "The wild variety contain one of the highest anthocyanin levels of berries commercially available in North America."

This phytonutrient is found in foods that are dark red, blue or purple.

The darker the pigment, the greater the benefit. Foods providing the best sources of anthocyanins are blueberries, cranberries, black raspberries, blackberries, blackcurrants, red currants, cherries, and purple grapes.
Flavonoid Antioxidants
Besides providing antioxidant protection these berries are anti-inflammatory. They contain another beneficial substance called flavonoids. Flavonoids are water soluble plant pigments. They support our health by strengthening capillaries and other connective tissue and are anti-inflammatory.

According to Dr. Michael Samuels, ophthalmologist and author of Macular Degeneration: A Complete Guide for Patients and Their Families , "Modern research into age related macular degeneration has found that inflammation plays a clear role in the development of the dry form of this disease."

Include antioxidant foods with every meal. For a list of foods high in antioxidants click here:



Thanks so much for subscribing to Macular Degeneration News.





Leslie Degner, RN, BSN
Better Health for Better Vision
www.WebRN-MacularDegeneration.com