Hello


What's Worse for Your Eyes - UV Light or Blue Light?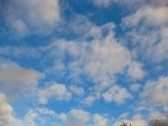 Most of us are aware of the damage that ultra-violet light can cause to our eyes, increasing our risk for cataracts and for age-related macular degeneration. However, many people are unaware of another type of light that causes oxidation and damage to the photoreceptor cells of the macula - blue light.
What Is Blue Light?
Visible Light Spectrum consists of a narrow band of light frequencies that can be seen by the human eye. The colors of light are distinguished by their different wavelengths. Blue light has a short wavelength and it helps to regulate our sleep cycle, boost our mood, and increase our alertness.

However blue light can also be damaging to our eyes.

"The photoreceptors in the retina . . . are susceptible to damage by light, particularly blue light. The damage can lead to cell death and diseases."

Shaban H, Richter C. A2E and blue light in the retina: the paradigm of age-related macular degeneration. Biol Chem 2002 Mar-Apr;383(3-4):537-45.
Exposure to Blue Light

Our eyes are exposed to blue light outside and inside. When we look at the sky on a clear day it is blue because molecules in the air scatter blue light from the sun.

Inside our home we are exposed to blue light from our cell phones, tablets, laptop computers, TVs and LED lights. In the past couple of years our eyes have seen a drastic increase in exposure to blue light.
Blue Blocking Lenses
Dr. Gary Morgan, a 1992 graduate of the Illinois College of Optometry has worked to develop a special lens to help protect our eyes against blue light—not only outdoors, but also indoors.

Find out who should be wearing these blue blocking lenses and if blue blocker glasses can benefit you: Blue Light Glasses



P.S. Please hit the Facebook "Like" Button if you like the page! Thanks so much for subscribing to Macular Degeneration News.



Thanks so much for subscribing to Macular Degeneration News.




Leslie Degner, RN, BSN
Better Health for Better Vision