Screen Magnifiers

Screen magnifiers are available for your computer, your TV, cell phone and laptop.
Some devices continue to get smaller like cell phones and laptop computers, while other electronics continue to get bigger like TV's. There are aids that can help to make letters crisper, pictures more detailed, numbers larger and images less blurry.
Computer Screen Magnifier

A computer screen magnifier can come in different forms. You can buy a computer software that will enlarge your screen or buy a simple screen to put over your monitor to enlarge it.
There are a couple of things you can do for free to enlarge your screen as well.
To find about about these free tips and to see an assortment of computer screen magnifiers click here:
ZoomText
Are you finding that using the computer is more difficult than it used to be? Words, images, numbers or graphs are becoming harder to see?
It may be time to move to a software program that offers screen magnification up to 36x and the option of hearing what appears on the monitor. ZoomText is the most well known and respected windows magnifier. On line training and free telephone support are available to users.
Not sure if this software will work for you?
Try a free 60 day download before you buy it. ZoomText
Screen Magnifiers for TVs

You may not be ready to upgrade to a large TV screen like my husband's friend who just installed a 55" flat screen TV.
Before you do that consider a television screen magnifier.
TV magnifiers can be either a simple gadget you easily install in front of your TV or magnifying TV glasses that you can take with you wherever you go.
Most of them are high quality and offer distortion free magnification.
To see a selection click here: TV Screen Magnifier
Cell Phone Magnifier

A cell phone magnifier will enable you to see the names and numbers listed on your cell phone display and help you read text messages. My friend Vicky accidentally called me last week thinking she was calling Linda and not Leslie. Maybe that has happened to you because you can't quite see the display on your cell phone.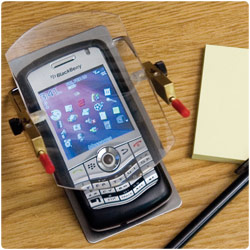 Did you know that there is an easy solution?
Maxiaids offers a magnifier that can be used on any small electronic device that measures 2 3/4" or less.
It magnifiers 2X to 2.5X. Not only can it be used for a cell phone, it can also magnify your iPod, Blackberry or other hand held electronic device.
Although there are many new large number cell phones or voice activated cell phones, if you want to keep the phone or phone service that you are comfortable with, adjust by adding this handy magnifier.
Go to MaxiAids to check it out:
Hand Held Device Magnifier
Go from Screen Magnifiers to WebRN Macular Degeneration Home

Would you like to be updated on:
The Latest Macular Degeneration Clinical Trials?
√ Prevention of Macular Degeneration?
√ Tips for Daily Living?
√ Food Suggestions for a Macular Degeneration Diet?
√ Ideas on Visual Aids to Maximize your Sight?
If you said "yes" to any of the above, sign up for the monthly Macular Degeneration News.