Ebook Reader Reviews - Kindle 2
by Colin
(United Kingdom)
I am 84. I suffer from glaucoma (both eyes, but now under control) and I have had cataracts removed (again, in both eyes). In one cataract operation, the blood supply to the retina was blocked, with the consequence that I was left with only one effective eye.


That too began to give me trouble, and I was told that a membrane was forming behind the lens, a by-product of the other cataract operations.


That was two years ago. By November 2010 my vision was so bad that I had to limit my part-time occupation of music journalism.

I gave up reading books: the expense of buying more and more magnifiers of increasing power was one factor, and another was the inconvenience of sitting up in bed and holding a heavy hardback in one hand and a large magnifying glass in the other.


It was then that I bought a Kindle 2. An iPad would have done far more, but it cost nearly four times as much. Besides, I didn't want to be bothered with a whole heap of new technology. All I wanted was a reading device so that I could indulge my second favourite activity: reading.


Kindle gives me all I want. Clear black text on a plain white background – it's just like reading a book.

No backlighting, so you need a good light to read by, as with a 'dead tree' book. And a range of eight type sizes, ranging from small to large.

The largest gives you only two words to a line, so you are pressing the
page-turn button pretty frequently. I found the second largest easy to read. I should add that by this time I was finding my MacBook computer a bit of a pain: the lettering on the keys, grey on off-white, had become all but impossible to read, and the text on the screen was dissolving into a grey blur.
Kindle was the only relief. I could download a 650-page novel like Wolf Hall for only £4.50 (hardback price in the UK about £19), and the bat
At a mere 8 oz, it's a pleasure to hold in bed, on the train or the plane (though I don't think I'll try it in the bath – it doesn't exactly look waterproof).
My main criticism is that the keyboard is too small for readers with poor eyesight. My son, a scientist, tells me that the library of scientific is inadequate, so he won't be going for Kindle. But for me, it's the answer to more than one problem. I see no reason to upgrade to the DX, which costs nearly three times as much.
Now, after laser surgery three weeks ago, the membrane has been cut free and my left eye has been restored to 20/20 vision.
This means that I can read the smallest Kindle type, though I prefer to increase the size – it's more comfortable. I can even read the tiny buttons on the keyboard. Because it's so delightful to to use, I'll be buying a lot more books.
How many does the Kindle hold? 1500, did someone say? I should live so long.
Join in and write your own page! It's easy to do. How? Simply click here to return to Best Reading Tips.
Kindle Reader
by Colin
Hello Leslie,

Interesting to read about your father-in-law's Nook. When my vision was grossly impaired last year (greatly improved by laser surgery in January) I bought an Amazon Kindle, which enabled me to read books without any of the
magnifying aids I had been acquiring.

I still have macular degeneration (growing slowly), so I welcome your newsletters.

After the laser, I had a burst of creativity and finished off two long-outstanding books. They are now in e-book form on Kindle, in addition to another that I finished earlier. So a vision defect put me on to another possible source of income. We'll see....

All good wishes,

Colin

REPLY

Hi Colin,

Thanks for sharing your reading (and writing) tip. What size Kindle reader do you have?

REPLY

The screen is 4.75" x 3.5" – comfortable for reading. Overall 7.5" x 5" – easy to hold when you're sitting up in bed.

Colin

REPLY

This would be the Kindle Latest Generation


Some improvements that Amazon has made that would benefit those with macular degeneration is

50% better contrast with the new E Ink Pearl technology

No glare

Improved Fonts that are crisper and darker.

Leslie


Join in and write your own page! It's easy to do. How? Simply click here to return to Best Reading Tips.
Kindle Reader - Macular Degeneration
by Rene
(South Africa)
Thanks for sharing about your South African friend receiving her Kindle from Amazon in days. I can confirm: I also live in South-Africa and was diagnosed with macular degeneration early this year.

I ordered a Kindle (6 inch) from Amazon and received it within days. It is the most beatiful gift for AMD-ers with medium sight. I have taken on reading again, (which I could not properly do any more) because I can change the font size easily according to the light supply i.e. reading in bed or in full sun. I find the contrast of the
Kindle fantastic.

I also bought yesterday from Amazon the Complete Guideto AMD from dr. Mogk which your wrote about a couple of days ago. By the way it was delivered to my Kindle over 3G within minutes (also in South Africa).

I am reading it already and it looks like a book that every AMD-er and his family should read or listen to (Kindle has text-to-speech facility).

Kindle also has a built-in Oxford dictionary, which is important for me, since English is my 3d language. I can look up the meaning of a word used in a book within seconds, without going to the library and searching a
paper dictionary. Marvelous.

Books in my language (Dutch) are also available on several websites.

Thanks for sharing this information with us.

REPLY

Thanks Rene for telling us how the Kindle reader has helped you. For those interested in the larger screen Kindle DX it is on sale for $259 - the regular price is $379 - so it's a huge savings. The sale ends Monday, Nov 28, 2011.

Go to Amazon:
Kindle DX, Free 3G, 9.7" E Ink Display, 3G Works Globally


If you are intersted in the smaller, 6 inch screen, the least expensive one is the Wi-Fi only, with no 3G at $79.

Go to Amazon:
Kindle, Wi-Fi, 6" E Ink Display


Leslie Degner
Ebook Reader Reviews - Kindle Reader
by Colin
Your remarks about the iPad have been taken in and are appreciated. After some thought, however, I settled for a Kindle reader. The black-and-white text corresponds more closely to the experience of reading a book, and has brought back much of the joy of reading.

I also like the black text - the Kindle's black is really black.

Add to the fact the Kindle is about a third
of the price of an iPad, and is light and easy to hold, and you will see why I made my choice.

I have no use for all the other things the iPad does. The main drawback seems to be the smallness of the control keys, which are difficult to operate while you are holding a magnifying glass and impossible to read without one.

Moreover, Kindle has enabled me to publish, in e-form, a novel I had hanging about, waiting for a publisher to take an interest.

REPLY

Hi Colin,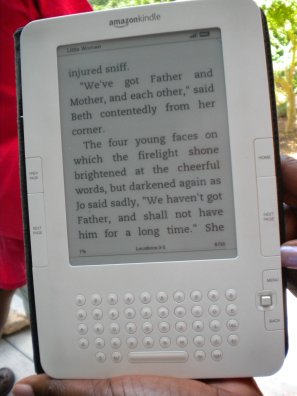 Thanks for sharing your experience with the Kindle Reader. Are you using the Kindle 2 or the Kindle DX with the larger screen?


As you can see from this picture, the control keys are small and very difficult to see as there is no bold, dark text.

However, the Kindle 2 is much less than the Apple iPad. Right now the Kindle DX is $379 with WiFi and free 3G wireless.

The cheapest iPad is $499. Books can be downloaded at any WiFi hot spot, but to get the AT&T 3G network, it costs$25.00/month.

To learn more about the Kindle readers click here:

Kindle Reader

Kind Regards,

Leslie Degner, RN, BSN


Join in and write your own page! It's easy to do. How? Simply click here to return to Best Reading Tips.
E Book Readers
by Bob
(St Petersburg, FL)
My Mom has wet macular degeneration. Her vision is slightly impaired. She is now getting the injections.

I want to buy her an e book reader but not sure what's best. Do any of them substitute as a book reader for if and when she is unable to see well enough to read on her own? Do any of them have a control to make the screens brighter?

They all look dark to me. I am looking at the Kindle Reader because it downloads the books directly.

REPLY

Hi Bob,

The e book readers make it possible for many people who have given up reading to read again. I just got an e-mail from one of the website visitors stating that he had gone back to reading thanks to the Kindle. Another 81 year old with wet AMD wrote and told me how much she loves her Apple iPad.

A couple of things that I like about the Kindle DX
are:

Large Screen

No Glare

Best Contrast - High Contrast E Ink Pearl Screen: The new Kindle DX uses E Ink Pearl technology with 50% better contrast for the clear text and sharp images

High-contrast screen can be adjusted - there are 16 shades of gray for 50% improved contrast

Easy to Use

Has Text to Speech Capability

Can also download audio books and listen to them with ear plugs.

Hope this helps. Happy Mother's Day to your Mom.

Kind Regards,

Leslie


Join in and write your own page! It's easy to do. How? Simply click here to return to Best Reading Tips.
Large Print Books - Overpriced!
by Bill
(United States)
I really appreciate the help that you provide. Thank you so much.

On another matter, I purchased a paper back novel for Joyce, last night, and in regular print it was $10.99. In large print it was $28.99. Disgusting!

I know that it means changing the print size and a few more pieces of paper, but what a rip off. Some day maybe it will change.

Bill

REPLY

Hi Bill,

Yes, a lot of avid readers with AMD would go broke paying that much for one large print book. I have a couple of suggestions for you.

1. Check your local library.

Ours has a large section of large print books to choose from. With some of the larger library systems if they don't have the book you want in large print, can check other libraries and get it for you.

2. Consider electronic book readers.

The Kindle reader offers two screen sizes. If you wife needs the largest font size, then I would go with the larger Kindle DX so that she can see more of the words on one page. However, many people have written to me saying that they are happy with the 6" screen.

Kindle Reader

Kind Regards,

Leslie


Join in and write your own page! It's easy to do. How? Simply click here to return to Best Reading Tips.
√ Prevention of Macular Degeneration?
√ Tips for Daily Living?
√ Food Suggestions for a Macular Degeneration Diet?
√ Ideas on Visual Aids to Maximize your Sight?
If you said "yes" to any of the above, sign up for the monthly Macular Degeneration News.