Cooking Low Vision Aids

Cooking low vision aids can keep you in the kitchen and entertaining friends and family. There are many helpful gadgets that will allow you to keep cooking and entertain others in your home.
√ Large Print Cookbooks
What I love about my Kindle Fire HD is the ability to download recipe books or browse for recipes on line. The colored images are spectacular and the ability to enlarge the font or adjust the brightness and contrast makes it easy to follow any recipe.
√ Liquid Level Indicator
This battery operated gadget will make a noise (or if you want there is one that sings) when the liquid is reaching the top of the cup.
Another tip is to remember the importance of contrast - so if you are pouring coffee put it in a white mug or if you are pouring milk pour it into a black mug.
This easy to use gadget costs around $12 and may save you from lots of spills.
Liquid Level Indicator
√ Bold Print Measuring Cups
The bold and large numbers on these measuring cups makes it easy to see. Contrasting the large white numbers on a blue background helps to make the numbers stand out.
This is a set of 4 cups - including these sizes - 1/4, 1/3, 1/2, and 1 cup.
Measuring Cups with Large Print
You can also purchase a set of measuring cups with each cup being a different color so you can identify the size of the cup by its color. There is also a bold print 2 cup measuring cup that is available.
√ Big Number Measuring Spoons
Measuring spoons for low vision can be purchased either with big numbers on the spoon or color coded with each spoon being a different color for easy identification.
Big Number Measuring Spoons
√ Bold Number Timers

Large white numbers on a contrasting black background makes it easy to set a timer to bake or cook your favorite foods.

Tactile Low Vision Timer-White Dial, Black Numbers
√ Large Character Stickers for Stoves

The words, numbers and symbols that appear on stoves are printed in large print on labels that you peel off to stick over or next to the little print that comes with the stove.
√ Large Character Stickers for Microwave
A packet of all necessary words and numbers to label your microwave for better visibility.
√ Large number cooking thermometer
Simply insert the probe into your meat or poultry, and you can see the temperature thanks to large numbers with bold black printing on a stark white background.
Large Number Cooking Thermometer
√ Large Letter Labels for Spice Jars
The names of just about any spice, and many common items you would have in your pantry are now in large print labels that you can stick on your jars.
√ Talking Microwaves
There are several models of microwaves that will speak out the numbers or food categories. The reviews show that they are very easy to use and usually range in price from $100 - $300.
MaxiAids carries one of these microwaves which features an adjustable volume of eight volume levels using a male voice.
It will provide information such as: setting cook time, running cooktime, current power level, microwave running, etc.
Talking Microwave Oven
√ Cutting Board Using Contrast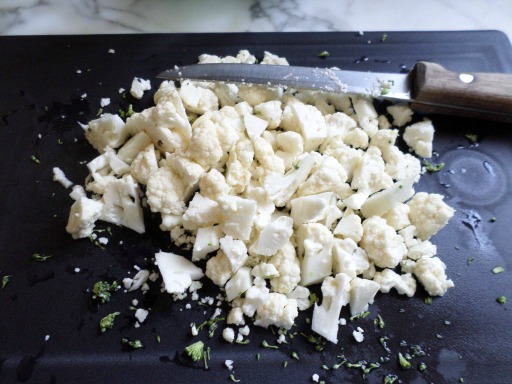 See how this black cutting board makes the cauliflower so easy to see and to safely prepare? The other side of the cutting board is white - so use that side to cut up dark vegetables like broccoli or green peppers. You can get this cutting board at Amazon here:
Durable Non-Slip & Non-Toxic Double Sided Design Cutting Board for Vision Impaired (White/Black Large Color Contrast with Food)
Prepackaged Teas and Coffees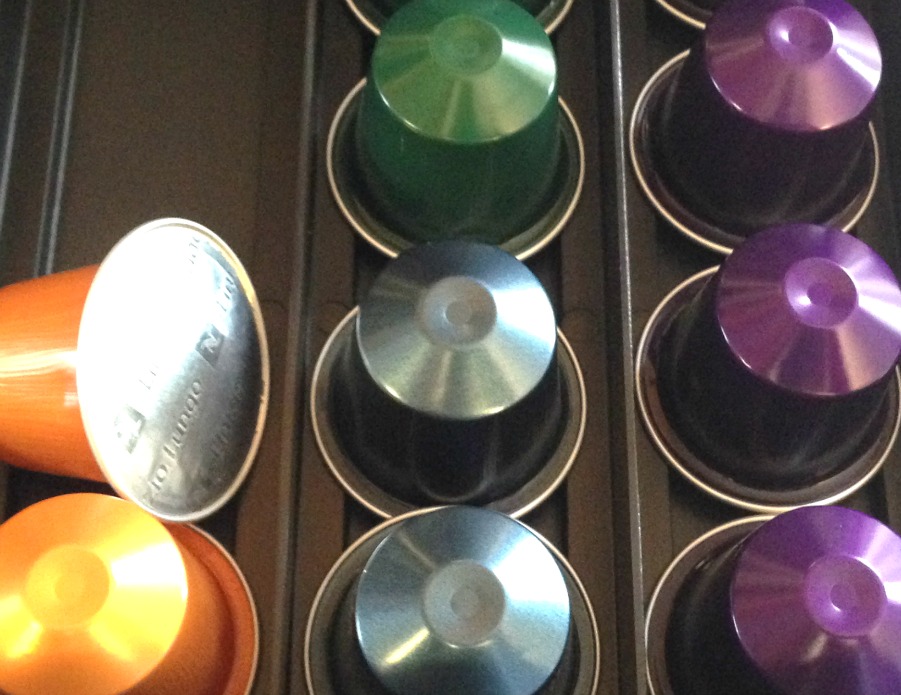 No more need to measure coffee grounds or hot cocoa powder when you can use pre-packaged cups for your coffee, tea or hot chocolate.   
Measure water once when you fill up your single serve coffee maker and when you make you favorite hot beverage just the right amount of hot liquid is poured right into your mug. 

Coffee Variety Sampler Pack for Keurig K-Cup Brewers, 40 Count
Cleaning Up the Dishes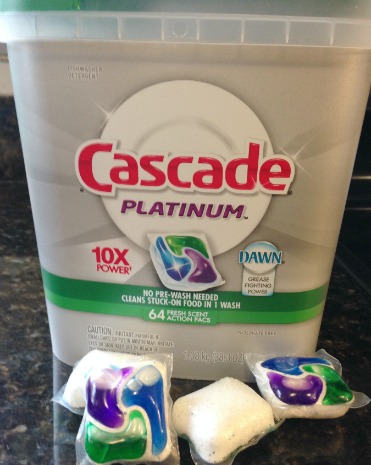 Aids for low vision or macular degeneration don't need to be high-tech.  Something as simple as using pre-packaged, pre-measured dishwashing packets means no more over-filling or spilling your dishwasher detergent.
Cascade Platinum Dishwasher Detergent Packs
Buy Groceries on Line

For convenience and for cost savings, consider buying your cooking ingredients on-line.
 I buy many of my groceries now from Amazon, because as an Amazon Prime member I get my products delivered for free with a yearly membership of $99.   It saves me lots of trips to the grocery store. 
This benefit includes unlimited FREE Two-Day Shipping on millions of items with no minimum order size. I buy my goji berries, baking goods, oatmeal, nuts, coconut oil, and olive oil to name a few. 
To save even more money try the Subscribe and Save option - you don't have to select delivery every month - it can be every 3-4 months - but the savings can be up to 15%. 

Try Amazon Prime 30-Day Free Trial
Go from Cooking Low Vision Aids to Visual Aids for Macular Degeneration

Go from Cooking Low Vision Aids to WebRN Macular Degeneration Home
Would you like to be updated on:
The Latest Macular Degeneration Clinical Trials?
√ Prevention of Macular Degeneration?
√ Tips for Daily Living?
√ Food Suggestions for a Macular Degeneration Diet?
√ Ideas on Visual Aids to Maximize your Sight?
If you said "yes" to any of the above, sign up for the monthly Macular Degeneration News.