Computer Low Vision Aids
Computer low vision aids are a great help for those with macular degeneration - today more than ever.
Screen magnifiers, software magnification, and large number keyboards can keep you enjoying your computer.
PC Screen Magnifier
Consider that now all computers can be adjusted for:
√ brightness
√ color
√ font size
√ background color for contrast
These features alone can make it much easier for you to read e-mails versus letters and to write to others instead of hand writing.
Windows Magnifier
Try some of the free Windows magnifying features before you buy a PC screen magnifier or expensive software.
To use a Windows magnifier try one of these two tricks:
1) Simply hold the Control key and click the + key. Hitting the - (minus) key will make the page smaller
2) Magnifier is a display utility for those who have Windows XP that makes the computer screen more readable by people who have low vision. It creates a separate window that displays a magnified portion of the screen.
Computer Screen Magnifier
Here is a computer screen magnifier tip from Bill:
"The best item I have found for screen magnification is the Microsoft Comfort Optical Mouse 3000. The magnifier can be turned on and off with a push button switch on the left side of the mouse. The size of the magnifying window and the magnification level are easily controlled with mouse movements.
This is such a simple effective device and sells for less than fifteen dollars. I think it is low vision's best kept secret.
It is an indispensable tool for me as a constant computer user."
Go to Amazon here to check it out:
Microsoft Comfort Optical Mouse 3000
Print Enlargement Programs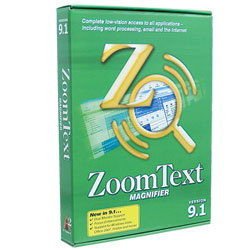 There are several software programs that are really so amazing - from print enlargement programs to talking computer programs.
However, before you buy new software be sure to consider the system requirements. They will be printed on the outside of the box or in the description section if you are buying on-line or from a catalog.
These programs allow you to magnify the words from 2x to 36x - which simply means that the words will be two to thirty-six times larger than regular print.
At this size most people with macular degeneration can read anything on their computer. The two most recommended software are ZoomText 1 by AiSquared and MAGic by Henter-Joyce.
Not only can you select your font size with this computer low vision aid, you can also choose to use the color enhancer or a highlighting feature.


Talking Computer Programs
This computer low vision aid actually is a program that reads out loud to you.
These programs will read to you whatever is on the computer screen - it speaks every word on the screen. JAWS for Windows by Freedom Scientific and Window-Eyes by G. W. Micro are two options.


Print Enlargement and Talking Computer Software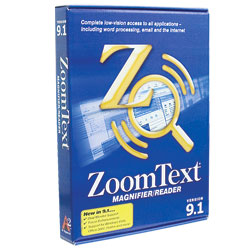 If you want a software that does both - enlarges the print and reads to you - that is an option as well.
These programs can do just the enlargement or just the reading or you can choose to have it do both at the same time.
ZoomText by AiSquared and MAGic by Henter-Joyce both offer this type of software.
Click here to learn more: Talking Computer


Speech to Text Converter
If you reach a point where you find that using a key board is too difficult you can move to a voice recognition software.
This software will follow your verbal instructions without the use of a mouse or keyboard. It can type on the screen whatever you words you speak.
Some options are Dragon Naturally Speaking and ViaVoice. Click here to learn more:
Large Print Keyboard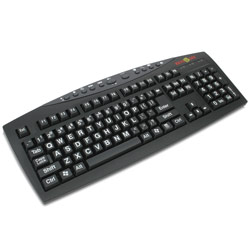 Low vision keyboards provide:
√ Large print letters
√ Bold typeface
√ Contrasting colors - White on Black, Black on yellow or Black on Ivory
You can purchase large letter stick-ons that you put on the individual keys. They are almost the same price as a large print keyboards - so I would skip the hassle and just get the low vision keyboard.
Monitors and Accessories
One computer low vision aid that makes is a big difference is your computer monitor. With print enlargement programs the bigger the monitor the better. A 17 inch monitor is increasingly becoming a standard size. The increased size of the screen provides a larger viewable area which is especially important if your are using a print or screen magnifcation software.
Monitor sizes that are commonly available are 17, 19" and 21". Of course the larger the size the more expensive the monitor will be.
Monitors use different types of technology including Liquid Crystal Display (LCD) and Cathode Ray Tube (CRT).
LCD monitors have less flicker compared with conventional monitors. This can be valuable for people with macular degeneration if they find flicker on a conventional monitor unacceptable. LCD screens are more expensive than conventional monitors. Flat screens usually give a larger viewing area and have less glare than curved screens.
Go from Computer Low Vision Aids to Low Vision Technology

Go from Computer Low Vision Aids to WebRN Macular Degeneration Home


Would you like to be updated on the latest:

√ Clinical Trials?
√ Prevention of Macular Degeneration?
√ Tips for Daily Living?
√ Food Suggestions for a Macular Degeneration Diet?
√ Ideas on Visual Aids to Maximize your Sight?
If you said "yes" to any of the above, sign up for my monthly Macular Degeneration News.