Apple iPad - Technology for those with Macular Degeneration
Apple iPad can be a great low vision technology for those with macular degeneration or low vision from other eye conditions such as diabetic retinopathy or macular edema.
"I bought an iPad last month and for
the first time in a long, long time I can read easily and fluently with little eyestrain
using this wonderful device. Having self illuminated polarized light coming from the screen is a huge aid to my reading. Being able to change font size is only a part of it..it is the quality of the light itself that makes the difference as I could not tolerate reading an Eprint reader at all nor could I manage books even with increasing the light on the page. The iPad solves all of it for me and I suggest that this particular device with its hugely sharper image ( double that of any other reader made) makes the difference with the polarized light source. It is really a different expernience and I suggest you personally try it. It makes the Kindle and etc..a poor, poor choice in comparison. I can now READ!!!" Neil from Canada
Reading Device - Contrast and Magnification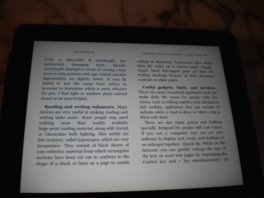 E book readers make it possible for those with age related macular degeneration (AMD) to read with less eye strain. The more popular ones are the Kindle reader, the Sony e book reader, the Barnes and Noble Nook and the iPad.
Each of them have these features in common - font magnification and adjustable contrast. Both of these features are very helpful for those with visual impairment or macular degeneration. However a recent study presented at the annual meeting of the Amercian Academy of Ophthalmology found one of these electronic book readers to be superior.
Electronic Book Reader Study

"Reading is a simple pleasure that we often take for granted until vision loss makes it difficult," said Daniel Roth, M.D.
Daniel B Roth, MD from the University of Medicine and Dentistry of New Jersey was the presenter for the study called Electronic Reading Devices Increase Reading Speed and Comfort in Patients With Moderate Vision Loss at the 2012 annual meeting for the Academy of Ophthalmology.
All of the 100 participants gained at least 42 words-per-minute (WPM) when using the iPad™ tablet on the 18-point font setting, compared with reading a print book or newspaper. Compare that to a 12 word per minute increase using the Kindle with the same font.
According to Dr. Roth "Using a tablet with a back-lit screen resulted in the fastest reading speeds for all study participants, no matter what their level of visual acuity."
Keep in mind this study was done before the new Kindle PaperWhite came out which is not only back-lit but provides greater contrast with a white background and deep black bold lettering.
Books are downloaded right to the wireless reading device. There is no need for a computer.
With the Apple iPad, books can be downloaded where ever there is WiFi. If you buy an upgraded iPad with 3G there is internet connection where ever there is cell phone coverage. A 3G network is available from AT & T or Verizon, but there is a monthly charge for this access. The iPad can be used for much more than reading e-books. You can listen to audio books, watch movies, download apps, search the internet or check your e-mail.
Easy To See Touch Screen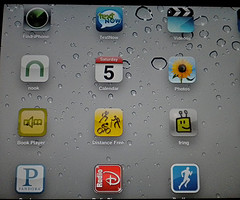 What I love about my iPad is the touch screen. The icons are easy to see and they are nice and large.
Simply touch the icon with the picture of a book that says, iBooks.
From their you will see your "Library." The books appear in a bookshelf with the a view of their covers. Simply touch the book to open it.
Once you start reading a book, when you open it, it will default to the last page that was viewed or read.
Color E-book Reader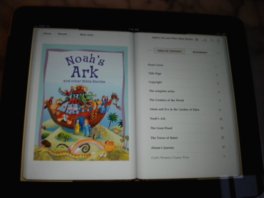 Vivid colors make this reader a great choice for enjoying illustrated books or magazines. Turn any magazine into a large print magazine. I now download all of my magazine subscriptions onto my iPad - Better Homes and Gardens, National Geographic, and Gardening magazines can be enjoyed in a new way.
Here is an example of a children's book with bright colors. Not only can you use this electronic book reader for yourself, you can read books to your grandchildren.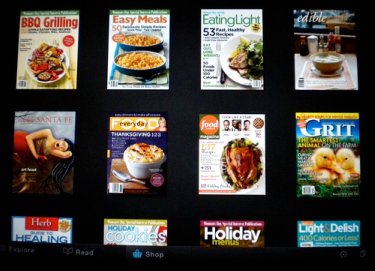 A color e-reader is essential for enjoying magazines. Pictures of beautiful gardens, special desserts or wild animals on safari come to life on an iPad.
Download the Zinio app and you can choose just about any magazine that you would find in a store.
Change the font size for easier reading or zoom the picture to see the details.
The iPad is especially useful for displaying recipes and recipe instructions found in your favorite cook book or magazine that you have downloaded to the device.
Enlarge Fonts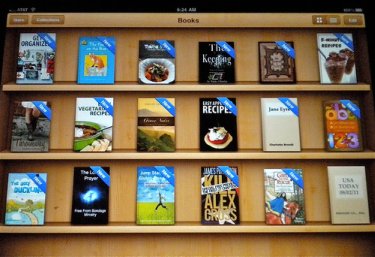 If you enjoy reading large print books, you maybe have found that the books you enjoy are not available in large print. With e book readers, every book can be turned into a large print book.
The classics are now part of the public domain - which means they can be downloaded onto your reading device for free.
I've download three book store apps - the iBooks, Barnes and Noble Nook app and the Kindle app onto my iPad.
An iPad is backlit which according to the study done by Dr. Roth, provides an advantage to macular degeneration readers. Electronic book readers without the backlight, like the original Kindle or Kindle DX do not provide as much contrast.
Large Viewing Screen

The Apple iPad has one of the largest screens - it is 9.7" - comparable to the Kindle DX.

Apple iPad 9.7" Diagonal

Kindle DX - 9.7" Diagonal

Kindle 2 - 6" Diagonal

B & N Nook - 7" Diagonal


The Apple iPad 2nd Generation costs more than the other wireless reading devices, but the large viewing area, the touch screen and the bright vivid colors makes it one of the best e book readers.
Newspapers in Large Print

Turn your favorite newspaper into large print by downloading your paper onto you Apple iPad. Enlarge the font to the size that's comfortable for you. You can download the Kindle app and subscribe to your newspaper through Amazon or download the Barnes and Noble Nook app and subscribe through Barnes and Noble.
Both of them offer a 14 day free trial period. The newspapers are automatically downloaded every morning.
You will never have to go out in the early morning rain or cold again to get your daily news.
Apple iPad Reader Review

By Claire from New Zealand
"Yes I do have macular degeneration, very unfortunately.
I can tell you that the Apple iPad is miraculous.
One does not need light, it is entirely transportable like a book and the newspaper can be read easily by pulling the print up as well as being able to enlarge the photographs to see faces properly.
It has far exceeded my expectations and I take it everywhere. I down load apps for the grandchildren and they love them, especially the interactive ones.
One can draw personalized birthday cards and then send them instantly, it's great fun and the best tool I have for my eye deterioration.
The screen is large and so very clear and crisp, a real pleasure to use."
Read more reviews here:
Go from Apple iPad to Electronic Book Readers

Go from Apple iPad to WebRN Macular Degeneration Home
Would you like to be updated on:
The Latest Macular Degeneration Clinical Trials?
√ Prevention of Macular Degeneration?
√ Tips for Daily Living?
√ Food Suggestions for a Macular Degeneration Diet?
√ Ideas on Visual Aids to Maximize your Sight?
If you said "yes" to any of the above, sign up for the monthly Macular Degeneration News.