Macular Degeneration and Managing Your Finances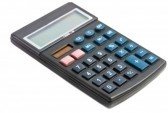 Many of our readers have been sharing some great tips on visual aids that help them with filling up their coffee cups to balancing their checkbooks. Although there are some very expensive vision aids, like electronic magnifiers and text to speech software, there are many handy, low vision aids that are inexpensive but so practical and useful for everyday living.
Vision Aids for Managing Your Finances
One area that many people with macular degeneration are concerned about is, of course, their finances.

Handing this responsibility over to someone else is not a light decision. My father-in-law who has wet macular degeneration always handled the family's finances. He has turned the checkbook over to my mother-in-law. She is perfectly capable of doing it, but for others that may not be the case.

If your loss of central vision is what is preventing you from handling your bills, writing checks or balancing your check book, there are some low cost aids that may keep you in charge of your money.

Learn how large print checks, check writing guides, and talking calculators may help to keep you independent:

Macular Degeneration and Managing Your Finances



Thanks so much for subscribing to Macular Degeneration News.





Leslie Degner, RN, BSN
Better Health for Better Vision
www.WebRN-MacularDegeneration.com