Hello


Squalamine Eye Drops and Lucentis Therapy

The treatments that have been developed and that are being researched for wet macular degeneration focus on drying up the "wet" area around the macula and preventing further blood vessels from growing and leaking. Another word for the formation of these strange blood vessels under the macula is called angiogenesis - which simply means "blood vessels" and "creation."

Angiogenesis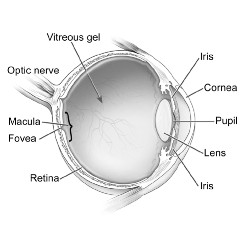 Drugs that prevent this from happening are called anti-angiogenesis drugs. One protein that is responsible for this activity is VEGF - vascular endothelial growth factor. Hence drugs like Lucentis, Avastin and Macugen are called anti-VEGF drugs.


While these drugs have shown some effectiveness in the treatment of wet AMD, the problem is that in order to get the drugs to the back of the eye, a person must receive the medication via an injection into the eye. And not just once - but depending on the drug that is used - the injection may be administered as frequently as once a month.

AMD Clinical Trial
A macular degeneration research trial is underway reporting benefits to patients with wet macular degeneration. The study is using eye drops that contain a drug called Squalamine.

Squalamine not only works as an anti-VEGF medication but also inhibits other vessel growth factors like platelet-derived growth factor (PDGF) and basic fibroblast growth factor (bFGF).

Interim data on the benefits of this treatment in patients with wet AMD were presented at the 2014 American Society of Retina Specialists with plans now for a Phase III clinical trial for 2015.

Find out more ...


Squalamine Eye Drops for Treating Macular Degeneration

Leslie Degner, RN, BSN
Better Health for Better Vision