Hello


Blow Out Sale for Saffron 2020-PRO
Supplements & Eye Health
There are lots of supplements on the market today and it can get confusing to know which ones are actually based on scientific clinical trials. To help you understand why Saffron 2020 and Saffron 2020 PRO are supplements you can trust, we briefly explain here what makes saffron so special and provide a link to the vision success our customers are experiencing.
Saffron Clinical Trials
According to clinical trial and research conducted on saffron (stigma from Crocus sativus) in Italy during 2014:

"…A clinical trial in Italy treating AMD patients with (20 mg) dietary saffron found promising signs of an improvement in eyesight. .....The herb saffron may hold one of the keys to preventing the loss of sight in old age....."

"…saffron activates mechanisms of self-defence and self-repair in the retina of the eye protecting it against oxidative damage. Saffron spice stabilizes retina against further degeneration, which is the classic cause of development and progression of AMD."

" Although the ways of action are still under investigation it seems reasonable to conclude that saffron components are able to reduce photoreceptor death and preserve visual function".

Sources: 1- Vis Neurosci. 2014 ;31:355-61. 2- Mol Vis (201); 16: 1801-1822. 3- Evid Based Complement Alternat Med. 2012 Jul:429124. doi: 10.1155/2012/429124. 4- Invest Ophthalmol Vis Sci. 2010; 51:6118-6124.
Vitamins for Eyes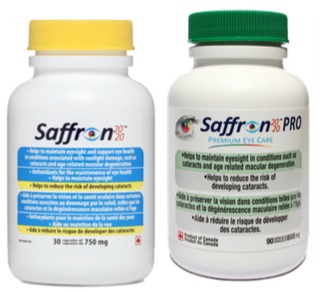 So while you can cook daily with saffron in rice and paella, for some it is more convenient to consistently get their daily dose of high quality saffron (20mg) from a supplement.

Saffron 2020-PRO is an approved eye supplement that provides the scientifically proven benefits of 20 mg of high quality saffron. When you use Saffron 2020-PRO, you also get the benefits of other important eye nutrients like vitamin C (25mg), lutein (6mg), zeaxanthin (0.6mg), and resveratrol (10mg).

Note that Saffron 2020-PRO does not contain vitamin A, vitamin B2, vitamin E, and zinc.

Blow Out Sale for Saffron 2020-PRO at $70 (normally $84.97) - (Get 90 capsules; for three months supply) (Limit one bottle per customer while quantities last. NOTE: Bottle Expiration Date is April 2018)

Check Out Saffron 2020-Pro



Leslie Degner, RN, BSN
Better Health for Better Vision