Hello


Radiation=Reduced Number of Eye Injections
What if there was a one time, non-invasive macular degeneration treatment for wet AMD that took only 20 minutes in the doctor's office?
Oraya Therapeutics, Inc, is sponsoring the first double-blind, sham controlled clinical trial to evaluate the safety and the effectiveness of a one time low dose radiation treatment in addition to Lucentis or Avastin eye injections as a therapy for wet AMD.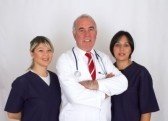 Early results of this clinical trial were presented at the EURETINA conference September 2012. Oraya Therapy, Inc has provided an updated press release on February 27, 2013 regarding more updates as to the safety and effectiveness of this combination therapy.

IRay Therapy for Wet Macular Degeneration

Thanks so much for subscribing to Macular Degeneration News.




Leslie Degner, RN, BSN
Better Health for Better Vision