Sun Protection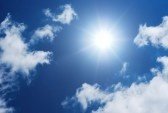 My husband loves to golf and often spends an entire day out in the sun. The two things he always makes sure to take with him are his polarized, blue blocker sunglasses and some type of visor or broad rimmed hat. Most of you are already wearing sunglasses, but add some extra protection by wearing a broad rimmed hat or visor.

Wearing a visor or hat offers several benefits.

1. It reduces glare and makes it easier to see.

2. It protects the lens of our eyes from UV light and reduces the risk of developing cataracts.

3. It protects our retina from UV light and may prevent the progression or development of macular degeneration

4. A hat protects the scalp, nose and face from excessive sun exposure which can increase the risk of basal cell or squamous cell carcinoma. Skin cancer most often develops on these sun exposed areas.

To learn more about the role of UV light and macular degeneration and protecting one's eyes go to:

Sun and Macular Degeneration

Thanks so much for subscribing to Macular Degeneration News.





Leslie Degner, RN, BSN
Better Health for Better Vision
www.WebRN-MacularDegeneration.com