Best Christmas Gift Ever!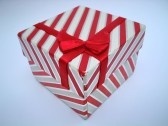 Perhaps you are in the same situation that we are, trying to figure out what would be a meaningful and useful gift for someone with macular degeneration.

Last Christmas we spent the holidays with my in-laws. My father-in-law is in his 80's and has wet macular degeneration. His hobbies and interests are somewhat limited so coming up with a gift idea for him was becoming more of a challenge. And really, how many times can you buy a new shirt, sweater or gloves??

We found out that reading was becoming more difficult for him and that in fact he wasn't reading much at all anymore.
Full Page Magnifier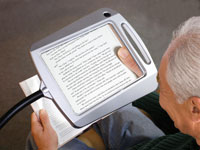 I may have won the "Daughter-in-Law of the Year" award last Christmas when we gave him this lighted full page magnifier.

The magnifier has a large viewing area that makes it easier for him to read books, magazines and even the newspaper. Bright LED lights means that even though the magnification is only 2X he still finds the magnification is enough to help him read.

The other important feature is the gooseneck. The flexible arm allows the light and magnifier to be placed just where you need it.

I video taped my father-in-law using his new Christmas gift and sharing with us how much this full page magnifier helps him read.

Click here to go to the page and then scroll to the bottom for the video:




Thanks so much for subscribing to Macular Degeneration News.





Leslie Degner, RN, BSN
Better Health for Better Vision
www.WebRN-MacularDegeneration.com