Hello


Happy 65th Wedding Anniversary and 87th Birthday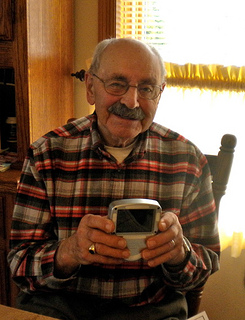 A recent visit back to Milwaukee kept us celebrating all weekend. My in-laws celebrated their 65th wedding anniversary and my father-in-law celebrated his 87th birthday. They are doing surprisingly well for their age. We enjoyed our time with them, except for the cold and snow - what's with the snow in late April!

For those who are new to Macular Degeneration News, my father-in-law was diagnosed with dry AMD about 20 years ago. He now has wet AMD in one eye and dry AMD in the other eye.

With each visit comes a new macular degeneration visual aid. This time we hit it big time and my father-in-law is again reading full paragraphs, enjoying colored photos, checking the Brewer stats in the newspaper and going through dozens of anniversary and birthday cards - all without eye strain.

Find out what we got for him that is inexpensive, easy to use, and low-tech:

Low Vision Technology for Macular Degeneration

Please hit the Facebook Like button if you like the page. Thanks!

Thanks so much for subscribing to Macular Degeneration News.




Leslie Degner, RN, BSN
Better Health for Better Vision