Your Favorite Newspaper in Large Print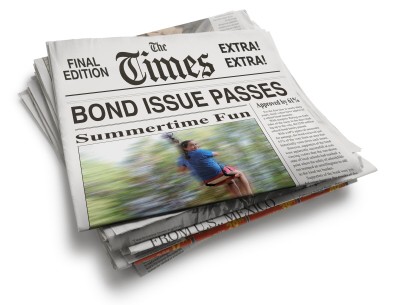 Reading the daily newspaper was always a part of my parents daily morning routine. In fact they subscribed to two daily newspapers, one that came in the morning and one in the evening. The idea of getting the current news from a news website was not an appealing option to them.

As one ages, the small newspaper print becomes harder to read and often causes eye strain, especially for those with vision loss like macular degeneration.
Large Print News
When one starts to experience vision loss whether it is from macular degeneration or some other eye condition, it is important to find ways to adjust and adapt.

Getting the daily, current local news is important to many people. How you get it or how you read it requires some vision aids that reduces eye strain. You many need to experiment to find what works best for you.

Here are some possible options to try.
1. Low Vision Lighting
Be sure to read your newspaper where there is plenty of good lighting. Use a table that is near a window where you can benefit from strong daylight.

Purchase a light that has a 3 way bulb so that you can adjust the lighting to the strongest one. The better the lighting the lower the magnification. The lower the magnifying power the better the viewing area.
2. Dome Magnifier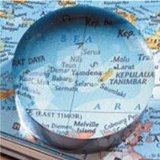 Try this inexpensive vision aid. This reading magnifier easily slides across your favorite newspaper, magazine or book.

It allows ambient light to flow from all surfaces to illuminate your reading material. There is no need to hold the magnifier at a certain distance because it is pre-focused.

Use this magnifier while sitting at your kitchen table or desk.
3. Hand Held Magnifiying Glass
A hand held magnifying glass can be purchased at the magnifying power that works for you - whether it is 5X or 10X.

It can become tedious holding a magnifier while reading for any length of time, so reading a book like this would become tiresome - but for reading a newspaper article or for catching some scores it is a good option.

Use a lighted magnifying glass for less eye strain.
4. E Book Readers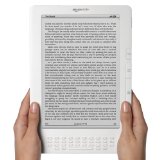 Consider trying one of many e book readers - such as the Kindle reader, the Barnes and Noble Nook or the Apple iPad.

Electronic readers can turn your favorite daily newspaper into large print newspaper.

Each morning the newspaper is downloaded right to your wireless reading device - there is no need for a computer. And you don't need to go outside to find your paper or be disappointed because it wasn't delivered.

The advantages of reading your newspaper on an electronic reader, is that you can enlarge the font and adjust the contrast.

For reading newspapers, the larger the screen the easier it is to read. The Kindle DX and the Apple iPad offer the largest screens at almost 10".
5. Electronic Readers - Low Vision CCTV
When your need for magnification increases, an electronic magnifier offers many benefits such as adjustable magnification up to 70X, a larger viewing screen, and adjustable contrasting colors.
Many reading magnifiers that offer a large viewing field, such as a full page magnifier, usually only provide up to 2x magnification. Smaller magnifiers can offer higher magnification but much a much smaller viewing field.
So if you are needing higher magnification and want a large screen to view your reading material than consider a low vision CCTV.
They are easy to use and offer many features that a standard magnifier does not.
To learn more about these reading magnifiers and how they can help you enjoy reading your daily newspaper again click here: Large Print Newspapers

Thanks so much for subscribing to Macular Degeneration News.

Leslie Degner, RN, BSN
Better Health for Better Vision
www.WebRN-MacularDegeneration.com