E-Newspaper - Ebook Reader Review
Last night I had a very pleasant experience with a Barnes and Noble customer representative. For some reason when I subscribed to the USA Today newspaper it wouldn't download to the Barnes and Noble Nook app on my iPad. I called the customer service number listed on the web and pressed the prompt for help with technical issues.
I was quite surprised when I didn't experience any hold time and the technical support person quickly figured out my problem. He simply had me log out and log back in and my USA Today newspaper magically appeared.
Large Print Newspapers
I could get used to reading an e-newspaper. When I checked my Nook app this morning at 6:30 my August 3rd newspaper was right there ready for me to read. Definitely, it is easier to hold an electronic book reader than it is a large cumbersome newspaper.

Navigating it is much easier too. Simply open up the table of contents and (for USA Today) select Front Page, News, Opinion, Money, Sports or Life.


Low Vision Reading
The Nook app offers 5 different font sizes, but what is really helpful, is that there are options for how much white space is between the words and the sentences. For those with macular degeneration it is helpful to have more white space between words and sentences for easier reading.

Navigating the news on a wireless reading device is way easier than a normal newspaper. If you want to look up a topic or perhaps your favorite sports team, just type in the word "Rangers" or "Padres," and articles with these team names in them come right up.
Barnes and Noble Nook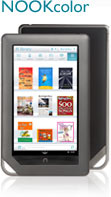 There are so many options just with the Barnes and Noble Nook - touch screen, color, black and white, wireless or 3G. Which one will be best for you depends on what you plan to read on it the most and what kind of connectivity you have at home. The color is great if you plan to subscribe to magazines or download books that have lots of pictures or images. It has a slightly larger screen at 7". However, the color is wifi only.

The new black and white touch screen is 6" but it has an easy to use touch screen.

To learn more about how this wireless reading device can help you continue reading go to:

Barnes and Noble Nook

Thanks so much for subscribing to Macular Degeneration News.





Leslie Degner, RN, BSN
Better Health for Better Vision
www.WebRN-MacularDegeneration.com