Hello


All In One
As an owner of a laptop, iPad, camera, two Kindles, iPod and smart phone, I find it isn't easy keeping up with all of this technology. Between finding the right cords, updating apps, downloading books, and charging devices I hardly find time to get to the grocery store (not that I like grocery shopping anyway :).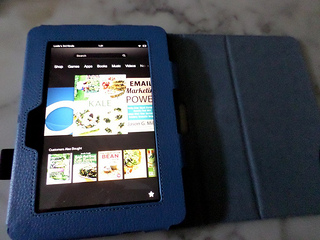 Color Kindle
In an attempt to keep up to date with technology that can benefit those with macular degeneration, I recently purchased the Kindle Fire HD - before it went on sale :(

I've read books, searched the web, watched videos and listened to music and audiobooks - all on one not too expensive device.

As someone who loves her Kindle Paperwhite and Apple iPad here is what I found out about what features this color, touch screen tablet has that can benefit those with AMD:

P.S. Please hit the Facebook "Like" Button if you like the page! Thanks so much for subscribing to Macular Degeneration News.




Leslie Degner, RN, BSN
Better Health for Better Vision