Hello


Best Wishes for Happy and Healthy New Year
When it comes to health, one person I listen to is Dr. Stephen Pratt, the author of a series of books on health, wellness and SuperFoods.
Stephen Pratt,M.D is a senior staff ophthalmologist at Scripps Memorial Hospital in La Jolla, California and a well respected authority on the role of nutrition and lifestyle in disease prevention. In one of his SuperFoods books he writes, "... scientists recently have begun to believe that inflammation may be at the heart (and lungs and brain and all other body parts) of virtually all the diseases we suffer from, and that controlling inflammation may be one of the most potent tools we have for living longer more disease-free lives."
Health Benefits of Vitamin D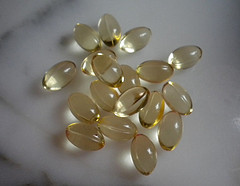 Although there are conflicting reports on the role of vitamin D in the development and progession of macular degeneration, most researchers agree that this very important vitamin (actually a hormone) does play a role in chronic inflammation.

" The immunomodulating effects of vitamin D may explain the reported epidemiological associations between vitamin D status and a large number of autoimmune and inflammatory diseases. Such associations have been suggested by observational studies not only in rheumatoid arthritis, lupus, inflammatory bowel disease, and type 1 diabetes; but also in infections, malignancies, transplant rejection, and cardiovascular disease"

Joint Bone Spine. 2010 Dec;77(6):552-7. doi: 10.1016/j.jbspin.2010.09.018. Epub 2010 Nov 9.

Find out more about the health benefits of Vitamin D3 and how you can be sure you are getting enough to optimize your health:
Benefits of Vitamin D3

P.S. Please hit the Facebook "Like" Button if you like the page! Thanks so much for subscribing to Macular Degeneration News.



Thanks so much for subscribing to Macular Degeneration News.




Leslie Degner, RN, BSN
Better Health for Better Vision