Task or Near Vision Lighting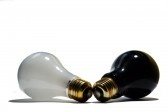 I was surprised to find out that my father-in-law who has wet macular degeneration did not have any type of task lighting where he could direct the light to help him read, go through his bills or to do his hobbies. No wonder he was having such a hard time with these tasks. Unfortunately, it is not uncommon for those with macular degeneration (AMD) or other types of low vision to use incorrect lighting.

People with macular degeneration need more light and brighter light especially for near vision or close up tasks such as reading, writing and performing hobbies.

Some low vision specialists say that AMD patients need four times the amount of light as do those with normal vision. Proper task lighting will make everything you do so much easier with better visibility.

The two most important considerations to illuminate your tasks are:
1. Proper Positioning

Use a desk lamp that has an adjustable swing arm or a gooseneck so that it can be positioned on the reading material or the hobby. Direct the light onto your reading material, bill, craft, or hobby. The closer the light source is to the task the better the illumination. A few inches in the position of the lampshade can make a huge difference in being able to see or read.

Peggy Wolfe the author of Macular Disease: Practical Strategies for Living with Vision Loss
suggests "Place task lamps to your side to avoid reflected glare from your work surface. Never look directly at a bare bulb that is turned on."
2. Better Lighting

There are several different types of lighting. But many people with AMD like the brightness of a halogen bulb. It has a longer lifespan than the ordinary incandescent bulb and produces a whiter and brighter light. There are some precautions for those who use a halogen light bulb. The bulbs burn hotter and can produce intense heat.

Two authors who write from their own experience living with AMD suggest halogen lighting. Peggy Wolfe, the author of Macular Disease: Practical Strategies for Living with Vision Loss
suggests "Look for a lamp that comes with a halogen bulb if you want really strong light." Dan Roberts the author of The First Year: Age-Related Macular Degeneration: An Essential Guide for the Newly Diagnosed
writes, "For near-vision tasks, we placed white halogen lighting at my desk..."
Many people find that this type of lighting also enhances contrast.
For more ideas on how to improve lighting in your home click here:
Lighting for the Home for Those With Macular Degeneration


Thanks so much for subscribing to Macular Degeneration News.

Leslie Degner, RN, BSN
Better Health for Better Vision
www.WebRN-MacularDegeneration.com