What Do You Want?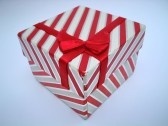 For those of you who are looking for gift ideas for someone with macular degeneration, the important question to ask is - what do you want ... to do. By identifying a task or goal, then a meaningful gift can be purchased for your friend or loved one.
Macular Degeneration Aids
Many people with age related macular degeneration (AMD) and their caregivers are not aware of the many visual aids that are available to maximize one's vision and to help maintain one's independence.

Such is the case with my father-in-law who has wet macular degeneration. As we thought about Christmas gift ideas for him we asked him some of these questions to see if he could help us identify a task that he was having trouble with. Following the questions are suggestions for visual aids to assist the person with AMD.

1. Are you having difficulty playing your favorite games or seeing the playing cards?

Use large print playing cards or large print games, like Sequence or Scrabble.

2. Can you see your watch to tell the time?

Try a large number watch or a talking wrist watch.

3. Can you see or set your alarm clock?

Check out large number clocks or talking clocks.

4. Do you have trouble seeing the TV?

Try a television screen magnifier. Also suggest that the person sit closer to the TV.

5. Are you able to read a restaurant menu?

There are lots of inexpensive lighted pocket magnifiers. Many of them have bright LED lighting with a fold up handle. They are small enough to carry in a pocket or purse.

6. Are you having trouble reading books?

Large print books can be purchased on line or check out the local library for free ones. Try better lighting, or a full page magnifier.

7. Do you struggle with dialing a phone number?

Large button phones are easy to see and use.

8. Can you call someone on your cell phone?

Try a simple voice activated cell phone or a large number cell phone like the Jitterbug.

Of course the most meaningful gifts are the kind that can't be boxed or wrapped. It may be taking someone to lunch and then shopping. Offer to drive your friend to a hair or doctor appointment, perform a household task or bring him/her to a concert .

For more ideas for vision aids for macular degeneration go to:

Thanks so much for subscribing to Macular Degeneration News.





Leslie Degner, RN, BSN
Better Health for Better Vision
www.WebRN-MacularDegeneration.com